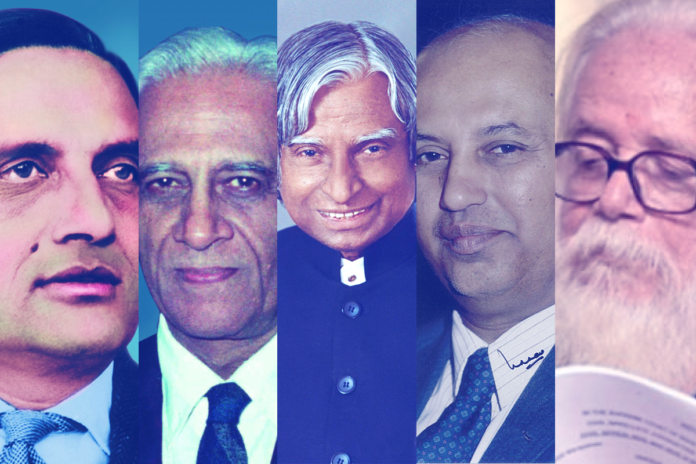 Why has India's growth in space technology been slow compared to global peers? That's because of enemies within and without. Here's a glimpse into the battles we have fought to come out a winner.
By Balaji Subramanian
Indians are literally counting days before we send our astronauts into space on the 75th anniversary of our Independence in 2022. From carrying a small rocket on the back of a bicycle, we now have rockets capable of putting the first Indian in space and only the fourth country to do so with their own ability.
We would be realising the dreams of Vikram Sarabhai, father of the Indian space programme and the likes Dr Satish Dhawan, Dr APJ Abdul Kalam and Dr U R Rao who took our space programme to greater heights and who must have thought about the day we became capable of sending satellites into space on our own.
On 19 April 1975, the Aryabhata satellite, named after the famous Indian astronomer, was launched from Kapustin Yar, the erstwhile Soviet Union rocket launch and development site in Astrakhan Oblast using a Kosmos-3M launch vehicle.
Though Sarabhai died in 1971, his drive for excellence and self-reliance was passed on to a different generation of dreamers. His desire that India must be independent in rocket manufacturing was to forgo dependence on foreign governments.
That is why he pushed his scientists and engineers to their limits because no nation can develop unless it invests in the application of science and technology.
"Our space programme was built in measure and not due to the glamour associated with space activities. We do not have the fantasy of competing with the economically advanced nations in the exploration of the Moon or the planets or manned space-flight. But we are convinced that if we are to play a meaningful role nationally, and in the community of nations, we must be second to none in the application of advanced technologies to the real problems of man and society, which we find in our country," Sarabhai said.
India's cryogenic programme. 
"I would like to emphasize that security can be endangered not only from outside but also from within. That is why we must second to none in the application of advanced technologies to the real problems of man and the society"- Vikram Sarabhai
We must second to none in the application of advanced technologies to the real problems of man and the society, said Sarabhai as India moved from a very tumultuous decade of the 1970s into the 80s that saw the end of the Cold War and the fall of the Berlin Wall, Indian Space Research Organisation (ISRO) had come very far from the days of The Indian National Committee for Space Research (INCOSPAR) which was established in 1962 by Jawaharlal Nehru under the Department of Atomic Energy (DAE) at his urging.
ISRO was now looking for rockets, capable of carrying heavier payload into the 24-hour orbit or geocentric orbit and also called high earth orbit.
To reach this orbit, the rocket will need huge amounts of energy to pull free of earth's gravitational field, hence the need for cryogenic engines.
India first approached Japan but could not strike any deal. Next it was the turn of the United States, but the offer of an American engine manufactured by General Dynamics Corporation was expensive and more importantly, prohibitive, which was not an option for ISRO. The same can be said about Europe's Arianespace.
However, the Soviet Union was more than willing to share its RD-56 or KVD-1, originally developed for the Soviet manned moon landing programme as far back as 1964. This rocket was built by the Isayev Design Bureau and when it came to thrust capabilities, it surpassed that of National Aeronautics and Space Administration (NASA) and the Americans could not match the power of KVD-1 for many years to come.
The Soviet Union collapsed, but it was still very strong in terms of technology, and in 1991, ISRO signed an agreement with Russian space agency Glavkosmos for the transfer of cryogenic technology. But this was a bad time for Russia, as it was besieged by a crippling economic crisis. But India still went ahead, knowing that the Americans would probably try to scuttle the deal.
The Americans and Western European nations had the power to deny ballistic missile technology to India using the provisions of the Missile Technology Control Regime (MTCR) and it would take 25 years for India to become a member of MTCR.
The MTCR was formed in 1987, the same year India tested its first short range ballistic missile (SRBM), Prithvi.
Somehow, both nations were able to bypass MTCR provisions and ISRO Chairman U R Rao and Aleksey Vasin, officer-in-charge of cryogenic technology in Glavkosmos decided to outsource the manufacture of the cryogenic engines to Kerala Hi-tech Industries Limited (KELTEC).
When the Americans found out, it was an all-out retaliation and both ISRO and Glavkosmos were under sanctions under the presidency of George H Bush.
Brian Harvey, who wrote the book Russia in Space: A failed frontier says, "India objected strongly to the American actions, pointing out that high-powered hydrogen-fuelled upper stages which took a long time to prepare were of little military value."
The irony was the Americans had offered the same technology but it was very expensive and had too many restrictions.
Because of the sudden shift in geo-politics after the fall of the Soviet Union and its disintegration, there was a period when the only super power in the world was America.
Leveraging its economic might, it forced Russia to levy terms on India. In 1994, seven fully assembled KVD-1 engines were given to India but it was to be used only for peaceful purposes and we could not modernise it nor were the blueprints given so we could develop indigenously.
The ISRO spy case 
It is part of a good man to do great and noble deeds, though he risks everything. 
Plutarch, a Greek Philosopher.
Nambi Narayanan was one of the best scientists in ISRO and was in charge of India's cryogenic programme. He was credited to have developed India's first liquid propellant motor. In November 1994, he and fellow scientist D SasiKumaran, who was serving as the Deputy Director of the cryogenic technology division of the ISRO and was in charge of the cryogenic technology transfer from Russia, were arrested for 'espionage' and were tortured by intelligence agencies. To this day, the role of the American Central Intelligence Agency in falsely framing him for high treason has never been investigated.
Also Read: ISRO Spy Case: The Torture Inflicted Upon Scientist Nambi Narayanan And Others
With his arrest, India's cryogenic engine programme fell apart and the progress we could have made in space technology came to a grinding halt. Fact is, he and his team were very close to perfecting the Polar Satellite Launch Vehicle (PSLV) as Indian space scientists wanted a more powerful rocket that could hoist payloads to the geosynchronous transfer orbit.
For 18 years, these two great scientists had to endure hell. Nambi Narayanan was kept in jail without any prospect of bail for 50 days, enduring humiliation and indignity beyond imagination.
In 1996, the Central Bureau of Investigation dropped all charges against him and in 1998, the Supreme Court of India found him not guilty.
In 2018, the Supreme Court ordered the Government of Kerala to pay 50 lakh rupees in compensation to Narayanan. In 2019, he was awarded the Padma Bhushan, India's third highest civilian honour, for his contribution to science.
The highest court of the land also constituted a committee headed by retired Supreme Court judge D K Jain to inquire into the role of officials of the Kerala police in the arrest of Narayanan.
In particular, the roles of police officers Siby Mathew, the then deputy inspector general (DIG), and two others, S Vijayan and K K Joshua, were investigated.
In the book Spies from Space: The Isro Frame-up written by journalist J Rajasekharan Nair who did detailed and comprehensive reporting on ISRO spy case is worth reading. Though his book received lot of attention, in the end, it only sold a few copies.
It has been alleged by the author that the Indian intelligence agencies had a role to play because he was going to name some high-profile officials.
According to Nair, from the moment India signed an agreement with Russia, the US started its moves. The Americans had offered cryogenic engines at a cost that was 400 per cent higher than the Russian offer. Also, the price-per-kg–payload fixed for the GSLV to launch satellites into geosynchronous orbit, 36,000 km from Earth, was less than "half the price" quoted by US vehicles.
If this deal had gone through, it would have seriously affected the commercial interests of America. 
If America used its influence to sabotage Indian space research and even if it was responsible in implicating two of the best scientists in India, which slowed down our space programme, we must not blame them. They did because it was in their best interests. But the real threat is from within and from those responsible for jeopardizing our national security.
India played by the book and was penalized, but countries like Pakistan and North Korea, which are leaders in nuclear and missile technology proliferation, were never stopped in their tracks.
However, with grit and determination we are now leaders in space and rocket science.
Strength respects strength
When Prime Minister NarendraModi talks about Make in India, it means we must end our dependence on foreign countries to fulfill technological needs.
As long as we are dependent on others, we will be held hostage or will have to pay a higher price to achieve our means. By making it in India, we are only espousing the vision of Vikram Sarabhai.
President Kalam said, "Unless India stands up to the world, no one will respect us. In this world, fear has no place. Only strength respects strength."
The whole world, a couple of decades ago, had ignored and taken advantage of us, but they are now proactively engaging with India now that it has a robust leadership.
ISRO and NASA are said to be seeking deeper cooperation in interplanetary missions and cooperation in the human space flight and Space Station, besides lunar exploration.
Even when our space programme was in its infancy, Vikram Sarabhai talked about international cooperation in space activities.
This is why India has always recognised that space has a dimension beyond national considerations, which can only be addressed along with international partners.