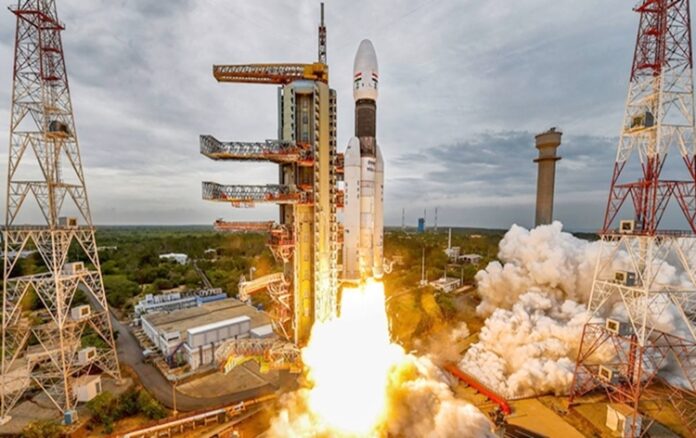 The Indian Space Research Organisation (ISRO) has officially announced the forthcoming launch of Chandrayaan-3, India's third lunar mission. The ambitious endeavor, which aims to achieve a soft-landing on the lunar surface, is scheduled to commence on 14 July from the Satish Dhawan Space Centre located in Andhra Pradesh's Sriharikota.
By Swarajya Staff
Last month, ISRO Chairman S Somanath said if all tests progress as planned, Chandrayaan-3 will embark on its journey between 12 July and 19 July. With the chosen date fast approaching, the highly anticipated lunar mission is less than three weeks away from taking flight.
The spacecraft has already arrived at the launch pad in the Satish Dhawan Space Centre, Sriharikota, after being transported from the UR Rao Satellite Centre in Bengaluru, he added.
"The final preparations are going on. It will be completed by the end of this month. The rocket, LVM-3, is going to be used for this launch and its assembly is going on. All parts for its assembly have reached Sriharikota. It will be launched between 12 July and 19 July," Somanath said.
In light of the challenges faced during the Chandrayaan-2 mission, the ISRO Chairman highlighted various modifications made to the Chandrayaan-3's hardware, structure, computers, software, and sensors to ensure a trouble-free launch.
The ISRO chairman mentioned that additional fuel had been incorporated, along with strengthened landing legs. He further stated that large solar panels had been installed to generate more energy, and an extra sensor had been included.
In terms of speed measurement, a 'Laser Doppler VelociMeter' instrument, developed the previous year, had been integrated, he said, adding, the algorithm had also been modified, and new software had been implemented to facilitate Chandrayaan's ability to land in an alternative location in the event of any failure at the designated site.
ISRO has outlined three primary objectives for the Chandrayaan-3 mission. Firstly, it aims to demonstrate a safe and soft landing on the lunar surface. Secondly, the mission seeks to showcase the capabilities of a rover traversing the moon's terrain. Lastly, in-situ scientific experiments will be conducted.
The propulsion module will ferry the lander and rover configuration to a lunar orbit of 100 km. Additionally, the propulsion module is equipped with the Spectropolarimetry of Habitable Planet Earth (SHAPE) payload, enabling the study of spectral and polarimetric measurements of Earth from the lunar orbit.
This article first appeared in www.swarajyamag.com and it belongs to them.