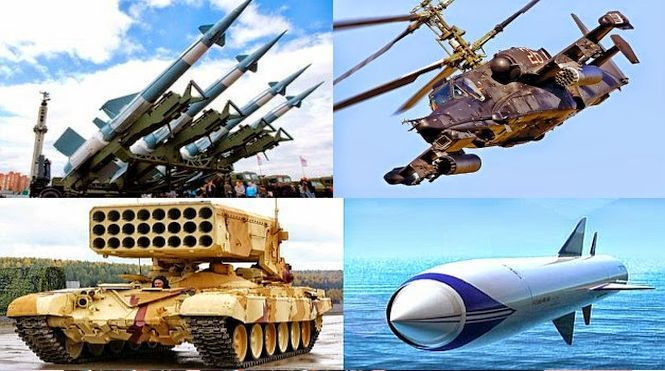 A strong and well-equipped military provides a country the immunity to resist attack and thwart unprovoked aggression from external sources and deal with any kind of internal disturbance. It works as a defence mechanism and reflects the country's military capability and capacity to defend itself against the hostile countries. Equipping the military with the latest technology and modernising the existing inventory of weapons and surveillance systems is therefore crucial for any country. India too needs to build a strong military force armed with all types of technologically advanced defence equipment to strengthen its security and intelligence and to secure its territorial integrity.
By Richa Tokas
All over the world, the countries which are embroiled in any kind of internal security issues or have border disputes with hostile neighbours or face any kind of terror threat or countries which face any war-like situation are spending more and more on strengthening their defence portfolio. The countries feel that only a strong defence and security framework can overcome any kind of threat to their autonomy or sovereignty. The technological advancement has led to development of very sophisticated weapons and many countries are now in possession of such weapons. These include ballistic missile systems, nuclear-powered submarines, stealth fighter airplanes, Unmanned Aerial Vehicles, etc. For tackling any kind of untoward happening, any country requires a robust and a modernised defence and security framework. Therefore, along with procuring new defence products, emphasis should be laid on doing it in such a manner that the weapons system does not become obsolete in a few years. Further, such products should be capable of being upgraded without much hassle. Any country cannot sideline the modernization aspect as it holds the key to managing any form of unexpected aggression: internal or external.
In the current geopolitical situation, it has become vital for India to maintain its regional autonomy. India needs to assert its presence and sovereignty over the border regions and for that, it needs to have modernised defence products and strategic autonomy over such defence products. This strategic autonomy can be achieved by having a self-reliant defence industry which would ultimately strengthen the Indian economy as well. It is the need of the hour to increase the indigenous defence production to meet the requirements of the armed forces along with putting lesser burden on the exchequer. India requires an overhaul of its defence products to meet the current requisites of modern warfare. To create a robust security framework India needs to strengthen its surveillance system which requires inducting of modernised radars and drones so that suspicious activities and trespassing at the border areas could be detected at the earliest. India also needs to understand that it cannot always depend on the emergency purchases of defence equipment during the times of crises, which has been seen during the recent border clashes with Chinese troops and the rising tension along the northern borders. This has forced accelerated domestic and foreign purchase of weapons, however, relying on the imports for emergency purchases leads to excessive spending.
Aiming to make India a manufacturing hub is a step taken in the right direction under the ambit of 'Aatmanirbhar Bharat Abhiyan'. Promoting investments in research and development and production in the defence sector will prove to be significant in enhancing the manufacturing of defence products and in creating employment opportunities. Aatmanirbhar Bharat in the defence sector will reduce dependency on imports which will lead to a reduction in the foreign exchange expenditure and enhance the level of operational preparedness considerably. Domestic manufacturing will promote the growth of many ancillary industries within the country and at the same time, it will generate a lot of revenue by exporting defence products to other countries. Restructuring of approximately 200-year-old Ordnance Factory Board into seven State-owned corporate entities in line with the vision of Aatmanirbhar Bharat would not only increase competitiveness, but will also improve quality, cost-efficiency while ensuring self-reliance in the defence sector. This will help in reducing the trade deficit as well. Defence Acquisition Procedure, DAP-2020 has aimed to bring into line and support the Aatmanirbhar Bharat Abhiyan by focusing on self-reliance by boosting domestic manufacturing and encouraging private sector involvement.
After the clarion call of Prime Minister Narendra Modi for 'Aatmanirbharta' and indigenisation of products in all spheres, specific efforts have been made to indigenise the Indian defence industry, and to reduce the huge import bill of the defence products. The induction of Light Combat Aircraft Tejas is a huge accomplishment in this regard, and another order for 83 Tejas fighter jets will certainly help in strengthening the Indian Air Force as well as boosting the morale of the Indian defence industry. Further, the embargo upon the import of 209 defence equipment means that they would be indigenously developed in India. A separate fund has been earmarked for supporting the start-ups (iDEX) and MSMEs for the development of design and new technology in the defence and aerospace sector. The government has permitted Foreign Direct Investment of up to 74 per cent in defence production through the Automatic Route to encourage domestic manufacturing and use of innovative technology in defence products, keeping into consideration the active participation of private sector. Through Automatic Route any foreign investor or Indian company can directly invest into the defence sector without any prior approval of RBI or Government of India. This would encourage ease of doing business and encourage investments in the Indian defence industry. Moreover, states are showing interest in establishing and developing defence industries in their region, for instance, Karnataka has requested the Government of India to set up a Defence Technology Hub as it already has various Defence Public Sector Undertakings like HAL, BEL and laboratories of DRDO. If the Indian Government keeps up with this pace of modernising Indian Armed Forces through 'Indigenisation', it will certainly bring a big boost to the Indian economy. Consistent efforts of the stakeholders involved in policymaking and effective implementation of the self-indigenisation campaign will be crucial for realising this dream. With the right kind of support and assistance from the Government of India, the local industries will be able to fulfil the domestic demands of the Indian armed forces and strengthen them to confront the adversaries effectively. The Indian armed forces need to be battle-ready even on short notice, especially in view of the changing nature of the threat within military domains.
This article first appeared in www.idsa.in and it belongs to them.