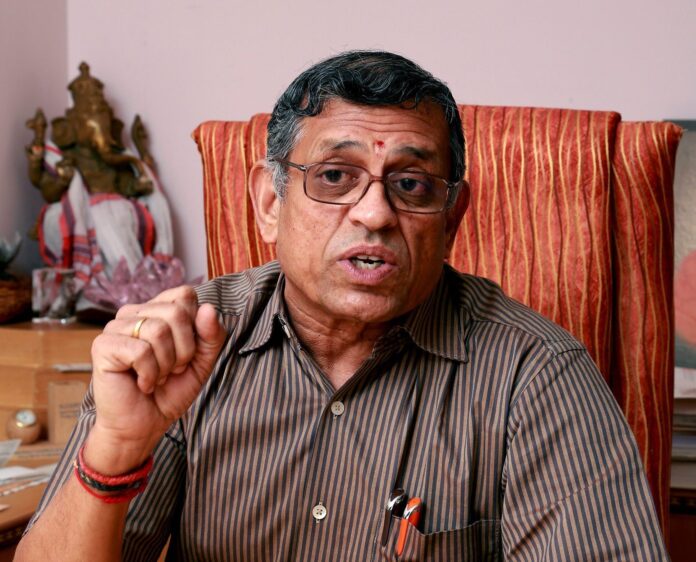 Sources revealed that the Centre might introduce a bill in the special parliamentary session from September 18-22 seeking to amend Article 1. Reports on the potential renaming of India's official name as Bharat has sparked a massive controversy between the Centre and the opposition parties, with each side claiming to distort history. Sources revealed that the Centre might introduce a bill in the special parliamentary session from September 18-22 seeking to amend Article 1 of the constitution which states – "India, that is Bharat, is a union of states."
By S Gurumurthy
As the India-Bharat debate continues to intensify, Editor of the Thuglak magazine and Chairman of the Vivekananda International Foundation, S Gurumurthy explained why the word Bharat was added to the constitution and why it should not be resisted.
Speaking to Republic Media Network's Editor-in-Chief Arnab Goswami, Gurumurthy explained the meaning of the word Bharat and what it signifies.
"This idea of Bharat is not the idea of the constitution. It is the acceptance by the constitution of the ancientness of our civilisation. It (Bharat) connects us to the Indus Valley civilisation. It connects us to the Bhagavad, Mahabharata. All the Puranas, they not only describe the name Bharat as Bharatvarsha, it also describes the geography of Bharat. There is no country in the world whose geography and the people had been defined thousands of years ago," Gurumurthy said.
He also said that India is the only country where the geography and its people have been described with such accuracy thousands of years ago. "The Puranas describe that these people who reside here, they believe in Karma and rebirth and these are mysterious people. Can anyone describe India better that we are such mysteriously diverse people and for 2,000-3,000 years, that continuity is there. That is what the constitution incorporated when it added the word Bharat," Gurumurthy said.
Why was the word Bharat added to the Constitution?
Gurumurthy also explained why the drafting committee led by Dr. BR Ambedkar, included the word India as well as Bharat while drafting the constitution of India in 1949.
"Those were the days when India was known throughout the world as India. And to bring Bharat and make the world understand would take years because the communication was not like it is today. So they wanted to keep that popular known name along with the traditional civilisational name. Thinking that one day our people would use the civilisational name otherwise they would have used only India," Gurumurthy said.
He further underscored that the name India was purely based on geography and it emerged out of necessity for those wanting to travel through the subcontinent and learn about it.
"That is why the constitution had a geographic name along with the civilisational name. That is why the Hindi constitution, signed by all the constituent assembly members described India as Bharat. So to say that the idea of Bharat is different is to be afraid of the civilisation," he said.
Published in Republic Word on 5th September 2023.
This article first appeared in www.vifindia.org and it belongs to them.