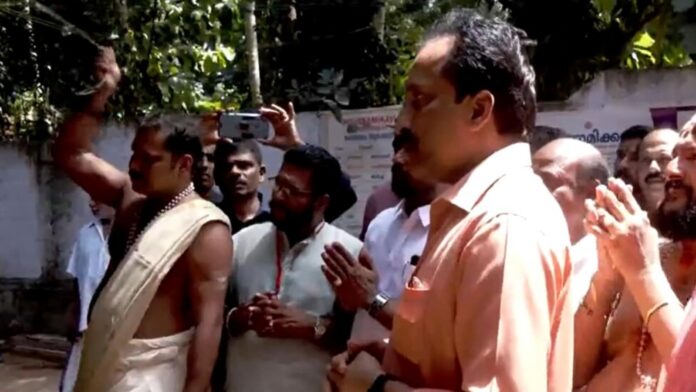 ISRO chief S Somanath expressed his interest in exploring both science and spirituality, despite the ongoing debate among internet users regarding the relationship between science and religion. He believes that scientists visiting temples should not be a cause for controversy.
By Abhay Rathore
"I am an explorer. I explore the Moon. I explore the inner space. It's a part of the journey of my life to explore both science and spirituality. I visit many temples and I read many scriptures. I try to find the meaning of our existence and our journey in this cosmos," he said during his visit to the Bhadrakali temple in Thiruvananthapuram.
According to him, exploring both our outer and inner selves is deeply ingrained in Indian culture. He believes that for the outer self, science is the path to follow, while for the inner self, visiting temples is a way to connect with spirituality.
In preparation for the Chandrayaan-3 mission in July, a team of ISRO scientists made a visit to the Tirupati temple in Andhra Pradesh. This visit sparked a debate regarding the blending of science and spirituality, with differing opinions on the matter.
He also expressed his support for the name "Shiv Shakti Point" given to the touchdown spot of Chandrayaan-3 by PM Modi.
"The Prime Minister narrated the meaning of it in a manner that suits all of us, he said that Shiva- Shakti represents the combination of man and woman and it acknowledges the contributions made by women at ISRO," the space agency chief said.
As the chairman of the Indian Space Research Organisation (ISRO), Somanath is considered the hero of the Chandrayaan-3 mission. With India successfully landing on the Moon, the country has joined an exclusive group of nations with accomplished space exploration capabilities.
Following the remarkable achievement, Somanath visited a temple in Kerala to offer his prayers and express his gratitude.
He also provided an update on the Chandrayaan-3 mission, confirming that the rover is functioning properly.
"All five instruments on the rover have been activated. Our goal is to complete all experiments by 3 September. We have different modes in which it needs to be tested, so that we can obtain the best possible picture of the Moon," Somanath explained.
This article first appeared in www.swarajyamag.com and it belongs to them.