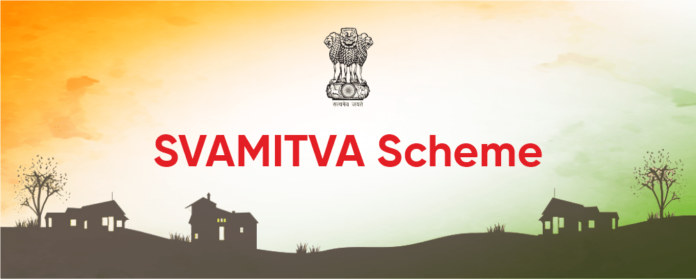 The Government of India launched the Svamitva Yojana, also known as the "Survey of Villages and Mapping with Improvised Technology in Village Areas" scheme. With the intention of giving rural property owners legal papers and facilitating the development of rural areas, Prime Minister Modi inaugurated it on April 24, 2020. The Svamitva Yojana's main goal is to offer rural areas an integrated property validation solution employing cutting-edge technology including drones, surveying equipment, and Geographic Information System (GIS) technology. Under this scheme, the boundaries of rural properties are mapped, and property cards are issued to individuals who own residential properties in rural areas.
By Dr Pravesh Kumar Gupta
There are two phases of the Scheme-
Phase I- Pilot Scheme: Rs 79.65 Crores (April 2020-March 2021) for a drone survey of about 1 lakh villages in Haryana, Karnataka, Madhya Pradesh, Maharashtra, and Gujarat.
Phase II: Complete survey of remaining villages (2021-2025) in Uttarakhand, Uttar Pradesh, and Continuously Operating Reference Stations (CORS) establishment in Punjab and Rajasthan.
The issuance of property cards helps rural property owners in several ways:
Establishing ownership: Property cards provide legal recognition and documentation of ownership, which can prevent property disputes and conflicts.
Facilitating access to credit: With property ownership documentation, rural property owners can use their property as collateral for obtaining loans and credit from financial institutions. This can enable them to invest in their property, agriculture, or business activities.
Encouraging planned development: The scheme aims to promote planned development in rural areas by providing accurate data on land ownership. This information can be used to plan infrastructure development, such as roads, electricity, water supply, and sanitation facilities.
Empowering women: Svamitva Yojana specifically focuses on empowering women by ensuring that their names are included in property ownership documents. This can help in women's economic empowerment and provide them with a sense of security and independence.
The Svamitva Yojana has helped India make headway towards the Prime Minister's aim of digitising the country. Through this programme, rural residents can finally purchase their property in accordance with their legal rights and use it as they see suitable.
The Survey of India (SOI) is using drones to survey rural inhabited areas in order to develop high resolution and accurate maps to bestow ownership and property rights. Property cards/title deeds are distributed to rural household owners based on these maps or data. The scheme has already registered many achievements.
So far, out of total 5,68,245 villages across 31 states in the country, 3,59,031 villages have been notified and surveys have been completed in 2,54,213 Villages.
Uttar Pradesh has been the largest beneficiary of this scheme as out of 1,09,520 total villages, 90,884 have been notified and surveys have been completed in 89,510 villages.
Sikkim, Tamil Nadu and Telengana are pilot states.
The Panchayati Raj Ministry, which is administering the scheme in collaboration with state governments, has already mapped 69 percent of the notified villages and expects to complete the drone surveys by March of next year.
So far, 2,20,661 maps have been handed over to the states.
A total of 7,73,52,754 property parcels have been digitised from a total of 5,68,245 villages.
Property cards have been prepared for 82,293 villages across 31 states.
Property cards have been distributed for 58, 451 villages across 31 states.
The Svamitva Yojana is an important step towards increasing transparency, accountability, and efficiency in land record maintenance in India's rural areas. It is an important initiative that can enhance socioeconomic growth and development in rural communities by giving legal documentation to property owners.
This article first appeared in www.vifindia.org and it belongs to them.