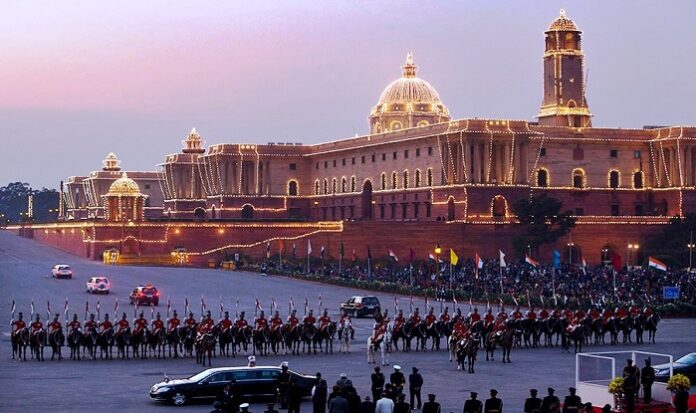 India has announced that a novel "Drone Show" comprising 1,000 swarm drones will light up the sky for about 10 minutes during the Beating Retreat Ceremony on 29 January 2022. It has been designed, conceptualised and produced indigenously under the "Make in India" initiative by Botlab Dynamics, and has been sponsored by the Indian Institute of Technology (IIT) Delhi and the Department of Science & Technology (DST), Ministry of Electronics and Information Technology (MeitY). With a display of 1,000 indigenously produced swarm drones, India would become the fourth nation to achieve such a feat, making it a front row actor with a strong foothold in the field of drone technology.
By Sanur Sharma
The US, Russia and China have carried out such swarm drone displays in the past. In 2020, China tested its swarm drone technology and demonstrated rapid deployment with intensive launching, hovering, precise formation, inspection and precision strike. In May 2021, the Chinese People's Liberation Army (PLA) showcased various drones like WZ-7 and WZ-8 (Chinese version of US R.Q. 4 "Global Hawk") at the International Aviation and Aerospace Exhibition, also known as the Airshow China, signalling the increased importance of drones in its military strategy. According to the Chinese media reports and experts, these surveillance drones are likely to be used over parts of South and East China seas and on the borders with India and Afghanistan. At another PLA drill in May 2021, China showcased drone swarms and robots leading to speculations about their possible use during conflicts in the Taiwan Strait. The US also, in the past, has conducted various demonstrations of their drone technologies. The US Navy displayed its offensive swarm operations with its LOCUST (Low-Cost Unmanned Aerial Vehicle Swarming Technology) Drone Swarm that has the capabilities of firing small UAVs from the tube-based launcher. In June 2019, the US Defense Advanced Research Projects Agency (DARPA) demonstrated a swarm of autonomous drones to analyse, surround and secure a mock city building. The demonstration was part of DARPA's Offensive Swarm-Enabled Tactics (OFFSET) programme, which has about 250 drones to accompany smaller infantry units to carry missions in dense urban environments.
On 15 January 2021, the Indian Army had demonstrated its drone power with a display of Kamikaze mock attacks and first-aid delivery during the Army Day Parade. The 75 indigenously developed drones had displayed the swarming capabilities through an array of Artificial Intelligence enabled offensive missions. This display contributed 13 targets at hostile armour mortar positions with troop concentrations, terror hideouts, radar sites and helipads that were brought down. The drones were synchronised with satellite feeds and area correlation technologies. The remarkable thing about these swarm drones was that they were a heterogeneous swarm equipped with a quadcopter, a six-rotor mothership drone and small quadcopters with explosives.
Unlike the US' homogenous swarms like Perdix Swarm and DARPA's Gremlins Swarm, India's drone swarm seems to be an efficient solution that gives a viable option to the military to construct its variable strategic defence mechanisms as per its requirements. India is also developing drone swarms that can be deployed from fast jets. The drones called Air Launched Flexible Asset–Swarm (ALFA–S), developed by Hindustan Aeronautics Limited (HAL) and Newspace Research & Technologies (NRT) Private Limited, are fully networked through electronic data links and are capable of detecting surface to air missile units, enemy radars and aircraft on the ground. This project was pushed considering China's deployment of surface to air missiles at the Ladakh border.
Another demonstration of a fully operational decentralised swarm of 25 drones was carried out by the Defence Research and Development Organisation (DRDO) at a three-day defence function in Jhansi in November 2021 to mark the 75th year of Indian Independence. Defence Minister Rajnath Singh highlighted the government's focus on achieving self-reliant, indigenous solutions in the defence sector. Prime Minister Narendra Modi, on 19 November 2021, handed over the indigenously developed military hardware, including the light combat helicopter, drones and electronic warfare systems to the armed forces.
Though India is a relatively new entrant into this field, compared to Western powers, it appears set to make rapid progress in developing indigenous drone capabilities. However, the first procurement of drones by the Indian Army dates to the 1990s when it acquired UAVs from Israel. It was first used during the Kargil War in 1999 for photo-reconnaissance. The DRDO has also been actively working in the development of drones, and the first fully functional unmanned drone system, Rustom-1, took flight in 2009. Recently, India has further extended its drone capabilities in collaboration with the US via the Defence Technology and Trade Initiative (DTTI), and in 2021, it signed a $3 billion deal for procurement of 30 Predator/ MQ 9 drones that have the ability to carry out long-range precision airstrikes.
In addition, India has signed a pact of 100 explosive-laden drones with Israel's Elbit Security Systems and Bengaluru-based Alpha Design-led joint venture. These Sky Striker Drones are loitering munition with long-range capabilities of 100 km range loaded with 5 kg warhead. They are GPS enabled and capable of carrying out covert operations at low altitudes. The Indian armed forces have procured these drones to permanently enhance their operational capabilities, making it a force multiplier in futuristic warfare.
Indian start-ups are expected to play a significant role towards developing indigenous solutions for drone swarms. Many Indian start-ups like Botlab Dynamics and Alpha Design are developing smart indigenous solutions driven by the latest technologies like AI and edge computing. In the commercial sector, India has already come up with a drone policy. The Ministry of Civil Aviation (MoCA) published the Unmanned Aircraft Systems Rules (UAS) in 2021 and updated rules were published on 13 January 2022. Union Civil Aviation Minister Jyotiraditya Scindia stated that by 2030, India has the potential to be a global drone hub through its policy structure, funding incentive and demand structure. The drone policy rules do not apply to the armed forces at this point. However, there have been discussions in the military circles about the need for policy implementations to regulate drone use in the defence sector. In consideration of these advancements, the DRDO, the Indian defence industry, and the Indian government need to constructively strengthen the Indian start-up ecosystem in the drone sector by establishing policy implementations, creating funding initiatives, and building a demand structure.
Globally, the demonstration of military capabilities through ceremonial parades and drills signifies the strategic positioning of countries and their military strength and readiness. In the past, India has avoided displaying its nuclear strength due to geopolitical reasons. However, with the changing dynamics of the battlefield and the nature of warfare, India has realised the imperative of strategic positioning in the global military space and therefore the need to demonstrate power. It also indicates the country's readiness to use these technology-driven warfare mechanisms when required.
This article first appeared in www.idsa.in and it belongs to them.