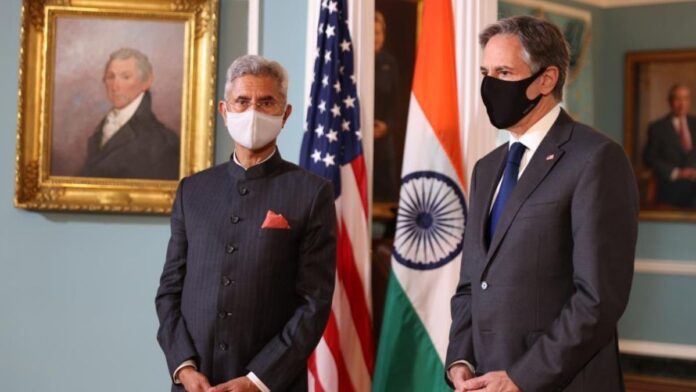 The just concluded visit of the US Secretary of State Blinken to India merits keen scrutiny coming as it has on the cusps of regional developments in Afghanistan, global pandemic management, forthcoming meetings on the Indo Pacific and a host of ongoing global issues such as climate change amongst others. While the visit did cover a lot of ground, what was keenly awaited was the signal on how it would frame forthcoming counters to the China challenge.
By K P Vijayalakshmi
It is important to remember that this visit was preceded by the visit of the Defense Secretary Austin in March and envoy on Climate Change John Kerry in April this year. While the former were focussed on narrower areas, Blinken visit is a comprehensive one covering a range of issues. Coming after a bipartisan Congressional Strategic competition Act-2021 to counter China, this visit also illustrated the US investment in alliances and partnerships. US Department of State's Ned Price had, in a statement, outlined the areas of discussion in the weekend before the visit. "Secretary Blinken will meet with External Affairs Minister Dr. S. Jaishankar and Prime Minister Narendra Modi to discuss a wide range of issues including continued cooperation on COVID-19 response efforts, Indo-Pacific engagement, shared regional security interests, shared democratic values, and addressing the climate crisis". He further described it as an exciting opportunity to strengthen and expand the growing strategic partnership between India and the US. Indian Ministry of External Affairs too stated that Blinken's visit is an opportunity to "continue the high-level bilateral dialogue and bolster the India-US global strategic partnership". "Both sides will review the robust and multifaceted India-US bilateral relations, and potential for consolidating them further," it added.
During the visit, which began with a meeting between Secretary Blinken and civil society leaders, there has been clear signalling that while there would be difficult discussions on thorny issues regarding human rights and democratic values; these would be conducted civilly with mutual recognition that both countries face democratic challenges in their countries. The references to the issue of discrimination was rather guarded, despite the earlier assertion by Dean Thompson, Acting Assistant Secretary of State for South and Central Asian Affairs, that Blinken would raise those issues during his visit. He did have those conversations, but ended with an allusion to "democracies are work in progress" with an ability to self correct. Both sides were in fact able to discuss these issues non-acrimoniously and in fact accommodatingly. Significantly, he met Tibetan Monk and representative of the Tibetan Government in exile that could ruffle China. What emerged after a round of discussions was a reiteration that US supported India's emergence as leading global power and a democracy that is a force for good in the world.
Secretary Blinken and Minister Jaishankar also took the opportunity to emphasize the increasing convergence between India and US on a wide range of bilateral and multilateral issues whether it be Afghanistan, China's activities on the Indian borders and elsewhere, Tibet, boosting Indo Pacific engagement, climate change and vaccine diplomacy. They clearly were on board with the commitment of both strategic partners to convert this convergence into concrete and practical cooperation.
Both emphasized a coordinated Covid-19 response, including open and consistent supply chains for materials and items required for producing vaccines as a mechanism of cooperation. Already the US has announced $25 million vaccines and 200 million in aid to India as part of strengthening ties. More importantly, early Indian help to the US in the battle against Covid was flagged to underline US' gratitude and its support for ramping up the vaccine production by India both for domestic and global consumption and augmenting global supplies. India had already committed to manufacture about a billion vaccines under the auspices of the Quad for global distribution by 2022.
Simultaneously, the Department of State nominee Donald Lu as Assistant Secretary for South and Central Asian Affairs said to the Senate Foreign Relations Committee that "India is critical to the global fight against COVID-19" and to "build a more inclusive stable global economy". He also called India and the US as Indo Pacific powers that will strive to keep the Indo Pacific sovereign and free.
External Affairs Minister also acknowledged the US support as critical in managing the devastating second wave of Covid-19 in India. "We also discussed travel challenges resulting from COVID. The US has been really forthcoming on students, I really appreciate that". The main point was that the bonhomie displayed allayed the concerns of those expecting harsher US rhetoric on human rights, management of Covid pandemic and other issues come in the way. Seemingly it has spoiled the Chinese and Pakistani expectations of jarring irritants emerging from the discussions.
The meeting raised the security convergences on Afghanistan to a new level. Not only did the American articulation resemble the Indian position, it amplified the future security based support for Afghanistan after the US withdrawal by September. Hailing the relations with India as one the "most consequential" for the US, Blinken said India "has and will" continue to make a vital contribution to Afghanistan's stability and development. The Secretary reiterated finding a peaceful solution which is Afghan led and owned as the only way: yet committing to sanctions and isolation of Afghanistan if Taliban captured it by military force. Elaborating US policy after withdrawal he was insistent that "An Afghanistan that does not respect the rights of its people, an Afghanistan that commits atrocities against its own people would become a pariah state," and added that "The Taliban says that it seeks international recognition, that it wants international support for Afghanistan. Presumably it wants its leaders to be able to travel freely in the world, sanctions lifted, etc. The taking over of the country by force and abusing the rights of its people is not the path to achieve those objectives" while Jaishankar framed it thus: "We don't think that the outcome should be decided by force on the battlefield. We think the peace negotiations should be a negotiation and should lead to peace." Reassurance that America continues to keep a watchful eye on the developments in Afghanistan with a view to provide "over the horizon support" emerged from the talks.
In sharp contrast, a nine member Taliban delegation visiting China to gain support received Wang Yi, China's Foreign Minister's statement that the Taliban was "a pivotal military and political force" in Afghanistan's reconstruction and its leaders as focused on peace talks. India meanwhile noted Pakistan leveraging its influence on Taliban to revive ties with the US, and the Taliban drawing on Islamabad to strengthen its ties with China. It has also understood that the Chinese are looking towards expanding the Belt and Road initiative into Afghanistan and Central Asia, improving bilateral trade with Afghanistan and exploiting resources like coal, copper and iron ore in that country. While pleased with the level of convergence with the US in terms of end goals in Afghanistan, India seems to have decided on a policy of strategic patience that involves wait and watch of what the Taliban would do after the exit of the US, while pointing out to the US that Afghanistan's independence and sovereignty will only be ensured "if it is free from malign influences" (Pakistan). In sum, close strategizing for regional security and stability figured extensively that implies calibration and confidence in the partnership.
Interestingly, while the visit by Deputy Secretary Wendy Sherman to China at the same time has evoked a sharp Chinese reaction that accused the US of "thinly veiled attempt to contain and suppress China," Secretary Blinken's message in India was that QUAD was not a military alliance but one that "this partnership will be critical to delivering stability and prosperity in the Indo-Pacific region and beyond". Challenging China's repeated bogey of a "Asian NATO" both sides pointed to a joint commitment to maintain adherence to a free, inclusive and rule based Indo pacific without coercion and dominance by any one power (like China) for the region's peace and prosperity. Consulting on China and other multilateral issues has thus become fairly regular under this administration. The importance of the Indo Pacific engagement in the coming days both at the summit level and a bilateral ministerial level is another important takeaway form the visit. Given Biden's stress on multilateral cooperation and India assuming the rotating presidency of the UNSC for this month with the focus on maritime security, peacekeeping and counterterrorism, the relationship seems poised to gain serious momentum in going to the next level.
This article first appeared in www.vifindia.org and it belongs to them.