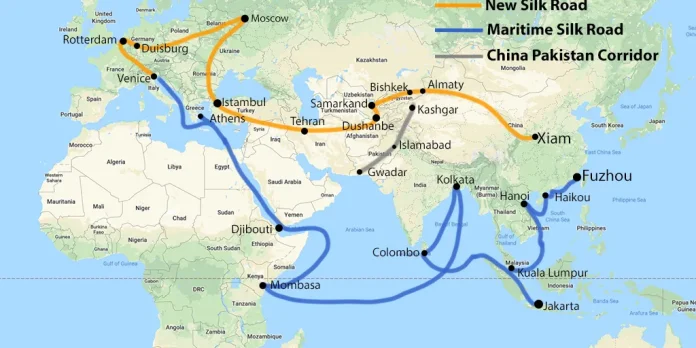 "I think the rise of China is one of the great events of all economic and human history, and I think this will be overwhelmingly a positive thing for the region and the world." – Paul Keating.
By Ananya Dubey
China is one of the superpowers in today's world. Its prowess can be seen in all aspects, from economic to political to trade. The launch of The Belt and Road initiative in 2013 by the nation is another step toward its plans of world domination. Coined as the Belt and Road Initiative, inspired by the historic Silk Road, it consists of a Silk Road Economic Belt – a passage that links China with Southeast Asia, South Asia, Central Asia, Russia and Europe by land – and a maritime Silk Road, a sea route connecting China Coastal regions with South East and South Asia, the South Pacific, the Middle East and Eastern Africa and Europe. As of March 2020, 138 countries have signed a Memorandum of Understanding (MoU) with China joining the Belt and Road initiative.
What are China's interests in the Belt and Road Initiative?
The connectivity the Belt and Road initiative will create throughout Eurasia and beyond will help China's economic and security interests while also increasing overseas infrastructure development and investment. At the first Belt and Road forum in Beijing in May 2017, President Xi Jinping stated that "In pursuing the Belt and Road Initiative, we should focus on the fundamental issue of development, release the growth potential of various countries and achieve economic integration and interconnected development and deliver benefits to all."
The strategy of China to create roadways, waterways and airways to connect significant parts of the world, such as South, Southeast and Central Asia and Europe, and Africa, will certainly benefit its economy, which is already expanding at an incredible speed. With its strong manufacturing sector and a plethora of working-class citizens, it has always been an attractive choice for foreign direct investment, and after the Belt and Road Initiative, it will reach new heights of power. In brief, it is a way in which China confirms its role as a global power.
What is China doing under the Belt and Road Initiative?
China is essentially performing a lot of different tasks to expand its hold on power in world politics. It is sometimes building things from scratch, upgrading the existing infrastructure, handing out loans to other nations to carry out their projects and making investments.
Much to India's concern, China has formed the China-Pakistan Economic Corridor (CPEC) in collaboration with Pakistan, where almost $60 billion has been spent on coal and hydropower plants, wind farms, highways and a rail link between Peshawar and Karachi. The BRI is estimated to include approximately 2,600 projects in over 100 countries.
What are the significant routes under the Belt and Road Initiative?
As of January 2019, 790 projects are under the Belt and Road initiative. There are three significant belts under the Belt and Road Initiative. It consists of a Silk Road Economic Belt – a passage that links China with Southeast Asia, South Asia, Central Asia, Russia and Europe by land – and a maritime Silk Road, a sea route connecting China's Coastal regions with South East and South Asia, the South Pacific, the Middle East and Eastern Africa and Europe. The North Belt would connect Central Asia and Russia to Europe. The central belt would connect Central and West Asia to the Persian Gulf and the Mediterranean. The south belt connects China through Southeast Asia and South Asia and on to the Indian Ocean through Pakistan.
What is the impact on developing countries?
What China is trying to do and masking it as helping developing countries is nothing like what the IMF and World Bank have done in the past. Institutions such as the IMF or the World Bank usually help by asking for things like democratic reforms in return. But that is not something that can be expected of China. Since the BRI projects have not only an economic impact but also a political one, it gives China easy access to influence the political situations in these countries and shape them according to its needs and desires. Since much is not known about the BRI projects, it can lead to problems like corruption in developing countries. Take Sri Lanka as an example, which took a massive loan from China to build Hambantota port and, when it couldn't repay it, had to give it as a loan to China for 99 years. Instances like these are making people doubt China's motives behind the project.
What is the impact of the Belt and Road Initiative on the USA, and what is it doing to counter it?
This initiative by China has captured the attention of the US and other western nations. At the recent G7 summit, the countries discussed the BRI and devised their plan known as B3W- an abbreviation for Build Back Better World. They are trying to emphasize transparency, good governance and the environment. But a lot cannot be said about this plan as it lacks any concrete structure and a time frame. It can and has been told that there is nothing new that the B3W is trying to do that is not already being done by the IMF, World Bank or the ADB. BRI is yet another point of competition between China and the west.
The competition can also be seen in an ideological form, where the question is whether the countries will gravitate towards China with its autocratic form of governance or stay with the western democracy. US president Joe Biden said in a speech, " I feel very strongly I propose that we have a democratic alternative to the Belt and Road Initiative to build back better, and they've agreed to that, and that's underway as the details of that we agreed to put together a committee to do that and come up with that."
What are the environmental and debt implications on Developing countries?
This is a very widely debated topic, whether or not the BRI is creating a debt trap for developing countries as China has a reputation for performing Debt-trap diplomacy. An article by India today provides information that the BRI has compounded the debt burden the countries already had due to the Covid pandemic many times over with hidden loans worth $385 billion. But some scholars still deny that China is creating a debt trap by insisting that the countries are participating willingly in the project and have not been forced or coerced to take loans from the Chinese government to carry out the tasks in their own countries.
The Chinese government claims that the BRI will work according to the UN's sustainable development goals, but many environmentalists are not so sure if such a large project can be done without a staggering environmental impact. Its projects targeting developing countries can and will lead to a lot of deforestation and depletion of natural resources.
What is the effect of the BRI on India?
India has been sceptical about the Belt and Road Initiative since the project's formative years. Also, China's increasing partnership with Pakistan in the formation of the CPEC is a growing concern for India. China supports Pakistan on the Kashmir issue, and the CPEC passes through PoK, another primary concern for India. It was brought to notice by Former Indian Foreign Secretary and current Minister of External Affairs in 2016 that the "interactive dynamic between strategic interests and connectivity initiatives- a universal proposition- is on particular display in our continent". Also, he cautioned countries against using connectivity "as an exercise in hard-wiring that influences choices." India is sceptical about these initiatives of China because they lead to strategic and territorial implications for it and might put its security at risk.
Conclusion 
It can be said without doubt that this is a very ambitious project on China's part. It puts a certain amount of responsibility on China because the world is watching its actions this time, and there is no room for mistakes. But at the same time, the rest of the world can't point much out since the details of the multi-faceted project are very covert. I think that developing countries should exercise copious amounts of caution while partaking in BRI-related projects, walk in with the terms laid out, and only take on as much as they can repay.
I also believe that if the western countries want to counter China's advances towards a more central position in world politics, they need to develop a better alternative for developing countries to choose over the BRI. India, on the other hand, should work on taking back the power in the South Asian region that China is slowly trying to poach by introducing soft loans to its neighbours. It should also maintain its stand on BRI and not take part in it because it already has reservations, and taking part in the BRI will only create a need for constant surveillance of China's work and taking up loans, which could lead to debt.
This article first appeared in https://samvadaworld.com and it belongs to them.