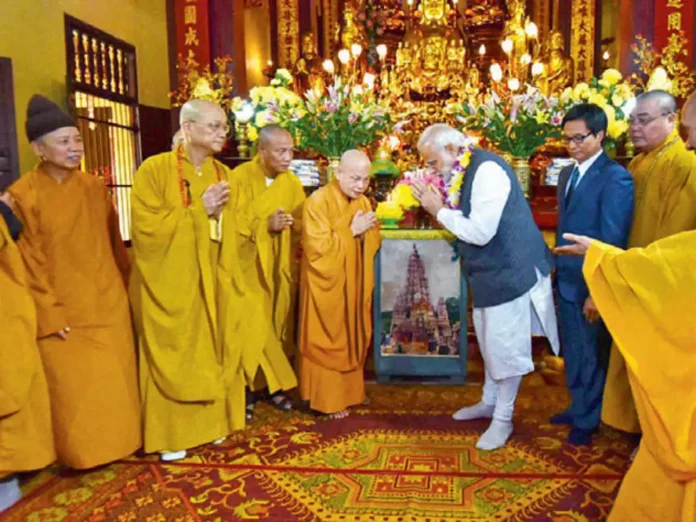 India has always been aware of the need to avoid using military might as the cornerstone of its foreign policy since gaining independence. The values of peaceful coexistence have governed India since Jawaharlal Nehru's Panchsheel principles. Though India's place in the international system has shifted dramatically since—and today the language of India's great-power aspirations is widely heard—ideas that support non-coercive power projection are still vital to foreign-policy formulations. This piece examines one specific aspect of India's projection of soft power: the use of India's historical ties to Buddhism in foreign affairs and diplomacy.
By Ankit Mohonto
On the occasion of Buddha Purnima, the day the founder of Buddhism, Gautama Buddha, was born, Indian Prime Minister Narendra Modi visited Lumbini, the Buddha's birthplace, on May 16, 2022. He was accompanied by his Nepalese counterpart, Prime Minister Sher Bahadur Deuba, with whom the foundation stone for the India International Center for Buddhist Culture and Heritage was also laid. There are also other recent international developments which point to a growing use of Buddhism in India's soft power diplomacy. The Buddhist faith and its emphasis on peaceful coexistence complement international diplomacy and the region's need to maintain a general level of peace.
Joseph Nye was the first to point out that, in addition to hard power diplomacy through military intervention, a soft power influence on other regions should be prioritized. Nye's soft power model paralleled America's own methods of international diplomacy through the use of the American dream, as well as the introduction of multinational conglomerates such as McDonald's into global markets, as well as values such as democracy. India has adopted this traditional soft power strategy through the export of Bollywood and yoga. But the practice of Buddhism does not depend on the export of a particular cultural good. Instead, it places emphasis on the two regions' shared cultural history.
After gaining independence, India has made a point of avoiding relying solely on military might in its foreign policy through the adoption of numerous concepts, such as the Panchsheel Initiative. In order to promote India as a worldwide force and as a guide for its foreign policy, the Panchamrit principles have long been embraced. Sanskriti evam Sabhyata (culture and civilizational links), the fifth of these listed principles, expresses the government's aim to capitalize on India's historical ties to other nations as part of its non-coercive soft power strategy.
China has taken similar steps to use Buddhism as a lever in exercising its influence over the region at the same time. The employment of religion in a governmental system that forbids it is an aberration in modern Chinese history, but China is of the opinion that Buddhism might help spread its huge trillion-dollar Belt and Road Initiative agenda. The ambitious BRI initiative by the Chinese Communist Party has included Buddhist-majority countries like Nepal, Sri Lanka, Mongolia, Bhutan, Japan, South Korea, Thailand, Myanmar, and Malaysia. To win over these nations, the BRI has made progress in using Buddhism in its soft power discourse.
After World War II, Buddhism as a religion had an enormous resurgence. It had an internationalist viewpoint that emphasized crossing national and sectarian boundaries. In the early years, India participated actively in worldwide Buddhist Councils. Following World War II, Buddhism was generally accepted in East Asia's Japan and South Korea, as it was by the former Soviet Union's citizens after the Cold War. According to current estimates, 97% of all Buddhists worldwide reside in Asia, and several nations, including Bhutan, Burma, Sri Lanka, and Thailand, view Buddhism as fundamental to their national identities and cultures. In light of this, it is possible to comprehend the sustained attempts made by the governments of China and India to build on their Buddhist past in order to lay the groundwork for future diplomatic, economic, cultural, and strategic ties and their foreign policies.
Although having a relatively small population of Buddhists, India has a few factors working in its favour to claim legitimacy in its promotion of Buddhist diplomacy for a variety of reasons. First, Buddhism has its roots in India, giving it a unique claim to historical legitimacy. Second, there are many important Buddhist sites in India, including Bodh Gaya, Sarnath, and Nalanda. Third, India has cultivated a reputation as a champion of the oppressed because of the Dalai Lama and the Tibetan Parliament, which are both exiled in the city of Dharamshala as a result of the conflict with the Chinese government. It is indeed interesting to note that there has long been a connection between Buddhism and state diplomacy, going all the way back to Ashoka and his acceptance of Dharmavijaya. Buddhism is also an important factor that is being used by India to strengthen ties with Asian countries and contribute to other, more general foreign policy goals like the "Act East" and "Neighborhood First" policies.
Taking into account the aforementioned three factors, India has strategically highlighted a number of ways that a subdued soft power strategy through Buddhism might bring it closer to the countries with a majority Buddhist population. First, as a unique gesture in the field of Buddhist diplomacy, the Indian government has ensured strategic diplomatic visits to several Buddhist countries across the world as well as a visit to Buddhist landmarks around the world. Also, the activity of religious tourism has been recognized as a very promising path. To increase tourism to these unique Buddhist places, the Ministry of Tourism has created specialized Buddhist tourist circuits that cross international borders.
For instance, 64,114 foreign tourists visited the state of Bihar in total as early as 2005. Out of this, 45,149 foreign tourists visited Buddhist destinations and 18,965 foreign tourists who visited non-Buddhist locations. In summary, international visitors made up less than 1% of the population at non-Buddhist locations but about 7% of the population at Buddhist destinations. With 29,328 visitors from outside in December 2018, Bodh Gaya had the fourth-highest number of international visitor arrivals in 2018. In other words, there were 270,787 international visitors to Bodhgaya in 2018 alone, and there were 87,256 foreign visitors in each of the months of January and December. Researchers like Daya Kishan Thussu and Shantanu Kishwar discuss how the Dalai Lama and the Tibetan people's presence has revived Buddhist sites and improved India's reputation among the world's Buddhists.
The restoration of the Nalanda University is the most significant academic endeavour that the Indian government has ever undertaken. This institution was established as a pan-Asian project, supported by a number of nations, with the goal of serving as the fulcrum of Asian culture and focusing on the rebirth of Asia for the purpose of reuniting Asian individuals and societies. India's position at the head of the global Buddhist order and its reputation in the academic community of Buddhism would both benefit greatly from the construction of a successful, world-class research centre.
The Dalai Lama dispute is the most salient example of India and China's competition in the field of Buddhist diplomacy. The Dalai Lama and the Tibetan government-in-presence exiles in the North Indian city of Dharamshala has improved India's standing among Buddhists worldwide. Yet, this has been a point of conflict between the two nations because the Chinese state believes that the Dalai Lama and his supporters are of "anti-China splittist bent" and pose a threat to Chinese sovereignty.
The present government has imparted momentum to associated economic, cultural, and educational activities by highlighting India's Buddhist history. For the promotion of Buddhist links with its neighbour Sri Lanka, where the religion is practiced by over 70 % of population, the Indian government approved a $15 million grant last year. According to India's External Affairs Ministry, this money would be used for the building and refurbishment of Buddhist temples, cultural exchanges, archaeological collaboration, and reciprocal exhibition of Buddha's relics.
However, the relationship between India and Japan best exemplifies how Buddhism has served as a tether between New Delhi and a fellow regional economic power, as Buddhists make up close to 70% of the Japanese population. Modi took advantage of this reality during his first visit to the North Asian nation in 2014, when he chose Kyoto as his first stop rather than Tokyo. He picked Kyoto because the To-ji Temple, a Buddhist structure built in the ninth century, is there. He met Shinzo Abe, the Japanese Prime Minister at the time, there. The words "Moving in sync" were included when India's Minister of Foreign Affairs tweeted a picture of the two leaders strolling through the temple grounds. PM Modi met PM Abe at the To-ji Temple, signifying the shared civilizations of India and Japan. The Japanese leader reiterated this idea when he described how Buddhism moved from India to Japan, forging what he called a "sutra" [thread] connecting the two nations, to local reporters at the time.
The diversity of India's soft power diplomacy has theoretically broadened the definition of soft power rhetoric by promoting shared cultural development rather than the export of cultural goods. On March 14–15 2023, India played host to the international conference "Shared Buddhist History," which included SCO members. The forum, which was being hailed as the first of its kind, concentrated on the historical ties between India and the Buddhist world. For the two-day programme, which had been arranged by India's Ministry of Culture, Ministry of Foreign Affairs, and the International Buddhist Confederation, participants travelled to New Delhi from Central, East, and South Asia, as well as the Middle East.
But, when it comes to Buddhist diplomacy, the Indian government needs to do much more in the arena of tangible results. Although the government has made clear that it is aware of this fact, yet little has been done to actually take advantage of it. While there have been notable developments in areas like Buddhist tourism, the successful rehabilitation of Nalanda University, and India's safe homage to the Dalai Lama over the years, the current administration faces a critical issue in effective execution. India can significantly contest China in Buddhist diplomacy, improve relations with other Asian nations, and project itself as a true regional and global force through the efficient implementation of these planned soft power diplomatic strategies.
The use of soft power also does not, however, come without issues. Nye lays a lot of weight on a nation's credibility when measuring its soft power. Issues like poor human development indices, social inequality, political violence, corruption, inadequate infrastructure, bad governance, and comparatively weak "hard power" are a few of the factors that might hinder India's ability to use soft power. In order to put India on the path of high growth rates, the current administration has to strike the correct balance between economic reforms and social welfare spending. This will determine how effectively it can employ soft power assets like Buddhism. India, culturally and historically, has an innate right to deploy Buddhism as its own and has legitimacy over the same while the same cannot be said about its direct counter power China which intends to use it as part of its economic strategy.
Another aspect to consider would be that in 2017, India became a permanent member of the regional multilateral organization known as the Shanghai Cooperation Organization (SCO). The establishment of relations with the Central Asian countries was India's main objective in joining the SCO. Of the five nations in Central Asia, four are founding members of the SCO. India's membership in the SCO provides a counterbalance, even though China clearly dominates this organization. As Pakistan joined the SCO alongside India as a permanent member, the China-Pakistan axis poses a threat to New Delhi.
India must therefore exploit the SCO platform as a key part of its Eurasian strategy. New Delhi will lead the SCO in a rotating presidency from 2022 to 2023. India's civilizational splendour and historical ties to Central Asia should be one of the major emphasis of its SCO presidency in addition to numerous significant ideas for food security, connectivity, and economic development in the SCO. India must take advantage of this chance to highlight its ties to the SCO members, notably the Central Asian republics, both culturally and historically. This opportunity would be crucial considering how Buddhism is a great testimony to India and Central Asia's historical and cultural connection and further strengthen its soft power through it.
This article first appeared in www.vifindia.org and it belongs to them.