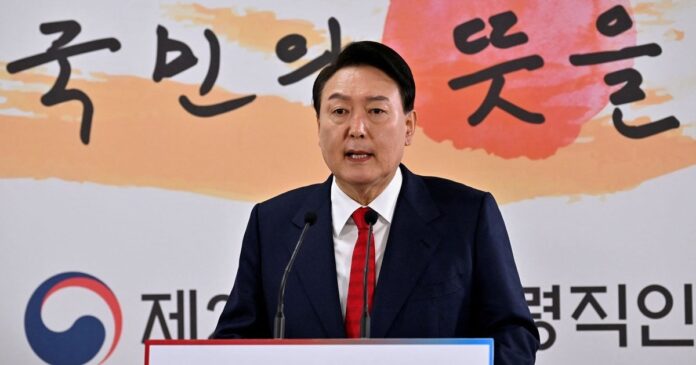 Yoon Suk-yeol assumed the office of South Korea's new President on 10 May and had barely settled into his new role when he found himself at the centre of an ongoing tug of war between the US and China. In a smart move, China sent Vice-President Wang Qishan to Yoon's inauguration. But Biden was smarter as he travels to South Korea and Japan from 20-24 May 2022, two allies in Asia, to solidify US alliances and keep Chinese influence at bay.
By Prof Rajaram Panda
What makes the visit significant is that it came at a time when much of the world's focus is on the Russia-Ukraine crisis. When Washington hosted the US-ASEAN Special Summit and floated the Indo-Pacific Economic Framework idea, China slammed the concept. China would be closely watching what Biden discusses with leaders of Japan and South Korea.
Japan, despite its long-standing differences with South Korea over historical issues, sent its Foreign Minister Yoshimasa Hayashi to Yoon's inauguration, the first time Tokyo's top diplomat ever visited Seoul in four years. Hayashi handed over a letter from Kishida to Yoon wherein the former proposed to resolve their disagreements on some past issues. This was an encouraging sign of a political will to be friends and work in a cooperative spirit. The intentions could be laudable but public consensus would be needed for the leaders to make progress.
Biden's trip is expected to advance the Biden-Harris administration's rock-solid commitments to a free and open Indo-Pacific and to the alliance relationship with Japan and South Korea. Biden shall meet Yoon and Japan's Prime Minister Fumio Kishida individually and then the leaders from India and Australia at the Quad summit to be hosted by Japan on 24 May. Checking Chinese aggression and competition with Beijing is expected to be the main focus. Indeed, the month of May saw a lot of diplomatic activities as Biden hosted the leaders of ASEAN bloc in a Special Summit, bilateral summit with Yoon and Kishida and then the Quad summit. It may also be noted that the Biden administration sent two top national security officials to the Solomon Islands amid growing concern that China could establish a military presence there. This commentary focuses mainly on the challenges Yoon faces as the new President of South Korea.
Yoon jumps straight into the game of geopolitics even as power struggle between the US and China intensifies with the Indo-Pacific becoming as the latest battleground. It would be interesting to watch which side Yoon turns or balances South Korea's foreign policy with both. The presence of key economies in the region, its immense growth potential and its complicated security dynamics make increasing engagement inevitable for Washington and Beijing.
As the world's second largest economy after overtaking Japan more than a decade ago, geography endows China as a resident and regional power status with strong economic ties with many neighbouring countries. At the same time, China is a threatening power, which is why US is ratcheting up efforts to counter Beijing's influence. The change of leadership in South Korea comes amidst these developments as the flurry of moves taken by the two powers to secure the Northeast Asian country as an ally illustrates the degree to which the competition has escalated.
There could be a change in focus during Yoon government towards China. Though South Korea is an ally of the US bound by treaty obligation, Yoon's predecessor Moon Jae-in placed value on China's role in economic terms as China is by far South Korea's largest trading partner but also in terms of advancing relations with its northern neighbour, given the special relationship between the two. That narrative is likely to change during Yoon's regime. Though both Japan and South Korea are US allies in Asia, South Korea's ties with the US are relatively weak compared with that of Japan. As Biden visits South Korea days after Yoon took office, one could expect some change in focus during Biden administration. Biden's summit with Yoon would be the quickest to take place between an American President and South Korean President following the inauguration of the latter.
The strategic competition between the US and China may also be deciphered from Beijing's decision to send its highest-level official, Wang, to Yoon's inauguration, considering China's senior leaders have hardly travelled overseas since the pandemic began. Wang also delivered an invitation from President Xi Jinping for Yoon to visit China for a summit. Yoon thanked him for the invite without making any commitment to accept. As per diplomatic courtesy, it is the Chinese leader's turn to visit South Korea, given that the last bilateral summit was held in China. In a departure from Moon's policy, Yoon has made it clear early in his term that South Korea will increasingly align itself with the US, both in terms of security and trade.
Another significant development that took place soon after Yoon took charge is South Korea joined NATO's cyber defence group, becoming the first country in Asia to do so. Though this does not equate to joining the military pact, China must have taken notice because of the growing role of cyber warfare. In Europe, two Baltic States – Finland and Denmark – are too seeking membership to NATO. South Korea is also expected to join the US-led Indo-Pacific Economic Forum (IPEF) which is likely to be launched soon. The framework is an economic alliance that will set rules in various facets of trade, from digital sphere to a green transition.
The IPEF is seen as Washington's means to counter China's economic influence in the region, given that the latter, apart from substantial economic ties with individual countries, also leads the Regional Comprehensive Economic Partnership (RCEP), which spans the 10 Association of Southeast Asian Nations members plus Australia, Japan, New Zealand and South Korea. India pulled out at the last moment from this mega project after initial enthusiasm as its concerns were not addressed. In this strategic shift, it would be interesting to watch how China crafts its counter strategy as Biden wants to clip Beijing's economic wing by boosting economic and strategic ties with key Asian countries. Such US thinking stems after China sided with Russia on the Ukraine issue. The challenge before Beijing would be either to concede some space or choose a counter narrative.
North Korea's Nuclear and Missile Issue
Another important topic in Biden's agenda was North Korea's nuclear and missile development programmes. There was strong rumour that North Korea would conduct a nuclear test coinciding with Biden's visit to Seoul. Therefore, North Korea was "front and centre in the agenda". Given that Yoon is expected to take a hawkish stance on China and North Korea, a detailed discussion with Yoon to craft future policies about security in the region and the denuclearisation of the Korean Peninsula would be significant.
Indeed, Yoon's "solution" to the North Korean nuclear issue was strongly reminiscent of the Lee Myung-bak administration's "Vision 3000: Denuclearization and Openness" approach. He plans to pursue "sustainable peace" rather than "vulnerable peace" based on the temporary avoidance of war.  "Vulnerable peace" was a phrase often used by Yoon on the campaign trail to criticize the "Korean Peninsula peace process" under predecessor Moon Jae-in's administration. Analysts saw its use as signalling the new administration's plans to adhere to a harder line on Pyongyang.
While acknowledging that North Korea's nuclear programmes are a threat to the entire Northeast Asia, Yoon also wants to keep the door open for dialogue to resolve this issue peacefully. In his inaugural speech, Yoon outlined his audacious plan to vastly strengthen North Korea's economy and improve the quality of life for its people if North Korea genuinely embarks on a process to complete denuclearization. Lee's Vision 3000 involved promises of economic assistance to the North on the condition that it gives up its nuclear programme. Lee's plan entailed to help North Korea increase the average income to $3,000 within 10 years. That did not work as Pyongyang did not agree to the tradeoffs, with the result that the plan became a non-starter. Yoon now finds that North Korea is unlikely to pursue denuclearization based on promises of economic assistance alone, without substantive changes to the national security environment.
As part of Yoon's new presidential office, the top two positions in the National Security Office will be held by Korea University professor Kim Sung-han and Sungkyunkwan University professor Kim Tae-hyo — both of whom served as key members of the foreign affairs and national security line-up under Lee Myung-bak. Yoon's predecessor Moon was committed to pursuing an inter-Korean summit, which he had briefly when he stepped out into North Korean territory at the DMZ and met North Korean leader Kim Jong-un. Moon too was instrumental for two summit meetings between then US President Donald Trump and Kim Jong-un in Singapore and Hanoi. Both yielded no result. Moon was even prepared to travel to Pyongyang "under the right circumstances". That never materialised.
Moon's predecessor Park Geun-hye similarly said that she planned to "lay the groundwork for an era of unification where all Koreans can lead more prosperous and freer lives and where their dreams can come true." That proved to be utopian idea as Park was convicted on corruption charges and languished in jail for five years before Moon pardoned her. The disgraced Park was released on 31 December 2021. Now Yoon's goal of making South Korea a "core global power that contributes to freedom, peace, and prosperity" resonates with Biden administration's emphasis on "value-based diplomacy" in the US. What this emphasis on value-oriented diplomacy means in simple terms is that Yoon shall further strengthen South Korea's alliance with the US and trilateral cooperation with the US and Japan, while at the same time distancing from China and Russia. Human rights issue in North Korea also could figure in any dialogue process.
Even before Yoon assumed office, his foreign minister nominee Park Jin had remarked that "the existing policy of appeasement cannot prevent continued provocations by North Korea," arguing that "substantial policy changes are necessary in regard to North Korea right now."[5] The new Foreign Minister shall work in the area of joint cooperation with the US, to counter North Korean threats, security and technological cooperation related to global supply chain reorganization, cooperation regarding global issues such as COVID-19 and climate change, and joint efforts for peace, democracy, and independence in Ukraine. Though not an official member of the Quad, Park is also likely to work to expand South Korea's cooperation with the Quad and other similar bodies in areas where Korea is strong. South Korea and Vietnam are talked about as possible future candidates when the decision to expand is taken.
Ties with Japan that have suffered over historical issues and court issues are likely to be repaired as both are allies of the US, share democracy and a market economy and therefore the urgency to work together for peace and stability in Northeast Asia with main focus on the Korean Peninsula. There is a realisation that unless such conflicting issues are resolved soon, both sides will suffer and the Yoon government is expected to work towards those goals. Though China is an important partner of Korea in terms of economic, trade and cultural exchanges, pursuance of a high-level strategic communication would be of mutual interest.
With North Korea showing no signing of abandoning its nuclear and missile programs, there is a strong possibility that it would continue its missile launches intended to unsettle the Yoon administration and put pressure on the US. [6] With a hard-line President in office now in Seoul, confrontation between the two Koreas may be inevitable. North Korea seems to be determined to experiment and conduct test launches in order to realise Kim's guideline, which calls for "multiplication" of Pyongyang's nuclear weapons and their delivery method. With China and Russia on North Korea's side, no additional sanctions would bite.
North Korean economy is in doldrums due to Covid-19 pandemic and long-term border closures. With the fluid internal political situation, Kim would be seeking legitimacy and national strength through demonstrating military power with nuclear power at the core. All stakeholders ought to strive hard to keep dialogue and negotiation process alive to avoid complicating the security situation in the region. As a first step, the Biden administration could consider lifting of some sanctions to draw Kim to the dialogue process. That of course could be a tough call but look the desirable route. Moreover, a hawkish Yoon is unlikely to suggest Biden to propose dialogue with Kim Jong-un. So, these leave Yoon heading the world 10th largest economy with an array of diplomatic challenges.
With Biden preoccupied with the Ukraine crisis, confronting China will add to Yoon's woes. As an immediate adversary, Yoon ought to convince Biden to prioritise the dialogue process while maintaining the hard-line stance. Trilateral cooperation between the US, Japan and South Korea could also be explored to deter North Korea from its weapons development programs. There are tough and challenging times ahead for Yoon.
This article first appeared in www.vifindia.org and it belongs to them.