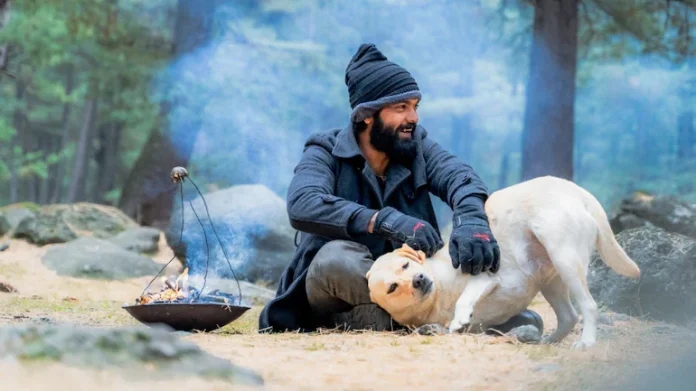 Imagine you being alone, chased around, stoned, poisoned, killed, separated, or even ill-treated. How would you feel? Will you be happy to be in such a situation? It is not what anyone wants to experience. So, is it right for our beloved tail-waggers to suffer such a life? Talking about this is not something people prefer as it is not a topic appreciated by many. Still doing a movie, taking such a big risk, is something that should be greatly appreciated.
By Prathima.G.Kulkarni
Rakshit Shetty's latest movie, "Charlie 777" is a movie that is set to record a new history in the cinema industry. First off, it is a movie that displays the connection between a dog and a person. Secondly, it comes with a beautiful message which encourages watchers to adopt it instead of buying it from an illegal breeder. The contribution of the entire team is outstanding as the movie has come out just fabulous. The movie tells the hard work put into even the smallest of details.
The movie starts with Dharma, leading a life that is monotonous and not worthy. It shows how he leads his life which includes, work, Idly, sleep, fighting, smoking, and beer with no major goals. He has blocked himself from being approachable, being loved, or being cared for. Losing his parents at a very early age due to an accident, his whole world becomes upside down which has left a dark mark on his personality.
Now comes Charlie to create a stir in the monotonous life of Dharma for the better. Charlie has to lead her life on the streets struggling to survive. Yet, she sees a light and tries to go towards it. The light leads her to Dharma who accidentally starts feeding him one Idly every day. She wants to get close to Dharma but he is not at all interested and chases her away. Charlie does not lose hope and keeps trying his best to gain affection. One day while following Dharma, Charlie meets with an accident and is badly wounded. No one cares about her as she lays on the ground injured. Finally, it will be Dhama who comes to his rescue.
At the clinic, Charlie gets terrified when he sees the syringe. This was due to a back story that had a bad memory from her younger days with a breeder who breeds dogs illegally. The movie tells how bad it is for the dogs to be bred illegally. Dogs go through a lot of suffering and in return will have a lot of health concerns when they grow up. Charlie was also forcefully bred ad given injections for breeding which took a major toll on her health and got cancer at a very early age.
Knowing her health concern for Charlie, Dharma was left heartbroken as he had finally realized his love for Charlie. He wants to make Charlie happy in her final days and decides to go on a journey to fulfill her final wish. Their journey starts….. What happens in their journey and what it enfolds is something that needs to be felt firsthand while watching the movie in the theater.
The cinema is a complete package that includes sentiments, comedy, and a social message which touches all the emotions. The acting, sound effects, cinematography, and songs all are top-notch. A must-watch movie for one and all!!!
The movie message which fills the heart of all dog lovers is: "Stop buying from illegal breeders, instead adopt a dog to save life."