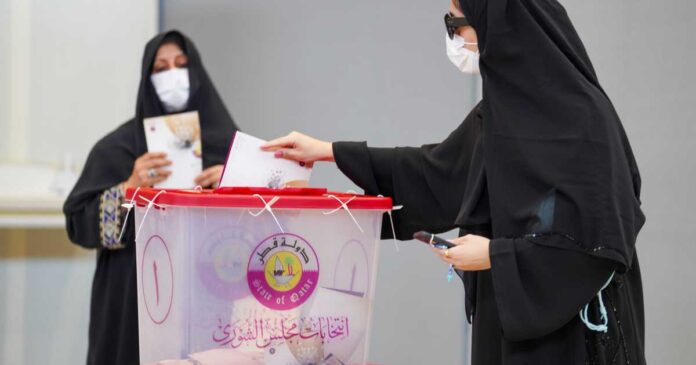 Arab Spring (2010) may have failed in some respects after forcing removal of Mubarak and Gaddafi as all the countries including Ben Ali's Tunisia continue to go through the political churn but it had showed the way to the youth and disenfranchised people in the Arab world that they could force change. Even the Gulf monarchies were worried and controlled the adverse impact by force in Bahrain and elsewhere by doles and dividends and writing off debts. They all promised that there will be reforms and change. Hence, the 2030 vision in the Gulf countries like Saudi Arabia, Qatar, and UAE etc., aims to gradually fulfil the aspirations of the masses. Doha is no different as it prepares to host the biggest ever event in the region- the FIFA 2022. Hence, display of its reformed approaches to the world becomes essential.
By Amb Anil Trigunayat
On October 2, the first ever elections to 30 seats in the 45 member Shura Council were held. Hitherto, all 45 were appointed by the Emir. Shura Council takes stock of government policies and passes the budget etc. The elections were slated for 2013 but in June that year were postponed at least until 2016 as the power transition from retiring Emir Hamad bin Khalifa Al Thani to his son current Emir Tamim bin Hamad Al Thani took place. These were further postponed to 2019 and the Shura Council continued in its old Avatar.
Even though in the wake of Qatar's blockade in 2017 by the quartet comprising Saudi Arabia, UAE, Bahrain and Egypt, the Emir Tamim had appointed 4 women to the Shura Council. This time in the elections 26 women were aspiring to be elected but none could, and all 30 men became the elected representatives to the Shura. It reflects the gap which would need to be filled as women have their own specific issues and would need to be politically empowered if Qatar wishes to have an equitable socio-political system. For example, Qatari women would prefer that their children from their wedding with foreign nationals should be allowed citizenship. Similarly, they would be happy if the Sharia driven guardianship system is removed or diluted where women can have freedom to choose their vocation and travel and work. Of course, Emir has introduced many reforms in this area. Elections by themselves and the fact that women enthusiastically participated as candidates and voters is a good sign for popular representation even if just a beginning but a desirable one at that in keeping with the times. But perhaps to keep the balance for women somewhat equitable, Emir may once again appoint a few more from among the remining appointed 15 members.
Elections apart from aspirational context were also important as the 284 candidates focussed on their constituency and national issues. During June- July there were protests demanding elections and popular representation. Emir therefore, approved the recommendation of the PM led committee and the electoral law on July 29 which ensured the modus operandi for the October 2 elections for 30 seats -one each representing a constituency. While 18 years old could vote the candidate had to be 30 years of age and a Qatari citizen. In fact, the qualification of the voters and candidates caused a lot of heartburn among various constituents. Al Murrah tribe was excluded. Their role in 1996 bloodless coup was denigrated by the new rulers and since then they have had a fractious relationship. Again in 2017 during the Qatar blockade Al Murrah leader Sheikh Taleb bin Lahom bin Shreim called Qatar's government "a source of haven for terrorists" and accused them of being too close to Iran in an interview with Saudi Arabia's Al-Arabiya news outlet.
Qatari citizenship entailed from 1930 citizenship of their ancestors/grandfather. It also excluded the naturalised Qataris from contesting or voting that also led to earlier protests. These issues will have to be addressed in due course before they could become permanently cantankerous and lead to polarisation in an emerging scenario. No doubt a mindset change is equally essential for which a greater responsibility lies on the leadership across the spectrum in the Arab world lest the cosmetic changes prove to be disastrous in the long term.
Meanwhile, Qatar has emerged as a major interlocutor in the regional and global context. Be it in the context of rapprochement between Taliban and USA or Tehran and Washington DC or for that matter between Tel Aviv and Hamas it has been extending its good offices to mediate and provide a platform and this carved out a niche. Leaving behind the bitter past experience of blockade it has quickly cemented ties with Riyadh and others to move forward as part of the GCC community. Its conference diplomacy has been rather successful as it works to be a regional node in the multilateral efforts.
In the current Afghan scenario role of Qatar in transition from "Doha Agreement" to liaise between the negotiating parties has been well appreciated. It was the only country that since 2013 has been hosting an office for Taliban and helped release five US captives from Taliban custody. Currently, as it is helping the Taliban regime to stabilise and address their humanitarian and inclusive government formation efforts at the international stage; its leadership has been encouraging the major powers to engage with the Taliban to avert further disaster. Speaking at the UNGA, Emir Sheikh Tamim stressed the significance of the continued support of the international community to the Afghan people urging "at this critical stage, and to separate between humanitarian aid and political differences". It's also important to continue dialogue with the Taliban, boycotting them would only lead to polarisation and reactions, whereas dialogue could be fruitful, he added.
Doha has also been urging Taliban to fulfil its obligations including preserving the rights of women to be respected referring to its own and other Arab countries model of governance. Foreign Minister Sheikh Mohammed, at a joint press conference with his French counterpart (September 13) claimed that "We have always urged the Taliban and the government, we reiterated that yesterday, that the Afghan people's gains must be protected including women's rights and their role in the development of Afghanistan". Qatar does wield significant influence over the Taliban and its own progress and development might be a beacon of hope for a beleaguered Afghanistan who are well disposed and exposed to the tiny but the rich emirate with extensive international clout and networks.
Qatar may have several socio-political challenges, but it appears to be heading on slow and sure path of grassroot level reforms and the current elections are just the first step. Women's rights need to be the next if it wants Taliban and other regional countries to follow suit.
This article first appeared in www.vifindia.org and it belongs to them.