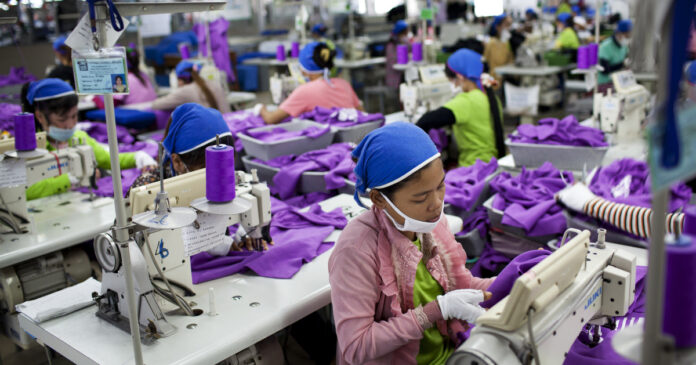 Fashion brands are ruthlessly exploiting textile workers. They don't provide basic working facilities to the workers. In times of the spread of Corona virus they have been laying off thousands of workers while they are pocketing billions
By Natasha Sudhir
The industry of fashion is a multi-billion dollar industry where an ever expanding consumption of goods takes place. This industry has evolved significantly in recent times giving way to fast fashion. Fast fashion is nothing but the expeditious mass manufacturing of goods sold to consumers at exceedingly low prices. This makes it easier for consumers to buy products multiple times a year, for any occasion or event and get rid of those clothes with the same ease once they go out of style. They then go on to buy new clothes from a new collection for the new season and the cycle goes on. This throws sustainability out of the window. Fast fashion relies behind the incessant desire of people to stay in trend whilst still being frugal. Correspondingly the rate at which we consume fashion has increased aggressively.
The clothes that we often buy when we're out in shopping malls or scrolling through online shopping apps are extremely pleasing to the eye but one look at the tag tells us it's made in either India or Bangladesh. The price that we often end up paying for these clothes never reach its maker. In an article written previously, we spoke about the inhumane conditions that factory workers at garment manufacturing units work in. There is zero ventilation in these factories, no access to basic facilities such as clean drinking water and the factory structures are mostly dilapidated and can give way at any point of time. Research shows that over 80% of the employees working in these factories are women who have no access to restrooms or any other facilities. They toil all day and night to barely make minimum wage with absolutely no job security. The corona virus pandemic has effectively played its part in making the latter a sad reality.
A little peak into the economics of these fast fashion brands tells us that most of them do not own their own ateliers or manufacturing units. A huge part of their manufacturing duties are outsourced to places like India or Bangladesh. The reason this is done is because of the cheap labor, low priced and easily procurable raw materials available in our country. The factory workers are responsible for obtaining the raw materials, producing the final product for consumption and then shipping the cargo to company's headquarters. The products then undergo a quality check before they are made available to people across the world. Usually, once the cargo has passed the quality check, the company pays the manufacturing unit. Some fast fashion brands pay an advance, but this is not done always.
It comes as no surprise that a lot of businesses have undergone extremely challenging times due to the corona virus pandemic. Many of them have even filed for bankruptcy.
H&M (Hennes and Mauritz AB), a Swedish multinational retail brand that is known for their fast fashion clothing for men, women, teenagers and children has recently come under fire for flouting certain human rights issues. In the month of June, many factory workers gathered outside Gokaldas Exports in Srirangapatna, Karnataka only to be told that they have all been laid off. Over 1300 garment workers have been told that their jobs no longer exist and that the factory is closing down. None of them were given any notice and were given the information by a porter at the gate. The justification of Gokaldas Exports, which employs over 1400 people in its factories and make clothing for brands like Zara, H&M, GAP etc. was that H&M had cancelled their order.
Mass protests were seen outside Gokaldas Exports and Euro Clothing in Bengaluru where many laborers were laid off because of H&M cancelling their orders last minute. The saddest part is that H&M cancelled their order after a majority of the work was finished by the laborers in appalling conditions amidst the Corona Virus pandemic which as a result has sparked major unrest and fury among the workers. Many factory employees that have worked in Euro Clothing for over a decade have been walking over 10 Kilometers daily to join the protests being held outside the factory.
The brand is refusing to pay for the work that has already been done and claims that it is due to the pandemic. All this coming from a brand that had a profit of over 1.8 Billion USD. These numbers are not the sales or the turnover, but the profit. The Workers Rights Consortium (WRC) is currently investigating H&M and its CEO Karl-Johan Persson who has a net worth of $1.5 billion (as of June 2020) for failing to honor their promise of paying suppliers.
The protests are not just being held in India but also in Taiwan and Sri Lanka among other places. In a recent protest on November 27, 2020 a group of factory workers joined hands to oppose the unhealthy working conditions provided by H&M at the Hidramani Factory in Vavuniya, Sri Lanka. The factory workers shed light on the fact that the brand was failing to provide them basic living wages during the pandemic. The protest was a peaceful one but the workers were allegedly interrogated and threatened by the factory management.
This is not the first time that H&M has had to face the music for its actions. A few years ago they were ensnared in a controversy when an inspection revealed that they employed children in their factories that produced clothing and accessories in Myanmar and Bhutan. H&M was also called out because of its failure to fulfil a commitment made to pay basic living expenses to around 8,50,000 workers in 2013. The payment has still not been made. Another story that broke in 2018 was that textile workers in factories of H&M and GAP faced severe gender based abuse and threats.
The workers are pushed to meet unrealistic targets and are then threatened if a complaint is filed which is why many such instances are overlooked due to the fear of retaliation at their workplace.
According to Vice, India's garment industry, which is one of the world's biggest for manufacturing and exports, reportedly handled some US$38.70 billion-worth of clothing and employed 45 million workers directly in 2019. Studies, however, predict as many as 10 million job cuts in the coming months.
Another fast fashion brand that has turned a blind eye to basic human rights is Kendall + Kylie, A brand founded by Kylie and Kendall Jenner associated with the Kardashian fame. This brand also cancelled an order that was ready to go and was just a few days away from delivery. One would think that the former 'youngest self-made Billionaire' had a page or two about ethics in her big book of business.
The problem with these brands is that none of them take responsibility for their actions and providing compensation to their factory workers is something that has never crossed their minds. Kendall and Kylie Jenner issued a statement that they have stopped working with Global Brands Group and will ensure this does not happen again. But what happens to the workers who have already lost their sources of income due to the brands inability to fund operations correctly.
It is understandable that the crux of any business, be it small or big is to make profits and survive come what may. But is it a huge ask for them to be ethical in their transactions? Brands that have been oblivious to issues like the non-payment of wages to workers and terrible working conditions have always had to bear the brunt in the long run as it tarnishes their image no matter how stylish and affordable their clothing is. We sincerely hope that brands that can afford to pay their factory workers, actually do.