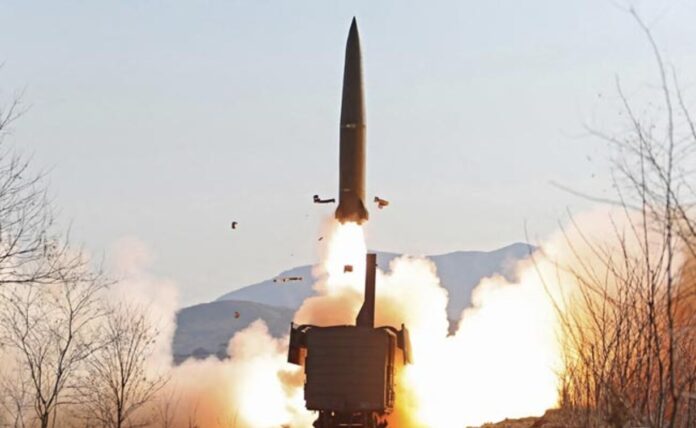 On 24 March 2022, North Korea ended a self-imposed moratorium on testing long range missiles and launched a new kind of ICBM for the first time since 2017. The launch was seen as a challenge and to assess South Korea's President-elect Yoon Suk-yeol about his likely North Korean policy when he takes office in May. As expected, the act drew condemnation worldwide. Watched by Kim Jong-un, the new Hwasong-17 missile is Pyongyang's largest ever.
By Prof Rajaram Panda
The missile travelled up to a maximum altitude of 6,248.5 km (about 3,900 miles) and flew a distance of 1,090 km (about 680 miles) for 4.052 seconds before accurately hitting the pre-set area in open waters of the East Sea of Korea between Korean peninsula and Japan. It appeared to be a "new type" of ICBM as it landed in Japan's territorial waters off the coast of Aomori Prefecture. It was reported that with this advanced missile, Pyongyang can eventually hit any target in the US territory. With a new President in office soon in South Korea, more provocations are likely as the reclusive nation facing crippling sanctions could be seeking concessions.
Since the beginning of the year 2022, Pyongyang conducted an unprecedented blitz of nearly a dozen sanctions-busting tests. From hypersonic to medium-range ballistic missiles, Pyongyang has tested a raft of banned weaponry in 2022 including two recent launches it claimed were of a "reconnaissance satellite".
Long-range and nuclear tests were paused since Kim met the then US president Donald Trump for a bout of doomed diplomacy, with two summit meetings in Singapore and then in Hanoi, collapsed in 2019. It looks like Kim has planned a new beginning with his high-voltage missile launch game by upgrading capabilities.
So far, North Korea has carried out three ICBM tests, the last in November 2017, of a Hwasong-15 with the capability of reaching the continental US. The North wants to possess the coveted ICBM that can carry multiple warheads. It tested the Hwasong-17, a giant ICBM in October 2020.
Condemnation
As expected, condemnation and outrage from neighbours and the US soon followed. US President Joe Biden and Japanese Prime Minister Fumio Kishida during a meeting of the Group of Seven in Brussels condemned the launch and called for diplomacy, agreeing to hold Pyongyang "accountable". Kishida called the launch an "outrageous, unforgivable act" and therefore "unacceptable act of violence". It was a sad departure for the current South Korean President Moon Jae-in who invested so much to resolve the North Korean issue through his summit diplomacy and facilitating summit between US President Donald Trump and Kim Jong-un in Singapore and then Hanoi. A pained Moon too condemned Kim's action as it was a breach of the moratorium on ICBM launches that he and Kim promised to the international community. US Secretary of Defense Lloyd J. Austin and South Korea's Minister of Defense demanded firm responses, including further actions from the UN Security Council for Pyongyang's brazen violation of UNSC resolutions multiple times. UN Secretary General Antanio Guterres also warned that North Korea's act is a significant escalation of tensions in the region.
Why Timing is Important?
More provocations are likely soon. April 15 marks the 110th anniversary of Kim Jong-un's grandfather, the country's founder Kim Il-Sung. It is a major holiday and Kim, in the 10th year of his rule, might try something on that day as he might find the geostrategic environment conducive for more provocations. Pyongyang is likely to conduct an ICBM or satellite launch as part of the celebrations. Such an assertion is backed by Kim's open declaration at the Workers' Party Congress that North Korea would continue to improve its nuclear and missile capabilities that would include a hypersonic ballistic missile or submarine launched ballistic missile, solid fuel missiles, merging them with multiple warheads on the missiles. It however remains unclear if the regime has miniaturised a nuclear warhead.
It is a part of Kim's political warfare strategy and blackmail diplomacy to gain political and economic concessions. When a warhead enters orbit at a shallower angle, the warhead rotates at high speed. It is designed and structured in such a way that it can re-enter orbit and aim toward the target while maintaining its centre of gravity. Such experiments are necessary to prove they have re-entry vehicle technology, though in the case of a high-angle trajectory launch, it is challenging to experiment properly.
Besides the consideration of the Kim Il-sung's 110th birth anniversary celebration on 15 April, Kim Jong-un could have taken advantage of America's deteriorating relationships with China and Russia, following Moscow's military operation on Ukraine. Kim seems to be reminding the world that unlike Ukraine, it is a nuclear-armed country and that any escalation from the side of the US can have severe consequences. Kim also seemed to have factored in the presidential transition in South Korea that might create foreign policy confusion to Moon's successor. Yoon Suk-yeol it seems is not prepared to face the challenge thrown up by Pyongyang and that is advantage to Kim. The timing of the launch also could have been because Kim wanted to shore up citizens' loyalty on the Day of the Sun by branding himself as a capable leader of a military powerhouse just before the founder's 110th birth anniversary.
It is also possible that North Korea decided to resume its nuclear brinkmanship because Kim wanted to cement its status as a nuclear power and wrest badly needed economic concessions from the US and others from a position of strength. The country's economy is in tatters, worsened by the pandemic and border closure and Kim might be trumpeting his military accomplishment to impress the domestic audience.
When it transpired that North Korea might perform additional launches or even test a nuclear device and other escalatory weapon tests as it pushes to modernise its arsenal and increase pressure on the Biden administration as nuclear diplomacy remains stalled, Pyongyang upped the ante. In fact, some heightened activity at North Korea's Punggye-ri nuclear test site has been seen in recent months. This suggests there could be a forthcoming detonation. Two dates – 15 April, the 110th birth anniversary of the country's founder Kim Il-sung or 25 April, the founding date of the North Korean army – are seen as potential occasions for a test.
When America's Special Representative for North Korea Sung Kim and his South Korean counterpart Noh Kyu-duk met in Washington, condemned the missile launches and vowed "unified response", North Korea was prompt with a massive response.
Kim Jong-un's powerful and high-ranking sister Kim Yo Jong issued a statement carried in the state-run Rodong Sinmun after nearly six-months of silence that the South Korean army will face "extermination" if it "adopts military confrontation" against North Korea. This massive comment was in response to Seoul's Defence Minister describing pre-emptive strike capabilities against the North. Her warning that Pyongyang would "reconsider" inter-Korean cooperation might lead to greater tensions on Korean Peninsula. Going by past precedents, it would not be surprising the warning would mean cutting of hotlines, destruction of South Korean tourist facilities and even military action.
Earlier, South Korea's Defence Minister Suh Wook asserted that Seoul had the capacity "to accurately and swiftly strike any targets in North Korea" in case of an impending threat. This provoked Kim Yo Jong to call Suh "crazy" and "scum-like", warning that North Korea would exterminate the South Korean army if it touched "one inch" of its territory. Kim Yo Jong warned that Pyongyang would unleash a nuclear attack resulting in "total destruction and ruin" if provoked and that its "nuclear combat force will have to inevitably carry out its duty".  She labelled Suh's pre-emptive threat as "reckless" words from a "fantastic daydream" and the "hysteria of a lunatic". Kim Yo Jong has long been one of her brother's key advisers and was promoted in September 2021 to a seat on the State Affairs Commission, North Korea's top decision-making body and her words carry weight. It may be recalled that it was Kim Yo Jong who had ordered the blowing up of the Korean joint liaison office in Kaesong which was opened with much fanfare in September 2018 on 16 June 2020, reigniting tensions in the Korean Peninsula after the failed summitry diplomacy.
Japan's Legitimate Concern
As a non-nuclear power bound by constitutional limitations, Japan has legitimate reason to feel concerned with the developments in its immediate neighbourhood. Japan's Prime Minister hails from Hiroshima, the city to have experienced the effect of nuclear bombing in August 1945, and particularly allergic to any talk on nuclear weapons and despite that he has inherited much of the policies of his illustrious predecessor Abe Shinzo; revisiting the nuclear option even in the time of imminent threat from its immediate neighbour is not an option. That does not imply that Kishida shall keep quiet when national sovereignty comes under threat, which is why Japan condemned the North Korean missile that splashed down in the sea less than100 miles from the coast of Hokkaido, inside Japan's Exclusive Economic Zone.
There are also some old unsettled issues with North Korea that previous Prime Ministers of Japan could not resolve. This relates to the abduction of Japanese citizens by the North Korean agents in the 1970s and 1980s and this continues to remains highly charged diplomatic issue for Tokyo. As per Japanese government's official record, 17 people were abducted but after intense negotiations since Junichiro Koizumi's time, only five have been repatriated. This remains as the most vexed issue between Japan and North Korea. A summit between Kim Jong-un and the Japanese Prime Minister has been a mirage. No wonder, Japan has little option other than to impose unilateral sanctions against North Korea since 2006. A total of 129 entities and 120 individuals come under Japan's sanctions.
What is the way out then? While sanctions are unlikely to be revoked, unnecessary statements by adversarial nations may be best avoided, lest an unpredictable North Korea might come out with a response that would hurt many nations and the region. The best alternative would be to continue making efforts by reinvigorating diplomatic efforts to seek a solution that would be in the interest of all stakeholders. Any expectation for North Korea to give up its nuclear arsenal would be like building castle in the air as Pyongyang sees maintaining these as the only means of survival of the regime. Those nations that expect to live with a North Korea free of nuclear weapons ought to change their mindset and craft policies in a spirit of accommodation and cooperative living. Any effort shorn of this would be a waste of diplomatic capital.
This article first appeared in www.vifindia.org and it belongs to them.