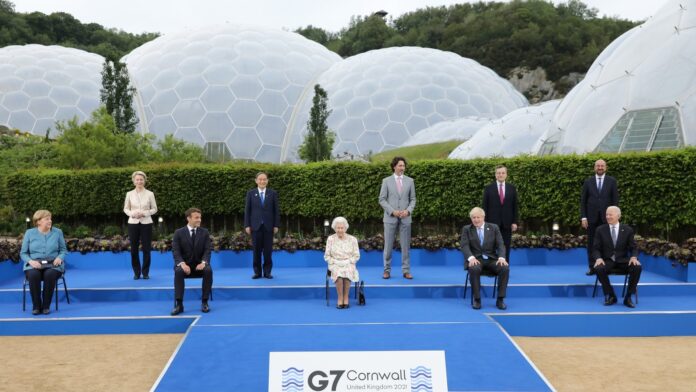 Dear non-G7 Citizens,
You would have seen the cute pictures of the G-7 happy family gathering of democracies at Cornwall on 12th-13th June 2021. The weather held up. Sunbathed beaches were wonderful. We were relieved that Trump who had spoiled the Canada G7 summit in 2018 on the trade tariffs issue was not there. We could have a glass of wine in peace against the spectacular settings of Cornwall. Having Uncle Joe with us was wonderful. He narrated many tales from his past. He kept motivating us to 'build-back-better'on every occasion. That was truly inspiring.
By Arvind Gupta
Boris our host was at his ebullient best. Sitting in Cornwall, we kept on wondering how his ancestors could have built a global empire. But then these British are smart. Aren't they? They always have a trick or two up their sleeve. Boris did not let his ugly spat with the EU over Northern Ireland spoil the bonhomie at the summit. Even the Canadian Prime Minister put up a smiling face despite his anguish at an attack on a Muslim family at home. The Japanese Prime Minister, not sure whether or not to cancel the Olympics, kept his cool. Of course, we advised him to carry on with the Olympics regardless of the raging Covid in his country. Covid waves ebb and flow but the honour to host Olympics is bestowed rarely. The redoubtable German Chancellor was pensive throughout. She is contemplating her exit from the German political scene shortly. It was good to have a calm German Chancellor at the meeting.
There were of course a few protesters here and there but they are welcome as they add colour and gaiety and also get us the much needed media attention.
You may ask what did we do at the Cornwall getaway? Of course, we enjoyed the salubrious surroundings and had some time to look at the global problems from a distance. For a brief moment, we also forgot our own worries.
Our smart assistants produced a brilliant 70-paragraph document which you can read if you wish on the Internet. A lot is written in that which even we, the busy leaders, have not read. We don't blame you if you do not understand what is written in that tome. For that, you will have to read either the White House fact sheets or the tweets by the celebrities.
But let us assure you that the ding dong sounds of the ravaging pandemic, the vaccine droughts in large part of the world did reach us. We were deeply distressed. Of course, we have overcome the pandemic in our countries as you could see from our maskless, smiling faces in the pictures.
We were quite concerned about the vaccine situation. We know that we in the developed world are not safe if you in the rest of the world do not get vaccinated. You may send the intractable variants of the virus our way. You all must get vaccinated. There is no doubt about it. When, is the question? So we have decided to make sure that 2 billion vaccine doses will reach you by the end of 2022. We will be generous and donate some from our own overflowing stocks. What? That is not enough for the 7 billion population? Well, you should have patience. You can buy the vaccines from our companies. You must learn to manufacture your own vaccines. We will help you to the extent we can. Be satisfied with what we can give you at this stage.
Do not raise the inconvenient question of intellectual property rights waiver. Of course, we discussed this and, truth be told, some of us were not very keen on a waiver. Let this issue be decided by the WTO. Until then, have patience and trust God.
Did you notice, how we finessed China's BRI? Yes, we will build huge infrastructure in your countries, far superior to that built by Xi under his infamous Belt and Road Initiative. We will not saddle you with debt like the way he has done. He has an eye on your real estate. Our private sector will build top quality, high standard infrastructure for you. How will it be financed? Again you ask difficult questions. We will get to this problem in due course. Until then have trust in us.
What else did we do? Yes, of course, we spoke a lot about climate change, a problem close to our hearts. We want all of you to reach net-zero emission by 2050. Close down your dirty coal-fired power plants. Use the clean technologies our companies have developed for you. Finances? We decided to provide USD 100 billion annually for this purpose. Yes, yes. We know that we had promised this earlier also. But have trust in us. We will somehow make it available this time.
And yes, for the sake of a zero-carbon world, do not keep reminding us that we have already captured most of the carbon space left in the atmosphere. That was in the past. Let us think of the beautiful future ahead of us. If you decarbonise your economies quickly, our children and their children will have a lovely time. As for us, we will reduce our emissions by 50% by 2030 over the 2010 level. We will try to. Believe us, we will do it. Ask questions of us only after 2030 if we don't do it. In the meanwhile, you attend to reducing your carbon stocks.
You call as an exclusive club of the rich? We don't deny that. Actually, we are quite proud of our exclusivity. We are purer (more democratic) than G20, which is a motley crowd that includes our nemesis China and Russia. But at G7 we do let others come in for a chat. This year we had friends from India, Australia, South Korea and South Africa with us as observers. We were impressed with the Indian Prime Minister, who in his typical one-liners advised us to follow a "one earth, one health" policy. Umm… That's a nice idea. We will think about it. Where does Mr Modi get these ideas from? Surely, from India's civilisational heritage? Yes, we have heard of Vasudhaiva Kutumbakam and Yoga. The world is a family. What a great idea! G7 is a family too. A great happy family, at that.
We accept that two autocratic regimes, the invisible Bear and the Dragon, were in the room at Cornwall. It is indeed a headache to deal with them. One of them keeps interfering in our electoral processes and destabilising us and the other has the ambition to become a super power. How can we allow that? We were really, really angry with Russia. We called it seven times in the joint statement. We have told Putin to do several things. But, we are not sure whether he will listen to us.
We are alarmed by what China is trying to do. Not only does it want to become Numero Uno, its bad behaviour in the South China Sea, Hong Kong, Xinjiang is also becoming worse by the day. But, what shall we do? We cannot ignore Xi. We cannot fight him. We are constrained. China has made inroads into our economies, stolen our technologies and penetrated the multilateral systems. In the end, we decided to mention China four times in our joint statement. That should send a strong signal of our displeasure. We were careful though. We left out any mention of a leaking lab. We admit we were not all on the same page when it came to dealing with China. But, we did our best.
We love the summits. We get a chance to talk about anything and everything under the sun. There is no pressure of meeting the deadlines. No one tells us of promises not kept. It is a one-way street at the summits. So, we talked about Iran, Ethiopia, Myanmar, Ukraine, and Tigray the new hot spot. We were tired. So we decided not to talk about Syria, Libya or Yemen. These wars are old and continuing. They do not get much media attention these days. Anyhow, Russia and Iran have stolen a march over us. So we kept quiet.
But we did talk about cyberspace quite a lot. We are worried about the escalating cyber attacks on our infrastructure. Hackers steal our data by terabytes. They shut down our pipelines and target health and education networks. Cyber attacks are such a nuisance. If we could find the hackers, we would bomb them. We are quite clear that international law should apply to cyberspace as well. But, the Russians and Chinese have their own views. They do not see eye to eye with us on this important issue. A big problem.
What else? Yes, of course, we came up with the brilliant idea to have a minimum of 15% corporate tax. We are excited about it. We will push for it. But will this proposal be accepted by all? We don't know. We are worried that our own money-spinning mega companies, flourishing in tax havens, will oppose this proposal. We will cross the bridge when we come to it.
We were delighted to have four non-G7 countries joining us as observers. We persuaded them to sign the 'open societies' joint statement. We learn from the media that India had some concerns about open societies being vulnerable to cyberspace manipulations. We are happy that the world's largest democracy is on board. That will enhance our credibility.
We are glad that we could meet in person. This became possible because we took care to buy off allavailable vaccine stocks last year only. We hope that with the donations we are giving the rest of the world, you will also be able to overcome the pandemic soon. In the meanwhile, we will have in-person gala meetings later this year. How exciting! We will be at the Olympics, and in Glasgow in November for the Climate Change meeting, at Kunming in October for the meeting of the Convention on Biodiversity. Oh! How we missed these wonderful summits, scenic locales, stimulating discussions, sumptuous food, and entertainment. And how we love to produce wordy joint statements and communique which hardly anyone understands. Moreover, no one remembers them after a few days. That is the beauty of these great summits. But nothing like a good G7 summit.
Let us assure you our commitment to multilateralism is unwavering. Summits are the saviours of the world. See you again at the next summit. Till then, best of luck with the pandemic and vaccinations.
This article first appeared in www.vifindia.org and it belongs to them.