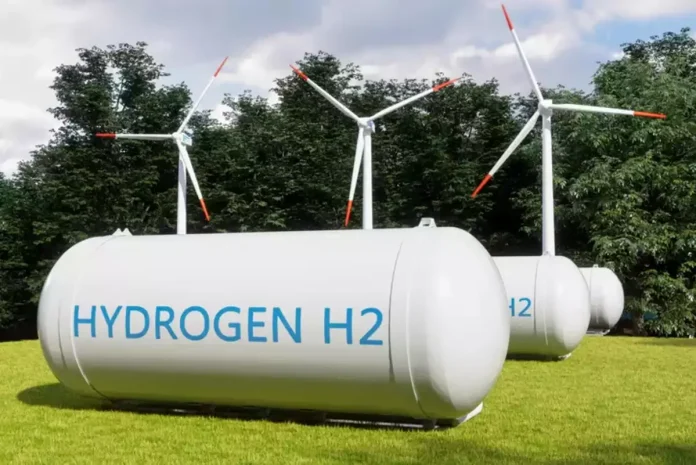 India's green hydrogen rush is attracting billions of dollars of commitment by companies in projects as the government's green hydrogen policy aimed at boosting production of green hydrogen and reducing the overall dependence on imported fossil fuels, unleashes a vast appetite for supporting a gas-based economy and contribute towards India's vision for a greener, cleaner, carbon-neutral and self-reliant future.
By Nivedita Mukherjee
The list of companies betting big on green hydrogen technology is growing fast. Reliance Industries will invest Rs 75,000 crore in renewable energy businesses, a significant chunk of which will be earmarked for manufacturing electrolysers and hydrogen fuel cells.
Sajjan Jindal-led JSW Group has also joined the crowd through a collaboration with Australia-based Fortescue Future Industries. The company plans to use green hydrogen technology to decarbonise its steel manufacturing operations.
According to an ICRA research, India's drive to enhance green hydrogen production will entail investment of Rs 4 lakh crore factoring in renewable energy capacity addition of 60 GW and investment in electrolyser manufacturing facilities.
The share of green hydrogen in total hydrogen production in India is expected to increase to 30-80 per cent (from nil) by 2030-50, along with four-five times increase in overall consumption to 30 mmt (from 6 mmt currently).
A major shift in demand is expected towards transportation (hydrogen fuel cell vehicles) and power generation sectors, which will account for about 30 per cent of the hydrogen demand by 2050, finds the ICRA report.
Seeing the opportunity, public sector energy companies are also lining up to play a significant part in this domain. There are huge benefits for India as companies enter into alliances to support development of indigenous technology and manufacturing under Atmanirbhar Bharat in the field of hydrogen and green energy technology. That is what the recent alliance between Oil India Limited (OIL) — India's second largest national exploration and production (E&P) — and homiHydrogen aims to do.
The agreement provides a framework to study, structure and agree on a possible long-term partnership for manufacturing and packaging of electrolysers in India and become an integral part of the green hydrogen value chain. With the agreement, OIL gets access to homiHydrogen's electrolyser expertise from Germany, Switzerland, Italy and Norway to manufacture all the four types of electrolysers under one roof.
India's largest commitment to green hydrogen has come from the Adani Group which has signed up with France's TotalEnergies to create the world's largest green hydrogen ecosystem involving an investment of $50 billion in green hydrogen by Adani New Industries.
In this strategic partnership, centred on green hydrogen, TotalEnergies will acquire 25 per cent minority interest in Adani New Industries Limited (ANIL) from Adani Enterprises (AEL) and the two as pioneers in energy transition and clean energy adoption, will undertake the development of green hydrogen production capacity of 1 million tonne per annum before 2030.
In the process ANIL will invest over $50 billion over the next 10 years in green hydrogen and associated ecosystem.
The partnership with TotalEnergies adds several dimensions to the capabilities of the companies including R&D, market reach and an understanding of the end consumer which will help the companies aim to produce the world's least expensive electron and the world's least expensive green hydrogen.
This partnership brings huge value addition to the Indian market with TotalEnergies' deep understanding of the global and European market, credit enhancement and financial strength to lower the financing costs, and expertise in underlying technologies.
In another development which will enable India's decarbonisation push, engineering and construction conglomerate Larsen & Toubro, ReNew Power and the country's top refiner and fuel retailer Indian Oil Corporation have come together to develop the nascent green hydrogen sector in India through a joint venture.
The IndianOil-L&T-ReNew JV will be developing green hydrogen projects in a time-bound manner to supply green hydrogen at an industrial scale. While L&T will bring its strong designing, executing, and delivering EPC projects credentials to the table, IOC with its extensive capabilities in chemical processes and refining will bring deep R&D capabilities in many aspects of green hydrogen value chain and ReNew Power offers utility-scale renewable energy solutions.
The ambitious plans include formation of a JV by IndianOil and L&T with equity participation to manufacture and sell electrolysers used in the production of green hydrogen. Addressing another gap in the green hydrogen manufacturing chain, IndianOil-L&T JV will focus on production and sale of electrolyser.
To start with, this partnership will focus on green hydrogen projects at IOC's Mathura and Panipat refineries. Alongside, other green hydrogen projects in India will also be evaluated. While the usage of hydrogen in the mobility sector will take its due time, however the refineries will be the pivot around which India's green hydrogen revolution will materialise in a substantial way.
As per research body, the Council on Energy, Environment and Water (CEEW), electrolysers lie at the heart of the green hydrogen technology as they split water into hydrogen and oxygen through electrolysis. Local production of electrolysers is crucial to bringing the cost of green hydrogen to $1-$2 per kilogram by 2030. As of now, India doesn't boast of companies that manufacture electrolysers on a large scale.
However, US-based renewable energy start-up, Ohmium International has unveiled its electrolyser manufacturing capacity in Karnataka with an initial capacity of 0.5GW that can be subsequently ramped up to 2GW5 and RIL and Danish electrolyser manufacturer, Stiesdal have signed agreements to start local manufacturing in India.
This article first appeared in www.swarajyamag.com and it belongs to them.