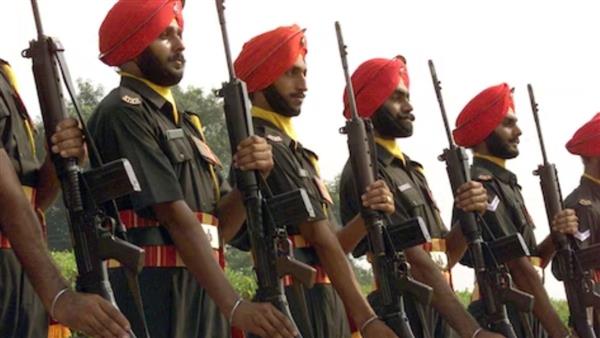 A statement issued by the National Minorities Commission (NCM) on Tuesday (7 February) said that army veterans have unanimously defended the need for combat headgear for Sikh soldiers. Army veterans while speaking to the NCM Friday (3 February) said that there was a need to wear protective helmets during combat operations and it was in no way against the tenets of Sikhism.
By Swarajya Staff
Meanwhile, the Sikh Gurudwara Prabandhak Committee (SGPC), Amritsar, and the Akal Takht continue to oppose any use of ballistic helmets, arguing that Sikhs are allowed to wear only the turban and no other headgear.
The National Commission for Minorities (NCM) held a meeting last Friday (3 February) which was attended by military veterans, from the ranks of Subedar Major to Lt General, and Sikh religious representatives.
Major General RS Shergill (Retd), adviser to the NCM, said at the meeting that the SGPC representatives were incorrectly terming combat headgear as helmets.
"The army has already developed a new helmet called 'Veer' with the Sikh maryada in mind. It is voluntary to use not mandatory," he added.
On the other hand, NCM Chairman Iqbal Singh Lalpura emphasised that while there is the highest respect for the five "kakars" of Sikhism, human life is also important.
The Ministry of Defence had previously issued a Request For Proposal for 12,730 ballistic helmets for Sikh troops under emergency procurement through fast track procedure.
The NCM statements also highlighted that the officers emphasised that the concept of combat headgear is not new, and they have been a part of the forces for decades.
General Shergill said that a bulletproof patka was already being used, and was so protective that many non-Sikhs also started wearing it under their helmet.
Col Jaibans Singh said that combat headgear, like radio headgear, was already being worn by Sikh soldiers. He further added that Nihangs wear a chakra over their turban as combat attire and helmets were also worn by soldiers in the army of Maharaja Ranjit Singh.
However, Akal Takht leader Giani Harpreet Singh argued that the helmet is a "topi" and Sikhs don't wear it, as per their maryada.
SGPC President Harjeet Dhami has also written to Defence Minister Rajnath Singh opposing the move. However, other Sikh religious leaders present at the NCM meet agreed that the safety of soldiers was most critical.
This article first appeared in www.swarajyamag.com and it belongs to them.