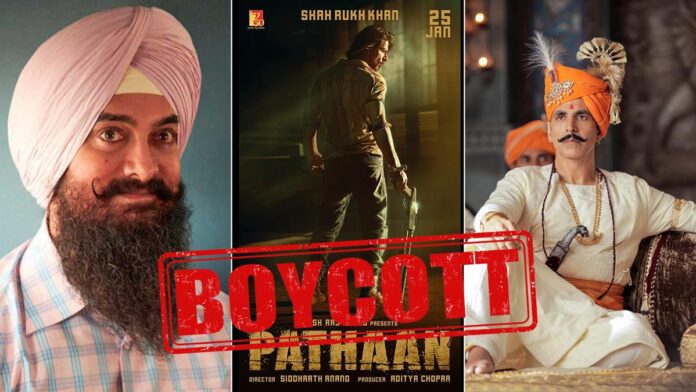 This year's last big-budget, big-starrer Bollywood film Cirkus, released on 23 December, has proved to be a disaster at the box-office. That makes the year 2022 astonishingly bad for Bollywood as it saw a spate of spectacular failures of several other big-budget, big-starrer fares like Jayeshbhai Jordar, Shamshera, Brahmastra, Samrat Prithviraj, Laal Singh Chadha, Heropanti 2, Raksha Bandhan, Bachchan Paandey, Liger and Vikram Vedha. 
By Swati Goel Sharma and Sanjeev Newar
The previous year had not been very different except that the Mumbai-based Urdu-Hindi film industry, much like the rest of India, was recovering from Covid-related lockdowns and big projects were delayed.
The next big release, Pathaan, slated for 25 January, is embroiled in a controversy over obscenity and religious stereotyping, so much so that producer Yash Raj Films may scrap its promotional song 'Besharam Rang' from the film altogether.
Ageing industry icons like Asha Parekh are lamenting in interviews that Bollywood is "dying" and if films continue to flop, no more films would be made.
And just when the year is about to end, a controversy has erupted in the entertainment industry over the suicide of a young actress, Tunisha Sharma, allegedly abetted by her boyfriend Sheezan Khan. The tragedy has served as a painful reminder of the mysterious deaths of actor Sushant Singh Rajput and his manager Disha Salian in 2020.
Amid the news around Tunisha's case, a startling claim has been made by a mortuary staff who was present when Sushant's body was brought in for postmortem that his death was not suicide but murder.
These are definitive signs that the industry is in deep crisis and its popularity among the masses is at an all-time low.
To those closely watching, Bollywood is actually on a downward spiral. It's crashing.
In this piece, we look at the industry's downfall through various phases and events over the past four-five years, the most important being the death of Sushant.
Selective protests against Kathua case, highlighting of 'Devi-sthaan' 
In the beginning of 2018, news of rape-murder of an eight-year-old girl from the Muslim Bakarwal (nomad) community, allegedly executed by members of a Hindu family with help of a Hindu policeman, emerged from Jammu.
The following months saw anti-Hindu agitations in various parts of India, where protesters targetted Hindu shops and houses for attacks. Amid these protests, the cast of a film Veere Di Wedding, including Leftist Swara Bhaskar, and Kareena Kapoor and Sonam Kapoor, posted their pictures holding a placard that said, "I am Hindustan. I am ashamed. #Justiceforourchild. 8 years old. Gangraped. Murdered. In 'Devi' Sthaan Temple. #Kathua."
Several others from Bollywood followed suit, and posted similar pictures.
The placard activism drew severe criticism from Hindus, who objected to the highlighting of temple and Bollywood's selective outrage in cases of rape-murders.
Around the same time, a 10-year-old Hindu girl was lured by her much older Muslim neighbour to a madrassa, where she was confined for a night and gang-raped. Despite people confronting the same actors on social media, none spoke up for the girl.
Activism against CAA Bill
Bollywood 'stars' indulged in social activism again. This time, it was against a humanitarian law that offered to ease Indian citizenship for religious minorities in neighbouring Islamic countries of Pakistan, Bangladesh and Afghanistan.
Anurag Kashyap called the government "fascist"; Farhan Akhtar, Shibani Dandekar and Jim Sarbh joined a street rally against the proposed Citizenship Amendment Act (CAA), and several others such as Jaaved Jaaferi, Taapsee Pannu, Zeeshan Ayyub, Richa Chadha, Ali Fazal, Kabir Khan and Shabana Azmi spoke against it through their Twitter accounts.
Weeks later, Deepika Padukone joined an anti-CAA protest staged by Communist groups in New Delhi's Jawaharlal Nehru University.
The following month, communal riots broke out in New Delhi between Hindus and Muslims at sites where members of the Muslim community had been blocking streets for several weeks in the name of anti-CAA protest.
Many blamed Bollywood for indirectly or directly fuelling unrest that culminated in the riots.
Islamic propaganda in Mission Mangal
In August 2019, a film that was touted as a celebration of the ISRO's Mars Orbiter Mission left many viewers upset over its out-of-context and blatant serving of Islamic propaganda.
A Hindu woman scientist's son was shown reading Quran and doing namaz, eulogising Urdu as "the language of poets", and coaxing her mother to change her God while his mother approved of it and his father opposed it. The father was caricatured as a regressive, envious and narrow-minded husband, and a sadist.
The film was co-produced by Akshay Kumar, who also played the lead role.
Sushant Singh Rajput's death
On 14 June 2020, came the shocking news of suicide by Sushant. His death sparked months of mourning, demands of high-level investigation, and anger against Bollywood by his fans on social media.
They said that Sushant, an "outsider" in Bollywood, was insulted, mocked and bullied into taking the extreme step by industry biggies. One of the names that came in frequent criticism was that of Karan Johar, who often brought up Sushant's name on his talk-show Koffee With Karan to laugh at his expense.
His fans picked up a term earlier used for Johar – "flagbearer of nepotism" – and accused him and many other "nepo-kids" such as Alia Bhatt and Sonam Kapoor of repeatedly mocking Sushant on the Koffee show, thereby sidelining him. Twitter hashtags of '#JusticeforSushant' trended almost everyday and, in fact, continue to trend even today.
The effect of these social media trends became visible in a big way two months later when trailer of Mahesh Bhatt's Sadak 2, featuring his daughter Alia and Sanjay Dutt, released. It became the most-disliked video on YouTube. Sushant was initially considered for the lead role.
The film was released on an OTT platform and sank without a trace.
The following month, a Twitter account called 'Gems of Bollywood' started, and it soon captured public imagination (disclaimer below). The account posts video clips from Bollywood films from its inception to latest releases, and calls out various forms of propaganda in the industry including Hindu-hate, promotion of Islamic conversion, mockery of Hindu beliefs and deities, celebration of rape and molestation, Pakistan-love, ridiculing of Hindus from the south of India, anti-Army sentiment and so on.
Four months later, renowned magazine The Economist named the account as one of the reasons for a steep decline in Bollywood's box-office revenue. Within two years, the account has amassed more than three lakh followers.
In October 2020, Tata-owned jewellery brand Tanishq released an advertisement on Diwali to promote its collection called 'Ekatvam – The Beauty of Oneness'. The ad showed a Hindu woman's marriage with a Muslim man as the ultimate symbol of 'Oneness'.
In a country where Islamic invasions in medieval era were accompanied by abduction, forcible conversion and rape of Hindu women, where communal riots between Hindus and Muslims before and during the Partition were accompanied by similar atrocities on women, where Hindu girls are routinely abducted, raped and killed by the majority community in Pakistan and Bangladesh that were formed after Partition, where similar crimes against Hindu women were part of the Jihadist uprising in the Indian side of Kashmir in the 1990s, where cases of men from the Muslim community posing as Hindus to lure Hindu women into relationships for their conversion or sexual exploitation emerge from across India routinely, where Hindu men are routinely killed for affairs with Muslim women, and where films on marriage between Hindu or Sikh men with Muslim women are met with violent protests by the Muslim community (for instance, Gadar and Bombay), the ad was bound to trigger anger.
The anger was enough for the brand to take down the advertisement. Though not directly related to Bollywood, the ad furthered the negative sentiment against the industry which was now producing a spate of films on the same lines.
Serial promotion of 'love jihad'
Akshay Kumar's Laxmii, which released the following month on an OTT platform, showed a Hindu woman eloping with a Muslim man (played by Akshay) against her parents' wishes and eventually proving to be right in the choice.
Another aspect of the film that earned it massive public hate was that it was initially titled Laxmii Bomb. Many said it sexualised the name of the revered Hindu deity. The film was flooded with the the lowest rating of 1-Star on film-rating websites and became one of the worst-rated films of 2020 after Sadak 2 and Baaghi 3.
Anger over blasphemy-related violence
The year 2021 too began on a negative note for the industry.
Tandav, a web-series released on an OTT platform, triggered outrage and police cases against the makers for hurting religious sentiments through jokes on Hindus deities.
More than the content of web-series itself, the anger was triggered by large-scale communal violence by members of the Muslim community in Bengaluru a few weeks earlier, over a Facebook post by a Hindu youth that the protesters said hurt their sentiments. This violence was preceded by gruesome murder of Uttar Pradesh resident Kamlesh Tiwari by two radical Islamists over a similar accusation a year earlier.
Were Hindus for target as they did not indulge in rioting over mockery of their deities, people asked.
What made things worse for Tandav was that its lead actor Zeeshan Ayyub had vocally protested the CAA bill, and supporting actor Saif Ali Khan had said in an interview that his upcoming film Adipurush would justify Ravan's abduction of Sita. Several scenes from the web-series were eventually deleted.
Top 'stars' began failing
In the coming months, Salman Khan's Radhe: Your Most Wanted Bhai proved to be a miserable flop. It surprised the industry as Khan has long been considered a crowd-puller with a devoted fanbase. It was obvious that things were not the same anymore for Bollywood.
In July 2021, another film that triggered massive public anger was Toofaan, which featured anti-CAA campaigner Farhan Akhtar in the lead and, yet again, showed a love affair between a Hindu woman and a Muslim man. 'Boycott Toofaan' hashtags trended for many days. The film was released on an OTT platform.
At a time when Bollywood was under fire from vocal Hindus and Hindutva supporters, Akshay Kumar's Sooryavanshi additionally earned the ire of Muslims, who accused the filmmakers of promoting the 'good Muslim-bad Muslim' binary or being downright Islamophobic. On the other hand, the Hindus slammed it for going so far in appeasing the Muslim community to show terrorists quoting the Bhagwad-Gita before carrying out terror attacks.
For quite some time, Akshay had been a bankable star and a reliable crowd-puller. His dream run now seemed at its fag end as the last film of the year, Atrangi Re, was panned by the audience, many of whom also trended 'boycott Atrangi Re' hashtags.
Like the Tanishq ad, Laxmii, Toofaan and a forgettable Indoo Ki Jawani, this film too showed a Hindu woman-Muslim man love affair, with the Hindu woman mouthing dialogues such as, "Hum bataiyein kisse kehte hain love… Hindu Thakur ladki… Aur ye, katai Miyabhai launda. Isse kehte hain love story" (Should I tell you what love is…Hindu Thakur girl. And he, a Muslim. This is what you call a real love story).
Dubbed films from South enthralled pan-Indian audience
In a year when one Bollywood film after another flopped, a film that did extremely well in northern India was the dubbed version of Telugu film Pushpa: The Rise. That Bollywood had come to be widely hated was clearer than ever.
The year 2022 began on a relieving note for the industry when Sanjay Leela Bhansali's Gangubai Kathiawadi, featuring Alia, was claimed to be a hit and successful in pulling the crowds into theatres. It is though a different story that whether the film could recover its high cost or not remains a matter of speculation.
The film was criticised on social media for glorifying prostitution, drifting from the source material to, again, show a love affair between a Hindu woman and a Muslim man, and presenting the real-life criminal and mafia don Karim Lala of an infamous Pathaan gang as a hero and saviour.
Still, given the claims that the film was successful, was the bad phase of Bollywood finally over? No, it was not.
In March came a small-budgeted film named Kashmir Files, directed by a lesser-known director, Vivek Agnihotri, who has very publicly disassociated from Bollywood. A slow starter and sans any support from the 'cream' of Bollywood, the film that documents communal atrocities on Hindus in Kashmir in 1990s, became a nationwide rage.
Made at a budget of Rs 15 crore (Agnihotri's statement), the film reportedly earned Rs 248 crores, becoming a mega commercial success.
Despite presence of Bollywood actors such as Anupam Kher and Mithun Chakraborty, the film was watched only for its content and, for all practical purposes, was an 'independent' film.
The same month, Akshay Kumar's Bachchan Paandey, which followed Bollywood's age-old success formula of 'masala' films, flopped badly.
The whole of 2022 then saw a spate of films from mega production houses with the industry's most popular faces proving to be commercial disasters including  Jersey, Runway 34, Jayeshbhai Jordar, Samrat Prithviraj, Jugjugg Jeeyo, Shamshera, Laal Singh Chadha, Raksha Bandhan, Liger, Vikram Vedha, Brahmastra, Goodbye, Ram Setu, Thank God and, most recently, Cirkus.
Makers of Brahmastra did try to prove that it was successful by claiming that the film's massive Rs 400 crore budget was for a trilogy and not just for one film. However, it seemed that the market was not convinced with the defence, and PVR – the main distributor – suffered big losses and erosion of investor confidence for the quarter.
The only films that have done well in Bollywood's largely north Indian market after Kashmir Files are dubbed versions of RRR (from Telugu film industry), KGF 2 (Kannada film industry), Kantara (a small-budget Kannada film), and Drishyam 2, which is largely a frame-by-frame remake of a hit Malayalam film. None of these three films had any value addition by Bollywood before their releases.
In between, small-budgeted content-focused Bollywood films such as Freddy, An action Hero, Dobaaraa and Blurr failed to make any mark.
This is pretty much the story of how Bollywood has crashed over the last couple of years.
A mix of arrogance on the part of 'stars' almost all of whom are from families with a long legacy in Bollywood, disproportionate reliance on a group of men who take home an exorbitant chunk of the budget, total disconnect between the 'stars' and audience, selective activism and religious propagation that favours the interests of neighboring countries and harms India internally, a long legacy of mockery of Hindu beliefs and customs, lack of creative talent and hard work, and evidence of serial plagiarism are some factors that have given rise to an anti-Bollywood sentiment that is showing no signs of settling down.
As is evident, no hit formula, not even the presence of Aamir Khan, Salman Khan, Hrithik Roshan or Akshay Kumar, has worked for the industry.
In such a scenario, all eyes are on Shah Rukh Khan's Pathaan, which has been the subject of intense 'boycott' trends since its first song 'Besharam Rang' released on YouTube. The song was criticised for being sleazy and demeaning to women.
The song has been heavily 'disliked' on the platform, besides Hindu and Muslim groups calling for a ban or revision of it.
It would be unrealistic for even the most hardcore fan of Khan to hope for a miracle, given that the film seems to heavily rely on not his 'star power' but Deepika Padukone's skin and titillating moves. Noted film critic Subhash K Jha recently reported that the producers may completely omit the controversial song to minimise the risks, given that the recent films of Aditya Chopra have tanked.
This article first appeared in www.swarajyamag.com and it belongs to them.