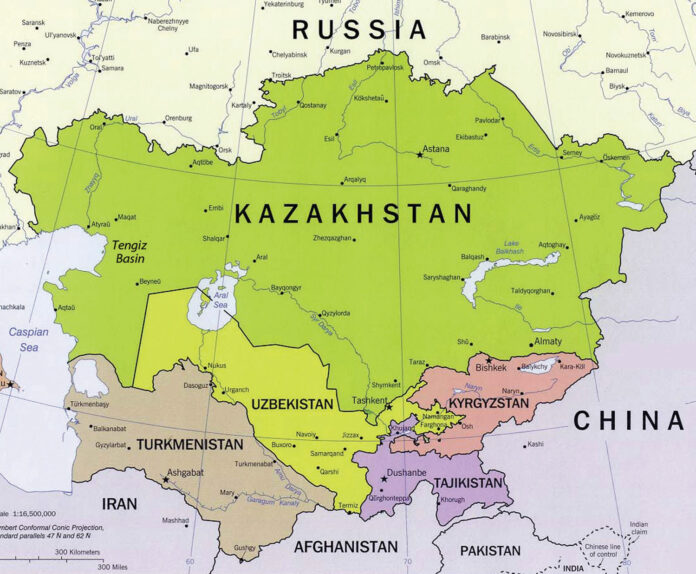 The developments that Central Asian Republics (CARs) have been dreading in recent weeks have begun to unfold. On August 15, 2021, the Taliban took over Kabul, which ultimately led to the collapse of the Afghan government headed by Ashraf Ghani. The Taliban's return to Afghanistan was inevitable, but it was least expected to capture the country so rapidly. Uzbekistan, Tajikistan, and Turkmenistan share a border with Afghanistan. Therefore, the Taliban's return to power poses a direct threat to their internal security. Since the signing of the Peace Deal between the US and Taliban in February 2020, CARs have been apprehensive of the likely security repercussions. Therefore, the bordering Central Asian Republics excluding Tajikistan have been engaged with the Taliban on diplomatic levels along with preparing themselves to mitigate the future challenges.
By Dr Pravesh Kumar Gupta
In the 1990s, Central Asian Republics lived with the Taliban, and they are expected to manage to do so again. However, at present, Central Asia is facing two serious concerns after the fall of the democratic government in Afghanistan; the humanitarian crisis in the form of Afghan refugees and the security implications. Moreover, one major issue that CARs will have to face in the long term is engaging with the Taliban at a political level. Uzbekistan and Turkmenistan have economic and connectivity investments in Afghanistan and their engagement with the Taliban primarily revolved around protecting their financial interests. Being a doubly landlocked country, Tashkent also aspires to access Pakistani ports by extending the Hairatan-Mazar-e-Sharif rail line to Peshawar. Recently, Pakistan and Uzbekistan Governments signed an agreement in this regard. However, it will be interesting to see how Uzbekistan cooperates with the Taliban to materialize the transport and connectivity projects. Also, how the Taliban responds to such initiatives is another issue that needs to be observed closely.
Joint Military Exercises
Russia is the key security ally of Central Asia. Through Collective Security Treaty Organization (CSTO), Moscow is committed to providing military support to other members facing security crises. Tajikistan is a member of CSTO, and it also hosts thousands of Russian soldiers of the 201st Motorized Rifle Division. When the Taliban captured northern Afghanistan, many defeated Afghan soldiers, and people fled to bordering regions of Tajikistan and Uzbekistan. Considering the severity of the situation, Tajikistan mobilized additional forces at the border with Afghanistan and approached CSTO for help.
Consequently, Russia held a joint military exercise with Uzbekistan near the Afghan border despite Uzbekistan not being a member of CSTO. Furthermore, Russia, Uzbekistan, and Tajikistan held joint military drills in Tajikistan near the Afghan border. A joint military exercise was held between Russia and China in the North-western part of China. Although the Taliban have reiterated that they will not cross Afghan borders, their promises are not being taken at their face value. Knowing this, Uzbekistan, Turkmenistan, and Tajikistan have taken measures to face the impending challenges. All these military exercises indicate that Central Asian countries are prepared to meet the challenges arising from Taliban's resurgence.
Russian role in this regard is crucial as it also has indirect security implications. Also, it will help Russia to retain its dominance in the security settings of the Central Asian region. On August 21, Russian President Putin, during a meeting with Kazakh President Qasym-Jomart Toqaev in Moscow, announced that the CSTO would convene a video conference this week to examine the situation in Afghanistan following the Taliban's return to power. In order to maintain its credibility, CSTO needs to play a proactive role in maintaining security in Central Asia in the wake of the Taliban coming into power in Afghanistan.
Facilitating the Evacuation Process
With the Taliban's militants arriving in Kabul, it was reported that many aircraft crossed into Uzbekistan and Tajikistan. According to RFE/RL, on August 14-15, at least 22 military planes and 24 helicopters entered Uzbekistan from Afghanistan. Those planes were said to be carrying 585 Afghan troops. These aircraft were compelled to land at the international airport in the Uzbek border city of Termez. In addition, around 150 Afghan refugees also crossed the Uzbek-Afghan border crossing Hairaton Bridge.
Tajik and Uzbek governments have responded differently regarding sheltering the Afghan refugees and defeated Afghan soldiers. Uzbekistan has been hesitant in receiving the refugees and even detained and deported Afghan soldiers who sought to enter the country. However, unlike Uzbekistan, Dushanbe has permitted them to stay and repatriated them later. Tajikistan has also stated that it is prepared to absorb up to 100,000 Afghan refugees and has begun preparing for their arrival. Tajikistan has a sentimental attachment with Tajik Afghans, the second largest ethnic group in Afghanistan after Pashtuns. Some of these Tajik Afghans hold ranks in the Taliban, while most of them are anti-Taliban. Former Afghan President Ashraf Ghani and Vice President Amrullah Saleh were reported to have flown to Tajikistan, which later turned out to be a rumour. Uzbekistan and Tajikistan have also facilitated the evacuation process from Kabul airport by providing transit to the planes carrying peoples of multiple nationalities, including Afghan refugees.
Turkmenistan follows a policy of neutrality; therefore, its reaction to Afghanistan's fall to the Taliban has revolved around securing its territory from external threats. Ashgabat militarily ramped up its border with Afghanistan when the Taliban captured the bordering areas. Due to the strict autocratic regime in the country, it is also not a preferred destination for Afghan refugees. Furthermore, Turkmen authorities prevent Afghans, military or civilian, including ethnic Turkmen, from crossing the border into Turkmenistan.
The Russian response to the developments in Afghanistan has been surprising. On the one hand, Moscow helped Central Asia prepare to meet security challenges. Simultaneously, Russia does not want Afghan refugees to enter Central Asia. On August 23, Russian President Vladimir Putin made a statement that Afghan militants posing as refugees could attempt to enter Russia from Central Asia, where they are presently being held. Russian policy in Afghanistan focuses more on the threat of the Islamic State- Khorasan (ISK) than that of the Taliban. Therefore, it has maintained good relations with the latter anticipating that the Taliban will fight against ISK advances in Afghanistan. However, ISIS strength need not be exaggerated, and the Russian position on this issue could be a hint to the Taliban to avoid any ingress into Central Asia.
Will Central Asia help the Taliban Resistance forces?
Ahmad Massoud, the son of Ahmad Shah Massoud, who was one of the main leaders of Afghanistan's anti-Soviet resistance (Northern Alliance) in the 1980s, led the National Resistance Front of Afghanistan. He has gathered mujahedeen fighters in the Panjshir Valley who have started to regain the territories captured by the Taliban. He was joined by the ousted Vice President of Afghanistan, Amrullah Saleh, an Afghan Tajik. Many other anti-Taliban leaders are joining them. In the 1990s, the Northern Alliance was supported by Russia, Iran, and India, which made their movement stronger. Tajikistan's role in supporting Northern Alliance was crucial. Dushanbe served as a transit territory to provide help to Northern Alliance fighters.
This time anti-Taliban movement is not as strong as it was in the 1990s. The reason behind this is the lack of support of regional players. Russia will not support them, and Iran and India are also out of frame as of now. In a recent article published in the Washington Post, Ahmad Massoud urged the international community to support anti-Taliban mujahedeen. Without outside help, they will not be able to fight the Taliban. Central Asian countries are highly vulnerable to the threats emerging from the Taliban's rule. It is premature to say that CARs will support the anti-Taliban movement when Russia fully cooperates with the Taliban. CARS are also likely to restrain themselves from making any move that may irritate the Taliban. However, it all depends on the behaviour of the Taliban towards the Afghan people and the international community. Their actions will determine the strength of anti-Taliban resistance. The question also arises is that will the National Resistance Front of Afghanistan be able to survive against Taliban offensives?
Conclusion
As of now, CARs are coping up with the unstable situation, but the worst is yet to come. Once the Taliban are able to consolidate their position in Afghanistan, they may return to their oppressive ways leading to more instability and insecurity in the region. This may also lead to a civil war in the country. Central Asia would face severe security and economic problems if Afghanistan again gets embroiled in a civil war. Moreover, a return to anarchy may transform Afghanistan into a hub for terrorist and criminal groups, further destabilizing the region and obstructing progress on trade, economy, connectivity, and transit between South and Central Asia. In that case, how these countries manage the situation is what we have to watch.
This article first appeared in www.vifindia.org and it belongs to them.