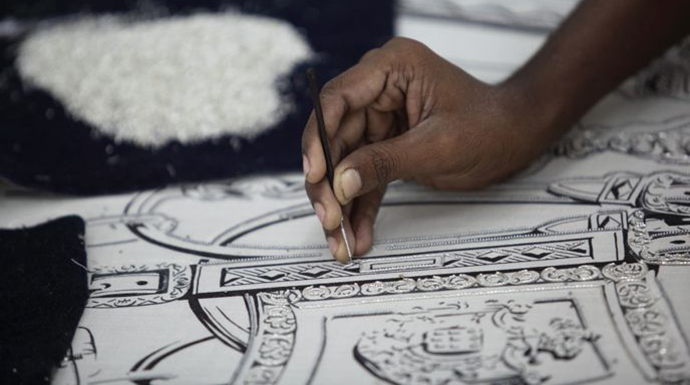 Some of the world's leading fashion brands thrive on sweatshops run in India that brazenly flout our labor laws and exploit Karigars, the traditional Indian craftsmen by paying them peanuts and making them work under inhuman conditions.
By Natasha Sudhir
Karigars, The Indian word for craftsmen surfaced around the 3rd Century BC and was documented by Megasthenes. The earliest type of Karigari is known to be the Chikan ( Literally translated into Embroidery). The earliest story suggests that Noor Jahan, The wife of Jahangir, introduced Chikankari to India. Since then, Karigari has expanded into many different streams and has grown into a million dollar industry.
The New York Times recently did an expose on how luxury fashion houses across the world have been discretely using Indian handwoven embroidery on a range of their clothes and accessories. Several sweatshops in Mumbai have over a thousand karigars crouched over yards of fabric working in dire conditions to produce a garment ordered by some of the top luxury brands of the world.
In 2013, A factory called the Rana Plaza collapsed in Bangladesh due to a structural defect killing over a thousand factory workers and injuring over 2,500. Workers there included people who worked for 38 euros a month in perilous conditions for over 15 hours a day. They worked for fast fashion brands like Mango, the Benetton group among others. Even after desperate warnings by workers regarding cracks in the building, no action was taken. This is considered one of the worst garment factory disasters till date.
The Karigari factories in Mumbai are not far from a disaster like this either. The rooms they work in have no windows, no sign of an emergency exit and are crammed with craftsmen kneeling over a stretched out yard of fabric. Some even sleep there. They work for over 17 hours a day and even that number varies. Before a Fashion week starts abroad, they are over burdened with orders and work round the clock to meet the demand. They are offered little to absolutely no employment protection, healthcare benefits or even education for their children and are paid a meager sum.
These Karigars, unlike the workers at Rana Plaza do not work for fast fashion brands but work for the most well-known luxury houses across the world like Louis Vuitton and Dior among other brands. They do not work directly under them as most of these brands do not own their own production facilities. These craftsmen work under many export houses that act as middlemen between them and the luxury houses. They also offer extra services like garment production and sampling. Since these luxury brands do not own their own factories, they rely on subcontractors to get their work done. Fast fashion has always been a potential threat to employees and their safety and now luxury brands are following in their footsteps.
In 2016, A consultancy called Impactt managed the Utthan pact which was signed by some major brands such as Kering (Owner of Gucci and Saint Laurent), The LVMH group (Louis Vuitton Moet Hennessy, that owns Fendi and Christian Dior) and two brands from London, Burberry and Mulberry. The purpose of this pact was to uplift our Indian Karigars, offer them employment protection, ensure that safety standards were met and that they received appropriate wages and pension plans were to be put into order. The Utthan pact was initially signed for three years and was not legally binding. None of the brands even publicized their involvement with Utthan. According to Impactt in 2016, The pact stated that within the span of three years every subcontractor hired by brands had to show improvement in benefits for their employees, every factory was required to have fire extinguishers, a separate room for employees to sleep in and every big factory had to have at least two large exits. The pact also stated that in compliance with Indian labor laws, the employees could only work 6 days a week and no more than 11 hours a day with a decreased amount of overtime. Utthan set the standard salary for "highly skilled workers" at USD 225 per month (around 15,000 INR) including benefits. Impactt also said it would review factories at least once a year and luxury brands vowed only to work with factories that were compliant with the pact.
However, many brands did not sign the Utthan pact. Well known brands like Valentino and Versace still work with the same export houses. In 2019, Jennifer Lopez walked the runway for Versace in an animal print dress that went viral. That dress was hand embroidered in India by our Karigars. A lot of export houses also did not sign the pact as they thought it was a PR stunt by the luxury brands to evade liabilities. Maximiliano Modesti, Owner of Les Ateliers 2M, an embroidery firm that works with Chanel and Isabel Marant says in an interview with the times that he did not join the Utthan Pact as he thinks the wages are too low and that he pays over 50% of the standard wage stated in the pact. He also says that the pact is very flexible and allows excessive overtime during Fashion Weeks and when the demand is a lot or a brand needs embroidery to be done at the last moment.
It's been three years since the Utthan pact was signed and after the expose by New York Times was done, the factories still seem to be running their sweatshops in hazardous conditions, not meeting Indian safety laws, offering little to no employment protection and health benefits. The karigars still work colossal amounts of overtime and are kept in unhygienic conditions.
Since the 1980's, Luxury brands have secretly outsourced their embroidery work to Indian artisans and craftsmen. India is one of the largest garment exporters in the world. According to the Indian Brand Equity Foundation our textile exports are worth anywhere between USD150 billion to USD 250 billion. As stated by the Indian commerce ministry, our embroidery exports alone have increased by 500% over the last two decades now exceeding 230$ million. The reason behind this growing industry are the hard working craftsmen who toil day and night to produce orders for high fashion brands that do not even credit their skill or effort. Its time this industry sees a change and our karigars are protected. The world must know the dangers of fast fashion and how it impacts our country and its highly skilled craftsmen.