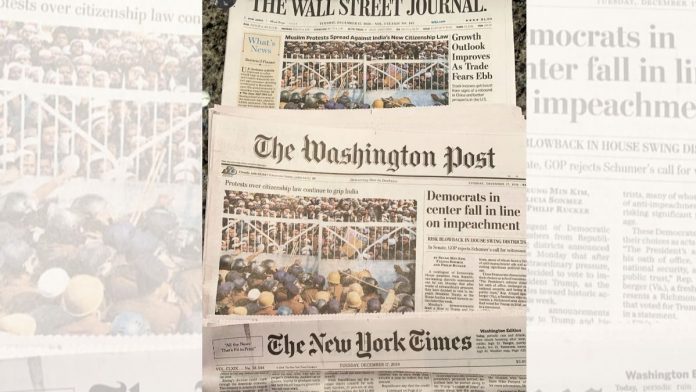 While India needs to be more proactive and work towards greater outreach to foreign media, the western media biases remain a barrier to expanding the full panorama of the Indian story to the rest of the world.
By Prerna Gandhi
The Western Media is now more vocal about the growing pervasiveness of moral denunciation through 'Cancel Culture' in western societies. Cancel Culture refers to a boycott of someone in professional or social circles that is determined by an aggressive minority, based on an opinion or an action that goes against the preconceived dogmas that began in its very own universities or organisations.
Cancelling India
But attempts to "cancel" India are a long-held habit of the western press. India has always been an enigma to the western mind. How such a diversity of people in cultures, languages, religions, and gods can coexist together defies their imagination. Further, the rapid ascent of India's stature on the international platform has brought about a desperate bid to discredit the Indian success story. With a 1.3 billion population and world's 7th largest land area, governing India is a mammoth exercise in all matters of policy. Yet many a time progress is not visible due to the sheer scale/ size of the country. India is now the world's fifth-largest economy by nominal GDP and the third largest by purchasing power parity (PPP), ranking way ahead of many western powerhouses, and among the fastest-growing economies in the G20.
Badmouthing India
Also, as China's virulent ambitions become ever more clear and western markets mature with an aging demography, India has emerged as a pillar of balance and support to the foundations of both geopolitics and geo-economics. Yet for many in the Western media and power circles, Modern India is only seen as a metaphor of intolerance, orthodoxy, ignorance, and poverty. This is ironical considering that Indian cultural traditions like Yoga, Ayurveda, Vegetarianism, Fasting, to the wide assortment of Indian cuisine including the humble turmeric latte, enjoy great popularity among western people in their everyday lives. Further, Indian competencies in science and mathematics are very well known making Indian leaders, Indian managers, and India-based R&D centres a must have in all multi-national corporates. Yet, in ensuring conformity to its ideological acceptance and commercial agendas, the western media handpicks spokespeople from India and other alleged intellectuals who will not press for honesty or integrity in their commentaries on India. The issue is not even one of being short on choices. There are enough readily available commentators and experts (with active social media channels) who will meet the exacting standards of "western" research with objective facts and logical reasoning, but their voices are not heard.
The Modi and BJP Haters
The rapid advent of Narendra Modi and the Bharatiya Janata Party to positions of dominance in Indian national politics in 2014 and again in 2019, with unprecedented political mandates was largely unanticipated by the west, and unwelcome. This has led the western press to freely whip up sentiment against the Modi administration, charging it unfairly with being Islamophobic and intolerant of all opposition. After Indonesia, India, a secular society, and the world's largest vibrant democracy is home to generations of muslim families that comprise the world's second largest Muslim population, a segment that has held the highest offices of state in the country, and have held prominent positions in the cultural life of the country. Another fact blatantly ignored is that Modi has been decorated with the highest civilian awards from many Islamic countries–for his personal diplomatic outreach to strengthen India's relations with the Muslim world. He has been awarded the Order of Abdulaziz Al Saud (Saudi Arabia; 2016), State Order of Ghazi Amir Amanullah Khan (Afghanistan; 2016), Grand Collar of the State of Palestine (Palestine; 2018), Order of Zayed (UAE; 2019), Order of the Distinguished Rule of Nishan Izzuddin (Maldives; 2019), and the King Hamad Order of the Renaissance (Bahrain; 2019)1.
A biased Media
But the western media biases seem to have intensified in the Modi government's second term- the cacophony over the Citizenship Amendment Act (CAA), the abrogation of Article 370 revoking Jammu and Kashmir's special status and now the Bhoomi Pujan ceremony for a temple in Ayodhya are cases in point. In all three cases, there is no attempt to study or cover the details of the legislations that have come into enactment after legitimate government processes or extensive hearings by the highest appellate court in India. Briefing material and prompt responses from Ministry of External Affairs, including the External Affairs Minister himself through internet and social media respectively are at best ignored. Barring efforts to validate existing notions, there are no efforts to cover other diverse public opinion on these issues. From 2014, when Narendra Modi took over as the Prime Minister, the foreign press has gone from cautious optimism to outright portrayal of his 'regime' as one that is turning India into a Hindu nationalist state. Opinions, Editorials, even Headlines carried by media houses such as the New York Times, Washington Post, Economist, Time, Guardian, Foreign Policy, Financial Times etc. all have sought to build an image of an intolerant India with a rising authoritarian government that is anti-minorities.
Minority rights: Who's taking them away?
Thus while most western outlets rushed to condemn the CAA as well as abrogation of Article 370, if unbiased concern for minority rights was indeed their motivation, there would also have been strong coverage on the barbaric treatment of Hindus, Sikhs, Christians and other minorities in Pakistan, or the Pandits of Kashmir. In fact, there is barely any mention in foreign media of them. In a seminar in December 2019, Indian Cyber Security Chief, Lt Gen Rajesh Pant admitted that Pakistan outperformed India in Information Warfare and heavily distorted Indian image abroad. He acknowledged that in narrative warfare, Inter-Services Public Relations' (ISPR is the media, public relations, and propaganda wing of the Pakistan Armed Forces) message regarding human rights violations in Jammu and Kashmir carries weight and is being heard across the globe. "When they (Pak DGISPR) conduct narrative warfare, let's say in the case of Kashmir, the message they send to Europe is that human rights are being violated… while when they engage with Islamic nations they tell them that Islam is under threat … and they tell Southeast Asia that there is a regional instability," Pant noted2. A major plank of this Pakistan's information warfare is circulation of false videos and images on social media by projecting 'maltreatment to Muslims in India'.
Kashmir is an Indian Issue
There is a long list for this including its submission to UN the images of victims from Middle East violence zones depicting it as Indian Kashmiris. In 2017, Maleeha Lodhi, Pakistan's permanent representative to the United Nations, tried to pass off a photo of a girl from Gaza as a girl from Kashmir. Accusing India of 'crimes against humanity 'and carrying out a 'campaign of brutality in Kashmir', Lodhi brandished the images and the act later turned into a huge embarrassment for Pakistan3. False twitter accounts are also used to stir foreign policy troubles abroad in India's relationship with Gulf countries. In April this year amidst an artificially created crisis, Omani princess Sayyida Mona bint Fahd al Said, who had a Twitter account impersonating her, had issued a clarification regarding the purported tweet on the expulsion of Indian workers from Oman4. Also, the western media needs to understand that while the BJP members may not dress like investment bankers, their respect for research and legal grounding into their policies is evident by their efforts to set up libraries and documentation centres at every party office across the country.
Fake News on India
Information is a critical input to every realm of human decision making. The global battlefield of the 21st century is thus over information — the dissemination or withholding of facts, the interpretation of events, the presentation or distortion of ideas and ideologies, the communication of messages and symbols that is carefully prepared to provoke an inverse reaction from a target audience. Switching from a print and TV culture to a digital, internet-based culture has had a profound, transformative effect. 'Fake news' has been at the heart of the news as long as there has been news. Deception that represents a time-honoured way of inducing failure and chaos can now be escalated to whole new level of dangerous proportions. Through the internet and social media, one can expand the outreach of information to beyond continents in real time around the clock. Thus, the only way to deal with biases and propaganda is to be able to identify them while striving for real unbiased reporting in journalism across the globe. While India needs to be more proactive and work towardsgreater outreach to foreign media, the western media biases remain a barrier to expanding the full panorama of the Indian story to the rest of the world.
The author is an associate fellow at VIF. This article was first published in VIF and belongs to them.