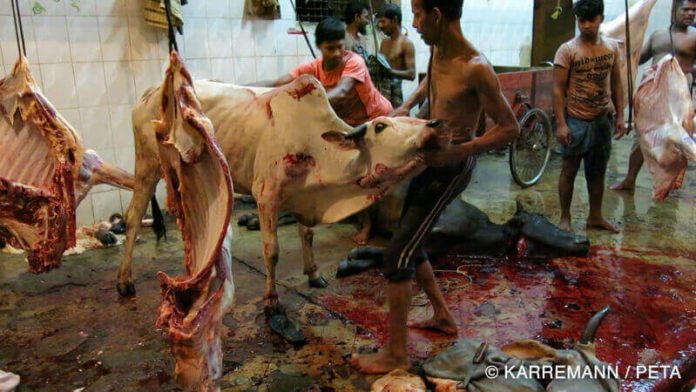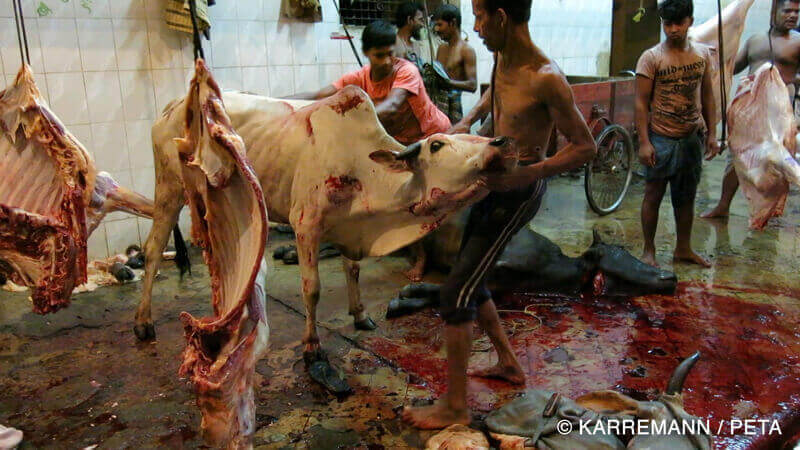 By Raju Shanbhag
"The total livestock population has decreased by about 3.33 per cent over the previous census. On one hand, famine struck farmers are selling off their cattle and on the other hand, illegal slaughterhouses are contributing to the decrease of livestock"
Ours is a country that worships even animals and stones. We see god in everything. Every living being is a representation of a godly attribute for us to worship. But in a country that worships animals, it's a matter of great concern that the number of livestock held by farmers and other Indian population is on a continuous decrease.
According to the census, the population of India's livestock has declined by 3.33 per cent. The total livestock population in India consisting of cattle, buffalo, sheep, goat, pig, horses & ponies, mules, donkeys, camels, Mithun and Yak in the country is 512.05 million numbers in 2012. The total livestock population has decreased by about 3.33 per cent over the previous census.
The census report comes from an elaborate exercise conducted throughout the country. The survey has disaggregated the population on lines of male and female animal populations. No prizes of guessing though, the number of female animals has increased, while the number of males has reduced.
The survey states that the livestock population has increased substantially in Gujarat (15.36 per cent), Uttar Pradesh (14.01 per cent), Assam (10.77 per cent), Punjab (9.57 per cent) Bihar (8.56 per cent); Sikkim (7.96 per cent), Meghalaya (7.41 per cent), and Chhattisgarh (4.34 per cent).
The census also points to an increase in the number of milch animals (in-milk and dry), cows and buffaloes, from 111.09 million to 118.59 million, an increase of 6.75 per cent. The number of animals in milk, cows and buffaloes, has increased from 77.04 million to 80.52 million showing a growth of 4.51 per cent.
While on the one hand, famine struck farmers are selling off their cattle which they cannot feed and on the other hand, illegal slaughterhouses spread across the length and breadth of the country are contributing to the decrease of livestock a great deal. India has the reputation of being the largest meat exporter in the world, and a lot of this meat comes from illegal slaughterhouses. The meat business is big business in India. In Uttar Pradesh, more than one in 10 are directly involved in meat and related businesses like leatherwork and transportation.
Yogi Adityanath led BJP government in Uttar Pradesh has come down hard on illegal slaughterhouses and as usual, the alleged intellectuals in the media and other strata of the society are crying foul. Remember, this ban is on cow slaughter, but it's only on illegal slaughterhouses, a decision that should have been welcomed by all and sundry.
Those opposing the shutdown of illegal slaughterhouses do not realize the dangers to the economy and the lives of the cattle. If illegal or unregulated slaughterhouses are allowed to continue, there is no way to determine the conditions in which the animals are kept and also, the source from which they are procured. There is every possibility of illegal slaughterhouses being hand in glove with cattle smuggling cartels. Mostly, Cattle are the only asset for numerous rural or semi-urban families. If they lose an important asset like cattle they will be devastated. This is why we often hear news about skirmishes and even bloody violence related to cattle smuggling from the hinterland.
While there are speculations of revenue loss due to the negative impact on the meat industry (with assumptions of all slaughterhouses being closed), there is another aspect to it. Government is already losing a lot of revenue due to functioning of illegal slaughterhouses as they are not disclosing all the details about their operations. Some reports suggest there was only 1 legal slaughterhouse in the state out of a total of 126 surveyed. So factoring in the whole of UP, there is a substantial loss of revenue to the government exchequer already.
Maintaining a slaughterhouse invariably leads to environmental hazards. Alive animals produce solid and liquid waste, which is rarely treated and properly disposed of in illegal slaughterhouses. After their death, the blood mixed water and animal carcass, if not properly disposed of, cause further health and environmental hazards. Any slaughtering activity leaves behind large quantities of by-products like bones, lungs spleen, oesophagus etc. which won't pose a hazard if they are processed and suitably utilised, but unregulated and illegal slaughterhouses could dump them carelessly causing further environmental and health hazards.
Even if a licensed slaughterhouse is being operated in an area, it's by no means necessary that it is ascribing to the Prevention of Cruelty against Animals act. At one legal slaughterhouse in Delhi, authorities on inspection found loads of violations by the slaughterhouse authorities, which included electrocuting animals instead of stunning and having dismal hygiene. If such is the case in a legal and licensed slaughterhouse, one can only wonder about what goes on in the illegal and unregulated ones.
Illegal slaughterhouses, whether they slaughter cows or any other animals, are dangerous to not only the animals but also the economy of the country. Banning them should not be anybody's problem, barring only those people who support minorities just to secure votes.
Box item
Congress Banned Cow Slaughter!
Yogi Adityanath has been associated with the save the cow campaign for years. But, much before the BJP made cow slaughter its poll cry, a Congress chief minister outlawed cow slaughter in Uttar Pradesh.
Dr Sampurnand holds the distinction of being the longest-serving Congress chief minister of Uttar Pradesh, where he headed the government for almost six years between 1954 and 1960, over two terms. Sarvsri Sampurnanand originally hailed from Varanasi, the present parliamentary constituency of Prime Minister Narendra Modi.
Christopher Jeffrelot writes in his book on cow slaughter titled, The Hindu Nationalist Movement and Indian Politics: 1925 to the 1990s, that Sampurnanand was 'a veteran of the school of (Madan Mohan) Malaviya and (Purushottam Das) Tandon'. Incidentally, Prime Minister Narendra Modi also invokes Malaviya whenever he visits Varanasi. Jeffrelot credits Sampurnanand with the 'renewal of the Hindu Mahasabha in 1922 before being seduced by socialism'.
Sampurnanand was a Sanskrit scholar with a penchant for Vedic philosophy and teaching – much like the present UP Chief Minister Yogi Adityanath. Nehru had chosen him to replace Govind Ballabh Pant as the Uttar Pradesh chief minister. Sampurnanand was the Chief Minister who brought a law to ban cow slaughter in Uttar Pradesh in 1955 much against the wishes of the then Prime Minister Jawaharlal Nehru.
Sampurnanand implemented the recommendation of two committees – the UP Committee in 1948 and the Nanda Committee in 1954. Rejecting Pt Nehru's objection, the Sampunanand "government announced before a jubilant Vidhan Sabha the outlawing of cow slaughter, as it was authorised to do under the Constitution," writes Jeffrelot.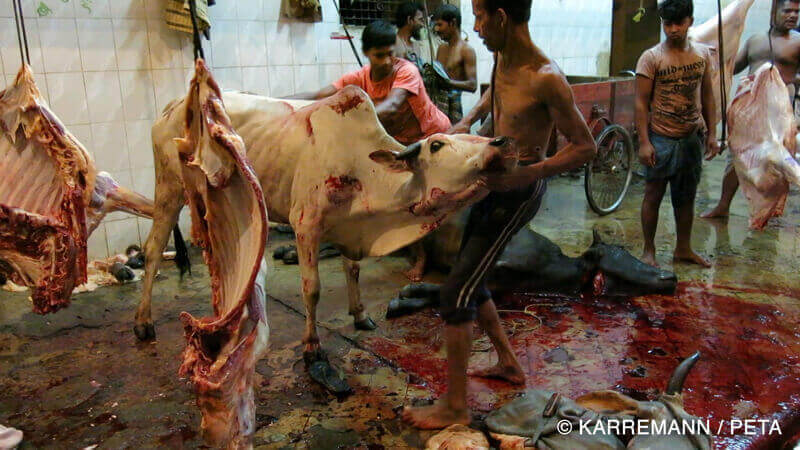 (Illegal Slaughterhouses in India are the main reason behind decrease in the number of livestock in India)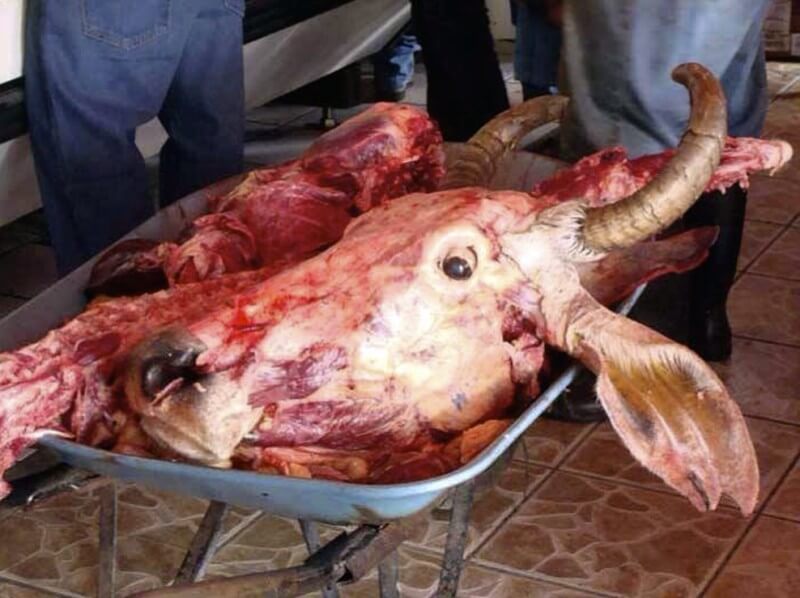 (Illegal slaughterhouses rarely observe the laws for cruelty against animals)