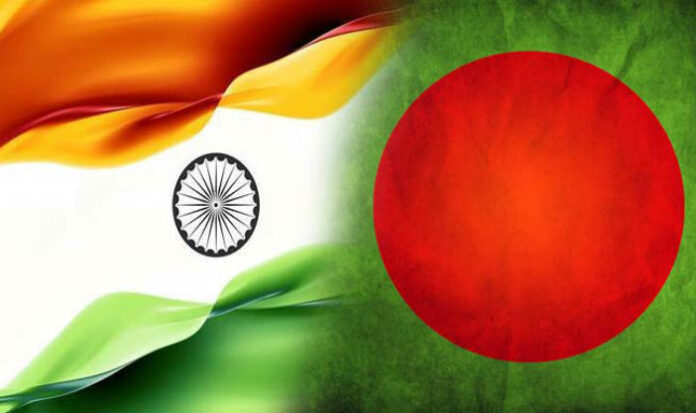 The Mitali Express scheduled to run between Dhaka (Bangladesh) and Jalpaiguri (India, West Bengal) will be inaugurated by PM Modi and PM Sheikh Hasina on the 27th morning during PM Modi's two days trip to Dhaka (26-27 March 2021). This visit is special not only because as it will be Modi's first trip abroad from the time the world has been grappling with the Covid 19 pandemic but one that is filled with nostalgia of a date, 50 years ago that brought freedom to Bangladesh, the erstwhile eastern wing from Pakistan. This visit is a celebration of the golden jubilee of not only the Liberation War of Bangladesh, but also fifty years of Indo- Bangladeshi formal diplomatic ties as well as the 100th year of Bangabandhu Sheikh Mujibur Rahman.
By Dr Sreeradha Datta
A dear friend of India too, Mujib remains an icon not only for all the Bengalis on both sides of the border but also for a generation that he inspired with his vision, his struggle and the victory of freedom that hailed him as the first prime minister of Bangladesh. The liberation movement encapsulated the essence of freedom, secularism and equity that Mujib and the liberation war leaders upheld. Indeed, these ideas remain so very relevant and important not only for Bangladesh but the region and the world at large.
It is indeed a momentous period one that is further buttressed with Bangladesh poised on the cusp of crossing two distinct thresholds, graduation from the UN defined category of a least developed country and also the status of a lower income country as categorised by the World Bank. Bangladesh is a story of exceptional achievements and this year is more so. Undoubtedly, the past 50 years is a story of a remarkable journey for Bangladesh. Bangladesh has overcome its humble beginnings and a very difficult political journey, to stand poised at a point which is coveted not only by its neighbour India but also by others in the region and world at large.
Hasina's invitation to Modi to join the 26 March 2021 special celebration (as also to many other south Asian leaders who were in Dhaka over the course of the past week), conveys the special place India holds for Bangladesh. Although India's role in liberation of Bangladesh gave the neighbours a varying sense of perceptions that they both struggled to overcome in the past decades, their present bonhomie and the close bilateral ties is not encumbered with the burdens of past, rather it is enriched with that foundation of shared history but essentially one that is forward looking. It is but natural for any neighbours especially those that share the longest land borders and also maritime borders to have few outstanding issues. But on this historic occasion, the neigbours would much rather focus on the bilateral milestones that they have achieved together and find ways to consolidate this journey. The past is always an important factor as a determinant of the present.
India's role in the emergence of Bangladesh as a sovereign entity remains a significant key to understanding the relationship of the two countries in contemporary times and will be so for the foreseeable future. While the vast majority in Bangladesh was grateful to India, with good reason, for the support rendered during the liberation war, without which the independence of Bangladesh could not have been achieved, circumstances linked to such a role contained elements that would render the future relationship full of complexities. However, as poised today, they have been able to overcome a phase of uneven times to emerge as close partners on the path of progress and development. Historical and cultural linkages, economic interdependence and geo-strategic interests make India and Bangladesh politically vital to each other. The new phase that began since January 2010 has turned the bilateral trajectory on a path of bilateral cooperation. The idea of shared prosperity has driven the two side to find convergence in sectors that go much beyond the intrinsic social and cultural affinities. India and Bangladesh found mutually beneficial association embedded in intensive trade and commerce ties leading to building value chains ably supported by the ongoing transport and infrastructural development to build durable bilateral ties.
It needs to be pointed out that for a variety of reason Awami League led governments in Dhaka have worked closely with India. History and personalities both contributed largely to this enduring legacy that was further substantiated by strategic convergence that they found in 2010 leading to a journey or mutual benefit and with mutual respect. India's support to Awami League and its leaders including Mujibur during the Liberation War was reiterated when Sheikh Hasina found refuge in India during a very distraught phase, post, the assassination of her father Mujib in 1975. These experiences forged a tie between India and the leader of Awami League that has endured through the five decades. Moreover, Pakistan has also been a shared grief. Not only was Pakistan responsible for the mass genocide that they launched through Operation Searchlight in 1971 that killed over three million people, left ten million refugees that India hosted, and displaced millions leaving an indelible mark on Hasina and every mind of Bangladeshis. There was no family in East Pakistan that was not scarred by the brutal acts of West Pakistani forces.
The golden phase that India and Bangladesh presently share, also a throwback to the Indira Gandhi- Mujib phase was facilitated with Sheikh Hasina's electoral win in December 2008. Since then, there has been no looking back and the neighbours have gone from strength to strength building on bricks of mutual cooperation. Bangladesh led by Hasina not only addressed Indian security concerns but also agreed to transit facilities that enabled India to easily access its Northeast region through the Bangladesh terrain. India matched the overtures with extending lines of credit that was one of its kind in the history of the region.
Through intense bilateral cooperation including energy trade, developmental projects, India and Bangladesh found ways to continue with bilateral trade even during the difficult condition caused by the Covid-19 pandemic. Adding public health support to the bilateral basket, leading to vaccine diplomacy, India and Bangladesh have travelled many a long distance through cross border transportation linkages, trade facilitation measures, defence cooperation and more importantly a partnership that goes much beyond bilateralism allowing for a collaborative role not only in South Asia but in the sub-region of the Bay of Bengal community too. Without a doubt the state of bilateral ties that India and Bangladesh enjoy is unmatched in the region and elsewhere too. Indeed, the two neighbours are the trailblazers for a regional partnership hitherto unknown in South Asia.
Through sustaining the high-level political contacts, deepening engagement at various levels, strengthening the institutional framework for future engagements continued dialogue to resolve outstanding issues the neighbours can ward off derailing of the bilateral trajectory. Pertinently, people on both sides needs to be invested in this idea of a common good that each can contribute to the other, transcending narrow domestic interests. The Mitali Express literally meaning friendship needs to be felt by one and all. While state to state and government to government ties seem robust, the people's faith in the relationship remains the real test of any sustainable journey. Hopefully the multisectoral and multi-layered engagement will ensure a continued stability where both sides, irrespective of who is in Delhi or Dhaka, will see value in this endeavour of a mutual win-win situation. More importantly the two growing Asian powers are now in a position to shape together the destiny of a region that ought to be rooted in the rule of law, accountability, amity and cooperation. Together they can lead their people into a new horizon. However for that, both leaders need to move out of their comfort zones and address few home truths. Given their mass base following it would be a risk to ignore the faint noises of dissonance and not the other way round. It is a time to celebrate but not without some introspection.
This article first appeared in www.vifindia.org and it belongs to them. The author is a research associate with VIF.