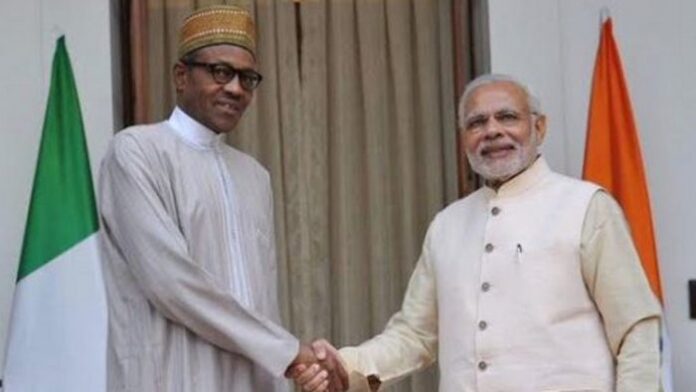 The relationship between India and Nigeria has been on an upswing since India established its first Diplomatic House in Lagos in 1958, two years before Nigeria gained independence from the British rule. The strengthening of bilateral ties is conspicuous from the ongoing engagements between the two countries on the commercial front as well as the cultural front. This backgrounder attempts to comprehend the bilateral relationship between India and Nigeria and the prospects of cooperation in the economic, energy and defence sectors.
By Abhishek Kumar
India has a long history of partnership with Nigeria, with solidarity and political affinity going back to the early 19th century when both nations were fighting against British colonial rule and oppression. The system of indentured labour migration during the colonial era led to an informal relationship between both countries. Like many other African nations, the Nigerian nationalists also adopted non-violence in their struggle for independence. India and Nigeria have enjoyed warm, friendly and deep-rooted bilateral relations for several decades and continue to do so. It is interesting to note that India had established its first Diplomatic House in Lagos in 1958, two years before Nigeria gained independence from Great Britain in 1960. For several decades, the bilateral cooperation between India and Nigeria has flourished in diverse sectors like trade, energy and defence sectors, which are covered in detail in the following sections.
Economic Cooperation
At present, Nigeria is India's largest trading partner in Africa. Indian-owned/operated companies are estimated to be the second-largest employer in Nigeria after the Federal Government of Nigeria. Nigeria-based ethnic Indians are economically active in areas relating to manufacturing and retailing of consumer goods, construction and air services.4 At the India–Nigeria Business Forum, organised in Abuja by the Indian High Commission in 2020, Ms Victoria Akai, Director General of the Abuja Chamber of Commerce and Industry (ACCI) observed that, "India has provided critical support to Nigeria in areas like agriculture power, automobile, pharmaceuticals, air travel among others."5 Nigeria is a major importer of Indian goods in West Africa such as machinery, automobiles and accessories, pharmaceuticals, mechanical equipment and appliances, mineral fuels and mineral oils, articles of iron, organic chemicals, apparels and made-up textile articles. Till date there are 135 Indian companies currently active in Nigeria including Tata, Kirloskar, Ashok Leyland, Ranbaxy, Bharti Airtel and Mahindra group.
The economic cooperation between India and Nigeria has been prospering; Nigeria has become India's largest trading partner in West Africa. As per a report jointly prepared by the EXIM Bank of India and the African Export-Import Bank, the top commodities imported by India from Western Africa include petroleum, petroleum products and related materials, which accounted for around 57 percent of India's total imports from the region in 2017. India's imports from Nigeria have shown a slight decline in the last few years. The value has decreased from US$ 10.88 billion in 2018–2019 to US$ 10.21 billion during 2019–2020. However, India's exports have risen by 20 per cent during the same period; from US$ 3.0 billion in 2018–2019 to US$ 3.61 billion in 2019–2020. India has a large trade deficit with Nigeria that is driven mainly by import of petroleum and related products. This trade deficit between both the nations may be addressed by promoting Indian exports to the country providing exporters greater access to trade finance, more exchange of information and knowledge of markets.
Energy Cooperation
The 2018 estimates by Central Intelligence Agency, USA, show Nigeria as the 11th largest producer of crude oil, with an average production of 1.989 million barrels per day. Further, as per the 2015 estimates, Nigeria ranked 6th in terms of crude oil exports in the world. As regard the gas reserves, the 2018 estimates show Nigeria ranking 8th in the world. The Nigerian state-owned National Petroleum Corporation (NNPC) accounts for more than 50 per cent of oil production and over 40 per cent of its gas supply. The domestic refining capacity is comparatively low. This creates a huge gap between the demand for refined petroleum products and local supply. Therefore, the downstream industry has been opened to private sector participation involving foreign non-state actors in the petroleum and energy sector from the US, the UK, Italy, the Netherlands and France.
Being the powerhouse of Africa, Nigeria is a leading energy partner of India. There are major power and transmission sectors in Nigeria which are dominated by Indian companies. The evolving cooperation between India and Nigeria in renewables has also shown a remarkable progress. Moreover, in recent developments both sides agreed to strengthen their cooperation in this sector. In 2017, Nigeria became the signatory of International Solar Alliance (ISA)15 and continues to remain an active member in achieving eco-friendly and technology-driven sustainable development. For instance, on 25 June 2021 Nigeria released the "Nigeria Economic Sustainability Plan". This plan is a fresh solar power policy developed by the Nigerian government. Through this plan the government has set a target to install Solar Home Systems in 5 million households, serving about 25 million people who are not yet connected to the National Grid. The plan also supports the upstream value chain by promoting the large-scale assembly of solar plants in Nigeria. Clearly, there are immense opportunities for India to push forward its own domestic companies such as its NAVRATNAs and hi-tech firms to invest in Nigeria's untapped energy and power sector. Therefore, ISA and similar nature of mutual cooperation may act as an ambrosia for India's quest to reduce its vast dependence on energy and petroleum products from the geo-politically unstable regions such as West Asia. Although, there is growing cooperation between the two countries in this field, a lot more is required to be done.
Defence Cooperation
The military engagement between both the armed forces of India and Nigeria has been going on since 1960. India supported Nigeria in setting up various military institutions including the Nigerian Defence Academy (NDA) at Kaduna, the Naval College at Port Harcourt and Command and Staff College, Abuja. Similarly a number of Nigerian defence services officers have received training in India. These include former Nigerian President Olusegun Obasanjo, Ibrahim Babangida and the present President Muhammudu Buhari. President Buhari is an alumnus of Defence Services Staff College (DSSC), Wellington.
India and Nigeria share mutual understanding on various aspects of security as well as humanitarian affairs. In October 2007, both the countries signed a memorandum of understanding on defence cooperation, covering areas like defence training, capacity-building, equipment support, sharing expertise in counter-terrorism and counter-insurgency. Given India's expertise in military tactics and its age-old experience of participation in UN peacekeeping missions, a contingent of the Nigerian army participated in AFINDEX-19, a field training exercise of 17 African nations, to further boost its defence cooperation focusing on counter-terrorism and peacekeeping. In March 2021, India and Nigeria had the first Strategic and Counter-Terrorism Dialogue at the National Security Advisor level. During this meeting the officials looked into the common threats and challenges faced by the two nations, such as armed extremism and radicalisation.
Road Ahead
In over 60 years of diplomatic relations, India and Nigeria have developed cooperation in various spheres. India's commitment to the people of Nigeria and African continent as a whole, is evident in its initiatives like "Operation Maitri" during the COVID-19 pandemic. Nigeria faces several challenges, of which the lack of infrastructure has been a long-standing concern. COVID-19 pandemic has also revealed the inadequacies in the health infrastructure. Though the Nigerian government has taken steps to cushion the effect of the pandemic, much more needs to be done. Nigeria is also experiencing an acute shortage of food, and is in an urgent need for humanitarian assistance in northern states due to violent ethnic conflicts and extremism. The United Nations Office for the Coordination of Humanitarian Affairs (OCHA) had estimated that in June–August 2021, around 5.1 million people are at risk of being critically food insecure. The continued threat of piracy in Gulf of Guinea region is another critical challenge that Nigeria faces at the moment.
Historically, India has helped Nigeria achieve progress, with the spirit of "developing together as equals" defining this bilateral partnership. During its UNSC presidency in August 2021, India has enunciated a clear policy of zero tolerance towards terrorism, maritime piracy and has worked towards strengthening of UN peacekeeping missions in Africa. India and Nigeria should further enhance their cooperation in fields like healthcare, food supply and cyber security, countering terrorism and piracy. Finally, greater connectivity, and people-to-people contact, cooperation between universities and think tanks will go a long way in further strengthening the relationship between the two countries.
This article first appeared in www.idsa.in and it belongs to them.