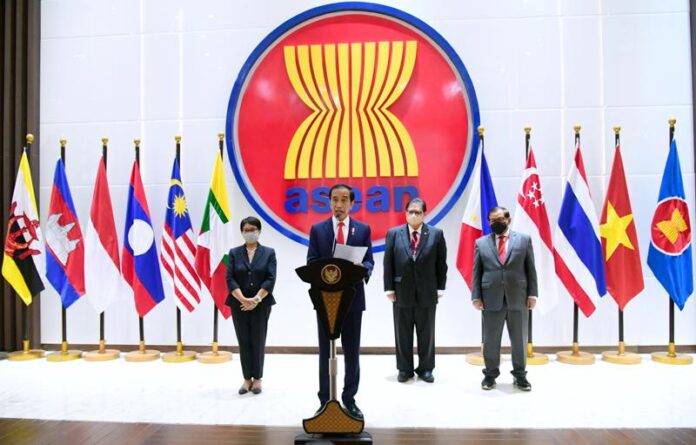 The ASEAN leaders meeting on 24 April overcame expectations of its viability. Despite hesitations it achieved more than anticipated. Initially, ASEAN Chair Brunei was reluctant to have the first ASEAN summit of 2021. Preparatory work was undertaken by Indonesia, which has now made it a habit of stepping in whenever there is an internal crisis in ASEAN.
By Amb Gurjit Singh
The summit was held at the ASEAN Secretariat in Jakarta, allowing Indonesia to play a larger organisational role. The leaders meeting can be seen as an extraordinary summit of ASEAN. Indonesia and Brunei worked closely in tandem. The Indonesian Foreign Minister Retno Marsudi undertook several efforts since the coup in Myanmar in February.
The situation in Myanmar deteriorated with over 750 people killed in civil strife and nearly 4000 arrested for political reasons. The ability of ASEAN to even talk, leave alone act on a member state is unusual. The rising expectations from Japan, USA, the EU and others were a prod for ASEAN to reclaim its centrality and set aside the tradition of non-interference in members' internal affairs. A holistic position based on the ASEAN charter and the Treaty of Amity and Cooperation emerged.
Indonesia's preparation for this included several informal meetings of regional foreign ministers and getting Brunei on board. The need to balance the more vocal ASEAN memberswith the more reticent led to about the best result possible. The biggest challenge was to get Myanmar to participate. Opinion was divided since some felt that an invitation to the military leader would look like recognising him; others felt this was the only occasion that he was likely to engage with regional partners. This turned out to be true and General Min Aung Hlaing participated in the summit, which was his first meeting with six other regional leaders. Thailand, Philippines and Laos were represented by their Foreign Ministers.
Participants in the meeting noted that advance draft Chairman's statement along with its consensus, was surprisingly agreed to rather quickly by Myanmar. The five-point consensus on suspension of violence by all sides, constructive dialogue, provision of humanitarian assistance through ASEAN and accepting a special envoy of the ASEAN chair, to facilitate mediation with the assistance of the ASEAN Secretary General. Myanmar agreed to grant them access to meet all parties in Myanmar. These may look less than fulsome but are significant breakthroughs, which were unanticipated when Indonesia stepped out to bridge ASEAN's gap.
The release of political prisoners is missing from this list of action points. While this appeared in an initial draft, it fell through the final negotiations. Perhaps Myanmar was not the only objector. Democracy being at a discount in ASEAN there are several members who have political prisoners and would not like a summit precedent of calling for their release, which could later turn around to bite them. The chairman's statement notes that several calls for release of political prisoners were made.
ASEAN appears back in action with Indonesia again looking to play an activist's role, which it has not done since trying to reconcile Thailand and Cambodia to cease fighting over the Preah Vihar temple in 2011. In other cases Indonesia has taken the lead when not the ASEAN chair, as in 2012 over the lack of Foreign Ministers' consensus on a statement. Whenever a crisis erupted in Myanmar Indonesian Foreign Ministers like Hassan Wirajuda, Marty Natalegawa and now Retno Marsudi have played good roles to see the legacy of Indonesia's diplomatic skills with a largely unambitious agenda, which does not ruffle other ASEAN feathers.
It is also significant that Indonesia took the lead at the summit level, since President Jokowi is reticent on foreign policy issues. Without his weight behind this initiative, it would not have succeeded. Moreover, the presence of Myanmar General in Jakarta allowed a meeting to take place with UN SRSG Christine Schraner Burgener. She is otherwise been denied permission to visit Myanmar.
It is evident that between Myanmar and ASEAN there was a complementarity of views. ASEAN needed to do something to prevent erosion of its centrality. Most of its regional partners of the East Asia Summit were vocally concerned about Myanmar. It had brought isolation upon themselves since the coup and required some smoke to be released. The UN SC was being pressured by the US, EU and Australia. Both Myanmar and ASEAN wanted to avoid such pressure. Vietnam and Indonesia also worked closely on this initiative, since Vietnam is a current member of the UN SC, and the immediate past chairman of ASEAN. Vietnam like Indonesia does not want outside powers to determine the narrative in Myanmar. While Indonesia doesn't have much economic stake in Myanmar, Vietnamese companies have interests which they don't want eroded. Indonesia's major concern with Myanmar has been the Rohingya issue which Muslim groups in Indonesia are disturbed by.
Myanmar found a way of engaging with its immediate partners and possibly evading immediate action by the international community. Its opening provided to a special envoy gives them about six months of breathing space in which their willingness to abide by the ASEAN consensus will be tested on the ground. The ASEAN envoy accompanied by the Secretary General (SG) is likely to be welcomed, while the UN Special Envoy would probably have to wait her turn, as ASEAN does not presently want to cede leadership to the UN.
There is speculation about the Special Envoy (SE). As the ASEAN SG is from Brunei, it is likely that the SE will be Indonesian. Former FM Wirajuda with a record of mediation successes is most likely. A fortnight after the meeting the SE is yet to be announced.
India has played a determined role given its special interest in Myanmar. At the UNSC India's statement was akin to what ASEAN devised. India preferred ASEAN to take the lead. EAM had spoken to Indonesian Foreign Minister prior to the Summit and later, India has fully welcomed the ASEAN initiative. As ASEAN seeks to do more, give a role to its SG and invoke unutilised provisions like a Special Envoy, India would prefer their activity rather than have other powers forcing the pace or making inroads.
This article first appeared in www.vifindia.org and it belongs to them. The author is a research associate with VIF.