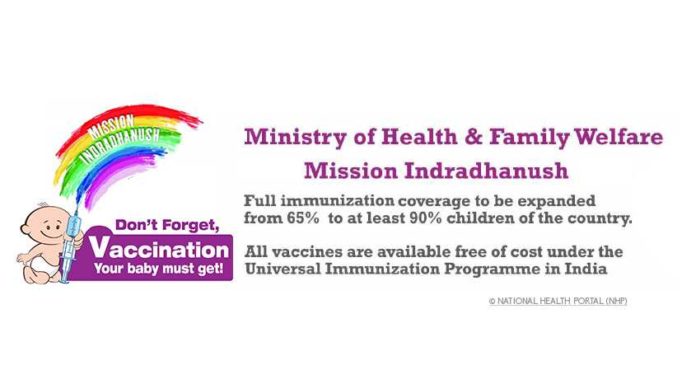 Immunization for children below the age of 2 years and for pregnant ladies will help families bring up healthy babies while ensuring the health of pregnant women.  Our Government has taken many steps in order to eradicate diseases by providing the necessary immunization.
By Prathima.G.Kulkarni
Our Immunization program started in the year 1978 under "Expanded program of immunization" (EPI) by the minister of health and family welfare, Government of India.  In the year 1985, this program was modified as "Universal Immunization Program" (UPI). This was to be implemented in a phased manner to cover the districts of India by 1989-1990. This was one of the largest health programs in the world.  Even though this was a fully functional program, only 65 percent of children were fully immunized.
To achieve 100 percent immunization rate for two year old babies and pregnant ladies, the government came up with Mission Indradhanush in December 2014. The major goal of mission Indradhanush was to fully immunize all children under the age of two years and pregnant ladies with all the available immunization. The Government has identified 201 high focus districts across 28 states in our country that have the highest number of partially immunized and unimmunized children.
Initially, the increase that was seen in the program was 1 percent per year which was later increased to 6.7 percent per year through the first two phases. At the completion of 4th phase of Mission Indradhanush, more than 2.53 crore children and 68 lakh pregnant women have been vaccinated.
Intensified Mission Indradhanush (IMI) was launched by our Prime Minister Shri Narendra Modi on October 8 2017 in order to intensify the program. The main motive of this program was to reach each and every child and pregnant women and provide immunization to those who were not covered under Universal Immunization Program. The immunization coverage of this program is 90 percent by 2020.
Under IMI, four consecutive immunization rounds have been conducted for 7 days in 173 districts (121 districts and 17 cities in 16 states and 52 districts in 8 northeastern states) every month between October 2017 and January 2018. Intensified Mission Indradhanush has covered low performing areas in the selected districts (high priority districts) and urban areas. Special attention has been given to unserved/low coverage pockets in sub-center and urban slums with migratory population. The focus was also on the urban settlements and cities identified under National Urban Health Mission (NUHM).
Intensified Mission Indradhanush 2.0 was scheduled for December 2, 2019. This will be covered between December 2019 till March 2020. The mission of this program is to immunize children under 2 years and pregnant women against eight of the immune prevention diseases. The immunization drive covers vaccines for tuberculosis, meningitis, measles, Hepatitis B, tetanus, whooping cough, poliomyelitis and diphtheria. The vaccines for two other diseases- Hemophilus influenza and Japanese encephalitis are also being provided under the scheme in certain select areas.
This program aims to cover 272 districts spread across 27 states of India and 652 blocks of Uttar Pradesh and Bihar among hard-to-reach and tribal populations.
The program aims to escalate efforts to achieve the goal of attaining 90 percent national immunization coverage across India. The Intensified Mission Indradhanush immunization drive will consist of four rounds of immunization. This program of IMI 2.0 immunization activity will be held in four rounds over seven working days, excluding the RI days, Sundays and holidays.
While our government has come up with this wonderful program to immunize babies and pregnant women, it is the duty of the citizens to make sure that the family member or friends or someone they know who have a child who is 2 years old or pregnant women to be informed of this. Let's make this program a major success.