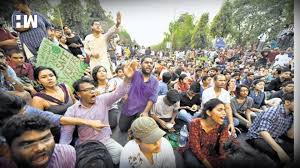 This highly subsidized university has degenerated into a breeding ground for Maoists. Its subsidies are being misused by a bunch of anti nationals. It's time the government diverted the resources wasted on JNU elsewhere.
By B.G. Shyam Prasad
The rise of knowledge paves way for the rise of a nation. Those who lack wisdom and knowledge are as good as beasts. The development or the downfall of a society is directly proportional to the intellectual levels and maturity of its people. The youth are the wealth of any nation and consequently all nations do their best to educate their youth and turn them into responsible citizens. While knowledge and intellect play a great role in shaping a nation, there are several other aspects that make a nation great. This reminds us of Swami Vivekananda who said "More than people who are highly intelligent, we need people who love the nation, follow dharma and have a great heart."
The most unfortunate part is that we saw an incident in New Delhi recently where the youth trashed this spirit and outlook to life that has the potential to make us a great nation.
Swami Vivekananda was our great spiritual leader who raised the stature of India at an international level and made the world aware of our great heritage. But this student organization from Jawaharlal Nehru University (JNU) proved that they are anti-nationals by vandalizing the statue of one of the greatest spiritual leaders in India.
No one realized that JNU, which was established in 1969 during the Congress regime with the objective of  nurturing talent that would aid the progress of India would degenerate into a breeding ground for anti-nationals who have little or no respect for the culture or the ethos of the nation that is subsidizing their education. Considering the amount of resources the nation has dedicated to this university, JNU at best has turned out to be a counterproductive exercise and is detrimental to our national interests.
JNU was essentially meant to be a University that supported the aspirations of the bright, but economically backward talent. However these objectives never fructified, thanks to the leftist ideology that has swept the institution over the years. Today it's a hotbed of leftist and separatist politics and produces a bunch of anti-Indians who want to destroy the very idea of India.
The government of India provides free education to these parasites who believe in biting the hands that feed. Recently the university raised its fees by INR 200-300. The students vehemently protested the fee hike. Of course, everybody has the right to protest. But the way they registered their protest has exposed their designs. And it's obvious that these are a misguided bunch who should not be encouraged.
There are many reasons why these JNU brats have become so notorious.
When our courts awarded death sentence to Afzal Guru, who engineered the attack on our parliament, the so called Democratic Students Union of JNU staged a vehement protest. It also organized a public program called `A country without Post Office' to protest against the death sentence handed out to Guru. They also organized a candle light march for Guru and shouted slogans saying that they will realize the dreams of Guru and Maqbool Bhat and chop India into pieces.
Similarly they also ran protests against the nuclear plant in Koodankulam.
Now let's examine the fee structure in JNU. They pay a tuition fee of INR 216, INR 16 towards medical fees and the same amount for library fees. They pay INR 20 for hostel fees. You might want to think that this highly subsidized fee structure will benefit economically deprived students. But for these facilities the government spends INR 300,000. It spends a total of INR 250 crores from the taxpayers' money in the name of nurturing talent that will help this country progress.
The academic discussions in JNU mostly hover around the ideologies of hard core leftists and left leaning dictators who ruled this world, Like Stalin, Lenin, Idi Amin and the like. Kanhaiya Kumar once famously boasted that the communists and left leaning dictators have committed three times the mass murders, rapes and massacres than what happened during the second world war. How can people who emulate the leftists have respect for the law of the land, culture, integrity of the nation and peaceful assimilation with the society?
None of their ideological role models, whether it is Karl Marx, Lenin, Stalin or anybody else for that matter fought for Indian independence.  None of them have contributed anything to India, nor have they sacrificed anything for us. It is confounding why people who love these people have no love for Savarkar or Vivekananda?  What JNU has been breeding are a bunch of opportunistic rogues. They say they are going to free India. What are they trying to free us from? What's their idea of independence?
Inside the JNU campus, they symbolically handcuffed Lord Shri Ram. They opposed the celebration of Krishna Janmashtami. While the entire nation was celebrating Durga Pooja, they worshiped Mahishasura and hurt the sentiments of many by feasting on beef. They insulted Pandit Madan Mohan Malaviya also. They vandalized the Vivekananda statue and wrote below that `Bhagawan ab jalega'.
The other fact to note is that most of these students are from well off families who are utilizing government subsidy while they can afford cell phones and other gadgets worth thousands of rupees.  It's high time the the government shut down JNU and utilized those INR 250 crores where it can make a change for the country.