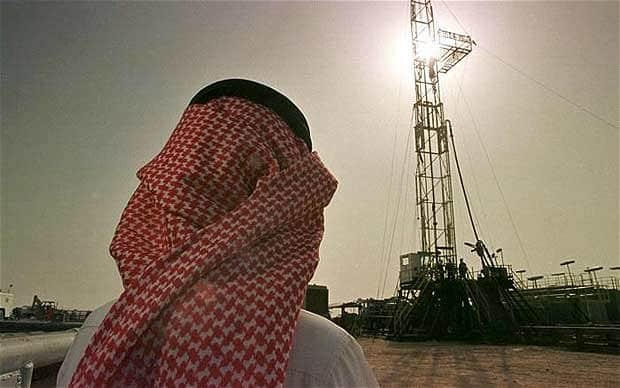 Economic Sandstorm Batters Saudi
Saudi Arabia is facing a sandstorm of economic and social challenges. With oil prices remaining at record low for far too long, the desert kingdom is slashing subsidies and capital investment. Despite the austerity measures, Saudi regime is feeling as if it has stepped into loose soil. The more it tries to get out, the deeper it is sinking into an economic mess.
By Narayan Ammachchi
Saudi Arabia is inching closer to an economic disaster, with the ruling royal familycutting subsidy on all utility services, including water and electricity, in a desperate attempt to avoid slipping deeper into a debt trap.
Despite a string of measures aimed at shoring up the sagging economy, relief from the economic pain has remained a mirage in this desert nation.Today, with oil prices remaining at a record low for more than two years, Saudi's economic machines are sputtering.
Government has halted many construction projects to cut back on spending,and has resorted toimposing heavy fines on traffic violations and expensive fees on visas in order to raise revenue.
It seems Saudi regime underwrote the cozy lifestyle of its people for far too long. Withdrawal of these subsidies is angering citizens, with reports emerging those workers burnt buses in protest against cancellation of construction projects.
When it choose to reduce subsidy, little did it realize that such a move might hit private enterprises as well, the only source of jobs in the country where life is becoming ever more expensive. Saudi has 30% unemployment rate. That's huge number by any standard. According to Woodrow Wilson International Center, Saudi Arabia needs to create at least 3 million new jobs by 2020.
Today, water and electricity prices have gone up so high that many people are unsubscribing to state's power grids, according to an article on New York Times. The U.S. daily has mocked the country, saying "onlycamels can live in the desert without air-conditioners."
Root cause of all this trouble lies in sliding oil prices. Perhaps, Saudi never thought that oil prices would fall one day, or it thought that the price decrease would not last long. It went on borrowing heavily in foreign bond markets to finance construction of mega townships and luxurious hotels.
When oil prices fell, it found it hard to pay back the loan. Now, it has to borrow more to repay loan installments.
In 2015, barely a year after oil prices started to slide, its foreign currency reserve shrank by about 25 percent. In 2016, it shrank further, although there is no official data available.
Saudi has also lessened pay and benefits for government workers. But reducing social benefits carries high risks for the regime at a time when revolutionary protests, known as Arab Spring, have already toppled several autocratic rulers across the region.
Electricity
Saudi Arabia burns barrel after barrel of crude oil for electricity, one of the few countries to do so in large quantities. Commercial air-conditioners cool shopping malls as temperatures outside soar past 100 degrees in the summer.
In addition, there are also expensive Snow Cities and recreation centers to entertain people. Now, with electricity becoming expensive, powering these luxurious amenities looks increasingly challenging.
In Saudi Arabia, just industry has grown around cheap energy. Therefore, the government has little room to drive the country out of the current crisis. Worst still, whatever it is doing as part of recovering the economy is backfiring, forcing the government to abandon its program midway.
Today, for an example, many in the country are complaining that they are spending more on water than fuel. Since it is a desert country, water that it consumes is brought from seas after an expensive process of de-salting. All the machines employed for this process guzzle hundreds of barrels of crude oil. Therefore, the more the country drinks water and the more oil will be lost.
Analysts have long warned that the kingdom would one day end up becoming a net importer of oil if it does not reform its industries and the way of life.
Low oil prices are shaking the very roots of the ruling family, which recently agreed to cut oil production in order to raise the price of crude. It has even sold off a small piece of the country's economic crown jewel, Saudi Aramco, to free up money for investment.
Unfortunately, the fortune of all its so-called 'crown-jewels' is heavily dependent on oil prices. If oil prices go down, so will the value of these jewels. The budget deficit was nearly $100 billion at the end 2015. An unnecessary war in neighboring Yemen has widened its deficit further.
Government is now planning to expand mining industries to exploit gold, phosphate and uranium deposits, and build up the financial, technology and entertainment sectors. But all such plans require the government to offer hefty incentives and subsidies. Where will the government bring the money from to support these adventurous projects?
For the past few years, a member of the country's ruling royal family has been running a dairy to make the nation self-sustainable in milk and dairy products.
When oil prices were soaring high, he bought farmland in Argentina, California and Arizona to produce alfalfa, a kind of livestock fodder. Other fodders, such as cottonseed and sugar beet pellets, areimported from Greece and the Netherlands respectively.
Now, this venture is increasingly turning out to be a white elephant, with milk prices refusing to go up and diary's operational cost rising. Some foreign investors are asking whether it is really makes sense to produce milk in the desert.
But such a strange venture is not new to the royal family. A decade ago, the country created a sprawling farmland and grew wheat. So much so, that it became a net exporter of wheat. Soon it realized that it just cannot supply water to the farmland and decided to abandon farming.
The Costly War in Yemen
In March, 2015, Saudi Arabia launched a military strike on neighboring Yemen in a bid to protect the Sunni-led government of AbdRabbuh Mansur Hadi from Shia militant group, known as Houthis. The war went on for more than year, leading to the deaths of thousands of people.
It was in fact an indirect war against Iran's Shia regime, but poor Yemenis suffered heavy casualty. As the months go by, even Saudi Arabia realized that even its own economy is among the victims of war.
The bombing operation alone cost it $5.3 billion in 2015 alone. During that year, it outpaced India as the world's biggest importer of arms. According to Reuters, Saudi Arabia spent $175 million per month for bombings and an additional $500 million for ground incursions.
Despite massive air strikes,Houthi rebels consolidated their control over Yemen's capital Sana.
As the cost of war rose in value, Saudi government resorted to austerity measurers, but that led to more job loss. Last year, Saudi state owned Ogar Company decided to lay off 40% of its staff, and almost 90,000 foreign workers lost their jobs. Similarly, more than 3 million Indians, 1.5 million Pakistanis and some 600,000 Nepalese have affected by the economic slowdown.