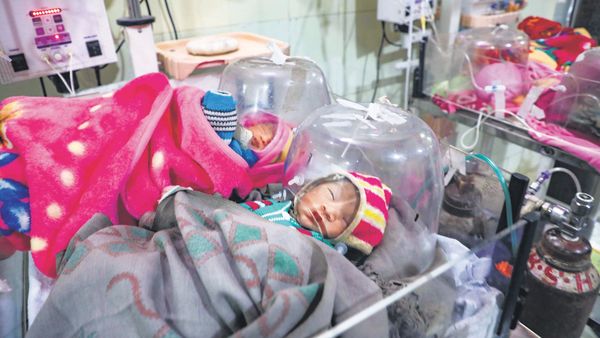 The death of 105 children in a government run hospital in Kota shows that how Rajasthan government has little or no concern for healthcare in the state.
By Anil Sharma
It is really shameful that over 105 children have died in a government run hospital in Kota city of Rajasthan in the last 35 days or so and the state is seeing a political slug-fest over it. Is it right to politicize an issue in which lives of new born babies have been lost? I strongly feel not and will only say that it is a big blot on the so called "sensitive" Ashok Gehlot Congress government and steps are needed urgently to see that more lives are not lost, responsibilities should be fixed and heads responsible for this should be meted out the strictest punishment.
Perform or perish should be the new rule.
So what actually has gone wrong in Kota, also known as the education city of Rajasthan? On Thursday (January 2) when Public Works Department officials visited the JK Lon Hospital in Kota they found over 100 windows in the hospital broken allowing chilly winds to enter the wards where children were admitted.
Some of the media persons who visited this hospital, found pigs roaming in the hospital compound freely and finally after a huge ruckus by the public the municipal corporation officials have now captured over 30 pigs , but still dogs and cows can be seen in the compound.
Just look at the condition of the parents who lost their young ones. Tears can be seen rolling down their cheeks when they remember their young ones. It's a sad situation really and no one to wipe their tears from state government except for their near and dear ones. Oh, you feel really helpless to see them in situations like these. Jago government jago  (wake up government, wake up)!
According to media reports, till Thursday (January 2) evening on one bed in ICU and NICU two children were being treated, which is just unbelievable. In pediatric ICU 24 children were admitted on 12 beds, shocking and more than this in ICU besides patients relatives and attendants were seen sitting. Out of 15 warmers in the hospital 7 were not functioning. In the ICU out of 77 around 44 warmers were defective and out of 20 odd ventilators 11 are said to be in a bad condition. Moreover even a majority of nebulizers were not functioning. To top it all the doors of the ICU were also broken.
You need not be a medical expert to understand that all these things can cause serious infections, then why have the doctors and the local administration, which is responsible for hospital have failed to understand the basic things? Why is the state government not taking action against the district magistrate or collector or other administrative officials under whose purview this hospital falls? It is seriously a big question to be addressed.
Though the government of Rajasthan has started to take steps to improve facilities here, isn't it a little too late in the day? So who is responsible for all this? The Congress government puts the blame on the earlier Vasundhara Raje government saying that it has been only one year since the Congress government came in power. But is one year not enough to improve basic infrastructure facilities in hospitals?  The government's excuses are pathetic to say the least.
The other charge on the Congress government is that despite hospital administration asking for financial budget for improving the facilities, they were not provided even a single rupee. It is possible that the Vasundhara Raje government is also responsible to an extent, but the main culprit is the present Congress government and they can not shrug off what is essentially their responsibility.
Children are dying and no one cares. It is just not acceptable. It is like a criminal offence, and Rajasthan chief minister Ashok Gehlot has to wake up, fix responsibility, take stern action and show that he means business. Even a single life lost is a blot on the face of the state government,
Before I conclude my piece, I am reminded of a quote by Winston Churchill, "Healthy citizens are the greatest asset any country can have." How can we have healthy citizens when we neglect something as basic as healthcare? And our children are our future citizens.