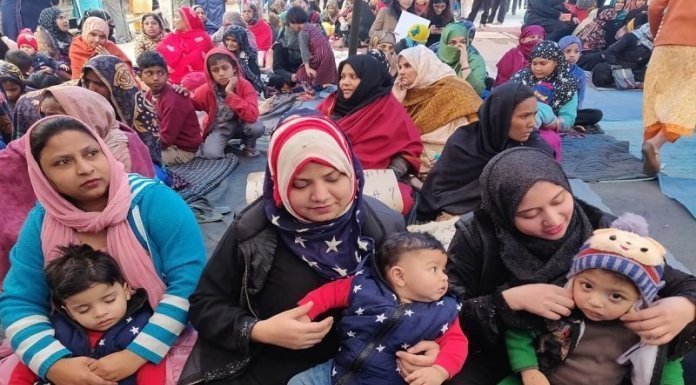 These protests are sponsored and bankrolled by various anti-India forces which could include anti-India organizations that have a nexus with certain political parties.  It's high time that government identified the perpetrators, their sources of funding and took decisive action to dismantle this treacherous machinery in the making. 
By S.Neyalasinger
The Shaheen Bagh protests are turning out to be a  farce.  A muslim woman brought her toddler along and sat in the cold weather till the baby died of congestion and cold. She left her two other older children behind. She stood for a cause that wasn't worth fighting for and paid with her child for anywhere between INR 500 to 1000 that the organizers  of these protests were paying for. She probably never understood what NRC or CAA stood for and what they planned to achieve. She never figured out that the price she had to pay for these was her toddler's life. That child was so young that he could not have decided on his own whether he wanted to brave the Delhi cold for a cause supported by so many opposition forces and funded by elements who intend to disrupt the present political order. Considering the parents brought the toddler along and the organizers of this protest allowed the participants to bring little children who can't decide for themselves, this amounts to murder where the parents and the organizers are equally guilty.
The other incident was the firing that took place at Shaheenbagh. The shooter was identified by the Delhi police as an Aam Admi Party (AAP) worker. While AAP has been denying any connection to the incident, it's clear that there are multiple forces at play to destabilize the nation. We had earlier spoken about how the investigating agencies unravelled how Popular Front of India (PFI), a Kerala based muslim extremist organization invested over INR 120 crores in creating unrest in western UP over the CAA legislation and NRC.  The seemingly peaceful protest at Shaheenbagh is being sponsored by similar elements. It's obvious that anti-national forces that include NGOs, banned organizations like SIMI and certain political parties have joined hands to sustain a movement against NRC and CAA. They are misleading a certain section of the Indian population and they are bankrolling the protests.
So, what can the government do about this? A few years ago the government did well to stifle the funding of NGOs that received funding from known anti-India foreign fronts and other sources. However, what was done was not enough.  The fact that PFI was able to create multiple bank accounts and launder money through them shows that our intelligence and law enforcement agencies are yet to do their homework properly. They have a fairly complex task on their hands as they have to first identify the links that tie various anti-India organizations to the sources of the funds they receive and unveil the nexus between them and the political parties supporting them. Also the government has not done enough to drive the message that CAA and NRC are not against Indian Muslims, but they will be implemented to ensure that minorities from the neighbouring countries have an option to gain Indian citizenship while illegal immigrants be weeded out. The government will have to identify anti-India elements and act against them fast. This might require various government agencies including intelligence agencies, enforcement directorate, CBI and regional police forces and pro-India organizations like RSS to coordinate and  take decisive action to weed out elements that are out to destabilize the nation.