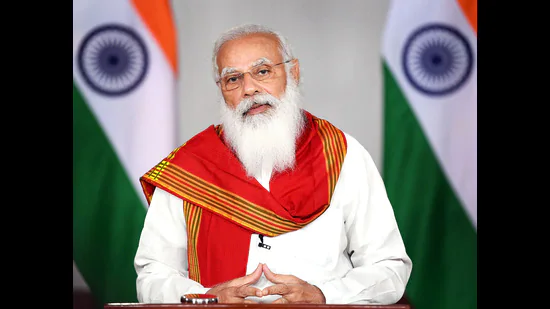 Even as Prime Minister Narendra Modi demonstrates his Hindutva credentials by participating in personal pilgrimages to Badrinath and Kedarnath, building infrastructure for tourists and pilgrims in Kashi and Ayodhya, and popularising yoga globally, there is still one huge hole in his legacy: he has done little to shift the western global narrative that is decidedly anti-Hindu.
By R Jagannathan
Eight-and-odd years is a long enough time to have begun the exercise to change the narrative. At the core of this failure is the government's unwillingness or inability to bring Indic studies and Indology back home.
If most of the work on Hinduism/Hindutva and Sanskrit is going to be done at Ivy League institutions and Germany, India will never be able to control the narrative surrounding its core civilisation values.
As the West sinks deeper into the societal problems its own destructive values have created, it is going to drag India down with it by repeatedly demonising Hinduism in the name of opposing Hindutva.
Even now, it is not too late for the Modi government to take an interest in this area, and it can do three things that are absolutely essential.
First, it must ask Indian businessmen who are interested in funding humanities studies at their alma maters in the US and elsewhere to focus on what is being done with their money.
As Rajiv Malhotra notes in his best-selling book Snakes in the Ganga, most of the anti-Hindu literature is being funded by Indian businessmen who create endowments over which they have practically no control, and, if they do, seem unperturbed by the bile being churned out by them.
So, it is important for the Human Resource and Development Minister, Dharmendra Pradhan, and the Ministry of Culture to call all those businessmen who are funding such research at Harvard and elsewhere to, one, audit what is being done, and two, insist on influencing who will run these efforts.
If they do not agree, they must not be allowed to invest our dollar holdings to fund India's own civilisational evisceration. Let them do it with their own money held abroad by their subsidiaries, or non-residents.
Indian businessmen, most of whom are devoutly Hindu in terms of personal orientation, must not be a party to Hinduism's demonisation.
Second, there has to be a concerted effort to bring Indic studies, and Indology, back home, and placed under the leadership of true Dharmics, not Leftist Hinduphobes.
This effort will take years to materialise, and one wonders why this was never attempted in the eight-and-odd years of Modi rule so far.
The same businessmen who are investing in Harvard humanities projects can surely do the same in India? They can be given tax incentives to do so.
Third, and this is even more important, Indic practices like yoga, meditation and ayurveda must be brought under Indian certifications and control.
In future, yoga taught without an Indian certification by an India-recognised school of yoga should be deemed invalid in India and the rest of the world.
Yoga practitioners abroad must be sued for cultural and geographical patent infringements, and barred from practising in India without an Indian certification. Again, this effort will take years to implement.
It is odd that we have an International Yoga Day, but no say in how this is practised anywhere. Would Champagne be Champagne without being protected as the product of a particular region of France? Then why should Indian Yoga, meditation or ayurveda be any different?
India must begin to assert its cultural roots, regulate their use and restrict their abuse.
This article first appeared in www.swarajyamag.com and it belongs to them.