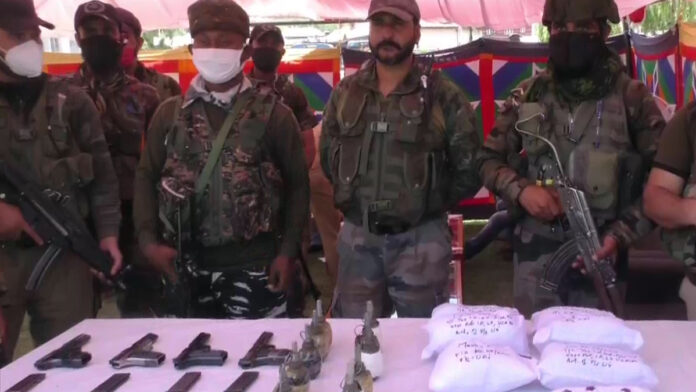 Jammu and Kashmir (J&K) has witnessed a 2000 per cent surge in heroin-related drug seizures between 2017 and 2022—from 3,000 to more than 10,000. Most recently, in August 2022, the Border Security Force (BSF) recovered eight packets of heroin worth Rs 8 crores in the Samba district after a wounded terrorist fled back to Pakistan. Hundreds of crores worth of illegal consignments have been seized by the J&K police this year alone, particularly in Shopian and Pulwama.
By Saman Ayesha Kidwai
As per the Ministry of Home Affairs (MHA), there has been more than 75 per cent decrease in net infiltration from across the border between 2018 and 2021 and more than 80 per cent reduction in the number of terrorist incidents during the same period . Despite such efforts by the security forces in eliminating those infiltrating the Line of Control, the drug menace has not abated.
In April 2022, a charge sheet against nine individuals—three Pakistani handlers and their six operatives in Kashmir—was filed in a special National Investigation Agency (NIA) court in Baramulla. The case concerned seizure of vast sums of arms, narcotics, and ammunition in 2021. As per the court documents, those arrested were a part of a network that sourced drugs, arms, and ammunition from across the border.
In May 2022, three people, including a woman, were arrested in Kupwara in a joint operation by the 7 Rashtriya Rifles and the local police for possessing two Improvised Explosive Devices (IEDs) and seven kilograms of narcotics, specifically heroin. These items were being transferred to other regions in the Kashmir valley for aiding and abetting terrorism.
In June 2022, J&K police busted a Lashkar-e-Taiba (LeT) module, which was disseminating funds procured from the sale of drugs to their jihadist brethren. The authorities also repossessed arms, vehicles, and ammunition from the terrorists. Drones have also been used to deliver opium across the border into J&K.
Further, inter-state drug and terror links, aided and abetted by Pakistan, have also come to light. J&K's State Investigation Agency (SIA), in July 2022, filed a charge sheet against five individuals for terror financing following the seizure of Rs 43 lakhs from a taxi en route to Kashmir in November 2021. This operation was spearheaded by Muzammil Ahmad Malik, a Pulwama resident, whose responsibility extended to ensuring safe passage of his fellow terrorists and collecting the funds from criminals like Amarbir Singh, operating out of Punjab. Reportedly, Singh is closely affiliated with notorious arms and narcotics trafficker, Baljinder Singh alias Billa Mandiala, accused in over 23 FIRs about extortion and killings.
Earlier in December 2020, Delhi Police had arrested five individuals—three from Kashmir, belonging to the Hizbul Mujahideen (HM) and the remaining two from Punjab—on narco-terrorism charges. Reports noted that Pakistan's Inter-Services Intelligence (ISI) was colluding with Khalistani terrorists and has established a 'K-2 (Kashmir–Khalistan) desk' to advance its proxy conflict. The elaborate nexus included the involvement of HM terrorists based in Pakistan and over ground workers (OGWs) in Kashmir. The former was tasked with handling the distribution of drugs for sale to their partners in the valley, who would cross state boundaries into Punjab for the illegal sale of drug consignment. The K-2's sleeper cells engage in financial transactions through hawala channels and have significant youth membership.
Implications
India is the crossroads between the 'Golden Triangle' and the 'Golden Crescent', two of the most significant opium production and trade hubs connecting South Asia with South East Asia. The drug trade has blossomed, due to weak institutional apparatus in these neighbouring countries, aided and abetted by state-sponsored actors.
Pakistan's efforts to undermine normalcy in J&K, particularly after the August 2019 constitutional reforms, is rooted in its decades-long proxy war against India. Former Prime Minister Nawaz Sharif admitted to using narcotics to finance anti-India proscribed organisations, during an interview by The Washington Post in September 1994. Regardless of the frequent change of guards, little appears to have changed since then.
Narco-terrorism could be a key facilitator of Pakistan's strategy to undermine efforts to establish peace in the valley. Terrorists are also reportedly using drug money to fund misinformation campaigns. LeT's front organisations like The Resistance Front (TRF) have propped up in the Valley and targeted killings of migrant labourers and members of minority communities like Sikhs and Kashmiri Pandits, have also surged in recent times. Organisations like the TRF are at the forefront of misinformation campaigns to 'secularise' militancy in the valley.
Reports note that over 52,000 individuals have become dependent on narcotics, primarily heroin. Apart from national security implications, this indicates a health epidemic. The surge in the proportion of people indulging in drug abuse has inevitable ramifications for the state youth's integration into the polity. The more people fall into this trap, the more they will be unable to assimilate into the workforce and contribute to the economy.
While security forces have effectively clamped down on terrorist activities in J&K, it is equally essential to strengthen soft-power capacities to curb and gradually eliminate growing substance abuse across the state. This is because the drug trade has direct links in the fight against terrorism. Rehabilitation programmes, for example, like those underway at the Drug De-Addiction and Treatment Centre at the Shri Maharaja Hari Singh Hospital in Srinagar, must be duplicated across the valley, especially so in rural areas. Avenues must be provided for addicted persons to seek counselling, and help in reintegration into mainstream society.
In March 2021, Rs 10 crores was allocated for drug rehabilitation measures as part of J&K's annual budget. To counter the drug menace, the J&K government has also set up counselling centres across all districts, and seminars have been conducted to spread awareness about this challenge. Furthermore, rehabilitation facilities in 10 out of 14 districts have been established under the National Action Plan for Drug Demand Reduction.
Lieutenant Governor Manoj Sinha, launching the Nasha Mukt Jammu and Kashmir campaign on 1 September 2022, lauded the 'zero tolerance' policy of the state police and anti-narcotics task force and pointed to the seizures of large number of drugs in recent months as indicative of the effectiveness of the policy. Continued strong vigil by the state and central security forces and agencies is essential to eliminate nexus between inter-state criminals and Pakistan-sponsored terror modules.
This article first appeared in www.idsa.in and it belongs to them.