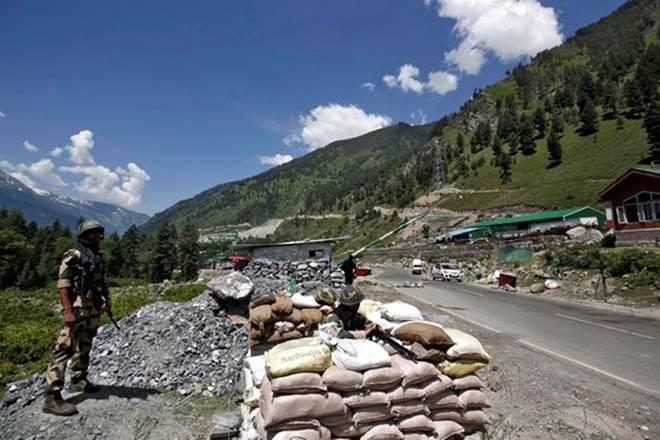 The whole concept of peaceful resolution of any bilateral issues with China is long gone after the vicious attack on Indian soldiers in the Galwan valley. We as a nation must not lose the ground gained by our military through their sacrifice on the negotiating table.
By Balaji Subramanian
On 15 June, the People's Liberation Army (PLA) on the Line of Actual Control (LAC) in the Galwan Valley launched a vicious and premeditated attack on unarmed and unsuspecting Indian army soldiers. The PLA used iron rods wrapped in barbed wire for the attack. Twenty Indian soldiers including a colonel Santosh Babu, of Bihar Regiment, lost their lives. This was a mafia-type attack but the Indian soldiers also inflicted causality on the Chinese. Though there is no official confirmation, it seems nearly forty Chinese soldiers could have died in the counter-attack.
Some history
A century of humiliation, ended for China in 1949, when the communists took power under the leadership of Mao Tse Tung or Chairman Mao. In 1947, India got its independence and we chose democracy but China took a different path which ended up in autocratic rule. Under Mao, it is estimated nearly 70 million people died due to his policies to make his country great.
After Mao died in 1976, under the new leadership of Deng Xiaoping, China started to rebuild itself. He believed in maintaining a low profile and within just thirty years China became an economic powerhouse attracting investments from all over the world. By 1999, China became world's number two economy and since then it has consolidated that position and is poised to take over the United States shortly.
However, under the leadership of Xi Jinping, who inherited a powerful Chinese economy, he has led his country into a confrontation with almost all its neighbours.
In 1962, an unprepared India went to war with China and suffered a defeat that put India's first Prime Minister Jawaharlal Nehru into an early grave. India had inherited a strong military from the British and in 1947, India was the most industrialised nation in the whole of Asia. However, Nehru and his close personal adviser VK Krishna Menon systematically dismantled our military strength.
It is believed that Nehru was paranoid that the Indian military could one day take over. His fears were the result of what had taken place in Pakistan which was already under the rule of a military dictator.
In 1967, thanks to the initiative of General Sagat Singh, India was able to give China a bloody nose at Nathu La and Cho La pass in Sikkim. This victory gave our army a chance to redeem itself and that helped to regain its confidence.
During the 1971 war, China did not attack India, even at the insistence of president Richard Nixon, who had asked China to attack India. But the bold action by the Indian army in 1967, gave the Chinese a moment of pause and it decided otherwise.
Why Galwan Valley?
When Narendra Modi became Prime Minister in 2014, he brought forward a new resolve and can-do attitude. After nearly thirty years, India had a strong government in the centre and that reflected in its decision making. There was no more collation party politics and the constant squabbling that led to entropy. Soon after taking office, Modi started ambitious, yet strategically important infrastructure projects long neglected in the North-East.
The last skirmish that took place between India and China was in1975 when Chinese forces had crossed over into the Indian territory at Tulung La in Arunachal Pradesh and ambushed Indian soldiers. Four Jawans of the Assam Rifles were killed but since then except the regular intrusion of Chinese army into our territory, no casualities were reported.
However, the Chinese are now very much concerned about the pace at which India has developed its infrastructure in places like Ladakh and Arunachal Pradesh which it considers as its territory. These road-building initiatives have created serious apprehensions for China as it wants to dominate the entire region.
China has long term plans and it wants this particular area because of the Indus River and its key tributaries, namely the Shyok, the Nubra and the Chang Chemo rivers. China has already built dams on the Brahmaputra to control the water flow but if India has the control of the Indus river, it can then adopt the same strategy and that will impact dams being built by China in Pakistan occupied Kashmir and Gilgit Baltistan region which legally belongs to India.
However, if they can make India acquiesce to there demand and secure all these rivers in Ladakh i.e. Galwan valley, then it will face no difficulty or challenge with its China-Pakistan Economic Corridor (CPEC).
At present India has control over the strategic Siachen Glacier but China, which has never honoured any agreements wants to negotiate with India to take control of the Karakoram Pass and Indira Col which is in India to India since 1984.
Military balance
India enjoys a geographical advantage in this region and has many airbases fully operational. For China, and its People's Liberation Army Air Force (PLAAF), it has only eight bases in the region and mostly civilian airfields at problematic elevations. What this means is as per the Belfer Studies, "Airbases in Tibet and Xinjiang, plus the generally difficult geographic and weather conditions of the region, means that Chinese fighters are limited to carrying around half their design payload and fuel."
Also, India enjoys the superiority of the fighters it operates over China. The Indian Mirage-2000, and the Su-30MKI are superior to Chinese fighters, including the additional J-11 and Su-27 models. Since the Chinese fighter jets can only carry limited fuel while lacking air-to-air refusing capacity its strike capability is limited. On the other hand, Indian airbases are a lot closer to China and enjoy a larger combat radius.
Also, many of the Chinese airbases are vulnerable to attack from India as they do not have hardened shelters able to protect the aircraft from being attacked. In the case of increased hostilities, between India and China, if the Indian Air Force (IAF) manages to take out a few of the airbases, the PLAAF would have to operate from bases far from its rear-area, substantially decreasing its strike capability.
The Belfer study has also pointed out that Chinese pilots lack combat operational experience. The pilots rely too much on "ground commands" for tactical direction. Indian pilots, on the other hand, have extensive experience with the added advantage of superior fighter jets at their disposal.
China's Peoples Liberation Army (PLA) has not fought a war since its last misadventure in Vietnam in 1979. The Chinese military is technically the enforcer of the Communist Party of China and has mostly been involved in crushing internal dissent in places like in Xinjiang or Tibet. It may have some advanced weapons systems but its officers and soldiers have no combat experience, unlike the Indian army.
It may be said the PLA is more of a police force than a regular army.
Even China knows that India has far more experienced and battle-hardened troops and officers who command them. A 2017 article published in the BBC, gives a rather comical picture of the condition of the Chinese army. In that article, it has been pointed many recruits fail the physical test due to, " over consumption of fizzy drinks, excessive computer gaming and even masturbation."
In fact, the PLA was so dismayedby the article, it actually put up tips for recruits and such tips appeared on its official "ChinesePeoplesArmy" account on WeChat, a WhatsApp-like mobile messenger, on 19 August 2017.
Options for India
China has no friends in Asia or anywhere in the world. The only country in Asia who might foolishly go along with China is Pakistan. China has always aided and abetted Pakistan in international forums and is also responsible for providing it with weapons and also nuclear technology. However, India can inflict serious damage on both political and economic fronts.
For starters, abrogate the 1954 Panchsheel Treaty, the 1993 Border Peace and Tranquillity Agreement (BPTA) and the Sino-Indian Memorandum signed by PM Atal Bihari Vajpayee in 2003. The attack on Indian soldiers in the Galwan Valley makes all these agreements null and void.
It is high time to recognise the Tibetan government in exile in Dharamsala and provide the Dalai Lama platform to address the illegal occupation of Tibet from India. Also, we must recognise and have full diplomatic relationship with Taiwan.
China takes advantage of the freedom of speech and expression in democratic societies like India and the United States while it brutally suppresses freedom in Hong Kong and has kept over one million Uyghur Muslims in concentration camps. India must raise these human rights violations at international forums.
There is growing anger against China in India due to its handling of the Wuhan China virus epidemic. The lockdown has weakened our economy as we stare into a recession. But the brutal killing of our troops has increased the anger to a fever pitch and there is a call for a boycott of Chinese goods.
Modi government has already implemented a slew of business-friendly economic measures, drawing on the country's vast pool of labour and by stitching together vital geopolitical alliances with strong global players, India is looking to encash big time on China's unpopularity in the post-Covid 19 era.
On 19 May (Thursday), the Indian Railways terminated the contract worth 471 crores signalling project awarded by Dedicated Freight Corridor Corporation of India Limited (DFCCIL) to China Railway Signal & Communication Co. Ltd (CRSC). Also the government ordered the state-owned Bharat Sanchar Nigam Limited (BSNL) and Mahanagar Telephone Nigam Limited (MTNL) and other private telcos to not use Chinese-made equipment in the up-gradation of 4G facilities in view of security threats.
It is also the right time to address the massive trade deficit and India can also freeze all Chinese investments.
Epilogue
Both India and China are nuclear power states with second-strike nuclear capabilities launched from land, air and sea. Also, there is a very strong prospect that there could be a limited conflict with China with Pakistan playing a role to apply pressure on India.
China shares its border with fourteen other nations and has a very testy relationship with all of them. Its quest for complete domination of entire South-East has made many countries to look towards India.
At the United Nations Security Council (UNSC), India recently got 184 out of the 192 valid votes polled which shows how much China is either feared or loathed by most nations.
The whole concept of peaceful resolution of any bilateral issues with China is long gone after the vicious attack on Indian soldiers in the Galwan valley. We as a nation must not lose the ground gained by our military through their sacrifice on the negotiating table. We have accommodated China long enough and any illusion we had of not getting into any fight for the last forty-five years now lies shattered. Modi should not appease China or he will become the next Neville Chamberlin.
India is in a position of strength and we have many allies who want us to emerge victorious against China.
There is a list of leaders who sought world domination and Xi, is as power-hungry as Hitler, Stalin or Mao were. However, his desire for world domination is now leading him towards an ignoble end.
Balaji Subramanian is a freelance writer who writes in the field of mental health, music and politics. He tweets @LaxmanShriram78