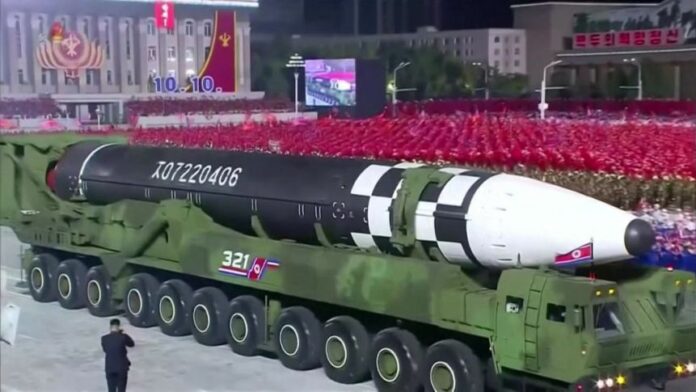 North Korea is not deterred by sanctions and continues to pursue its nuclear and missile development programmes. When the year 2022 dawned and the world's attention was transfixed with Russia's military operation in Ukraine on 24 February and, North Korea's leader Kim Jong-un knew that this shall continue for quite some time, he seized the opportunity to focus on his own advancement of nuclear and missile firing activities. What the world witnessed soon was a slew of ballistic missiles, including hypersonic and long-range weapons. These did not draw much world attention as would have been the case because the Ukraine crisis kept major powers focussed as it has larger ramifications for the West.
By Prof Rajaram Panda
Kim Jong-un found the prevailing situation the ideal opportunity to pursue what he knows best. The sole objective was to develop weapons capable of overwhelming the US national missile defence systems. The regime sees possession of nuclear weapons as the only guarantee for regime stability and the nation's sovereignty. It was for these primary reasons the country not only pulled out from the NPT but remains determined despite crippling sanctions and continues to pursue nuclear and missile development programmes.
In the latest missile activity, North Korea fired a ballistic missile toward the East Sea on 4 May 2022. The recalcitrant regime's latest sabre-rattling came less than a week before President-elect Yoon Suk-yeol's inauguration. It came days after the North Korean leader Kim Jung Un vowed on 25 April in a speech he delivered during the military parade commemorating the late founder Kim Il-sung's birth anniversary and the 90th anniversary of the founding of the Korean People's Revolutionary Army that North Korea shall speed up the development of his nuclear weapons "at the fastest possible pace". He also threatened to use them against rivals. This was North Korea's 14th round of weapons firing in 2022 and came six days before a new conservative South Korean President assumes office for a single five-year term.
Accordingly to Japan's Defense Ministry, the missile travelled 500 km (310 miles), while hitting a maximum altitude of 780 km at a maximum speed of Mach 11 and landed in the Sea of Japan outside Japan's exclusive economic zone, which extends 200 nautical miles (370 kilometers) from its coast. This prompted South Korea's JCS Chairman Gen Won In-choul and Gen Paul La Camera, the commander of the South Korea-US Combined Forces Command to make a statement reaffirming their commitment to ensure the allies' "ironclad defence posture". Both called upon North Korea to halt its action, arguing that the recent series of ballistic missile launches is a grave threat to the peace and stability of the Korean Peninsula and the international community, besides violating the UN Security Council resolutions. It is feared that North Korea shall launch more intermediate and long-range ballistic missiles, including a Hwasong-15 intercontinental ballistic missile. The test launch could aim to put a reconnaissance satellite into a low earth orbit by using a ballistic missile re-entry vehicle. In the run-up to the inauguration of Yoon Suk-Yeol, who is more hawkish towards North Korea than the outgoing President Moon Jae-in, North Korea fired a missile on 7 May, the 15th show of force in 2022, this time a submarine-launched missile off its east coast, three days after launching an intercontinental ballistic missile. The launch of an SLBM came for the first time in seven months, after its last test-firing in October 2021.
The missile launch came at a sensitive time as the President-elect Yoon Suk-yeol was set to be sworn into office on 10 May. The test firing also overlapped with China's chief nuclear envoy Liu Xiaoming's first trip to Seoul since his appointment to discuss the North Korean nuclear issue with officials of the incumbent and incoming South Korean governments. By firing at this time, Kim Jong-Un probably sought to lay the groundwork to gain the upper hand, clearly indicating his intensions to continue strengthening his nuclear capabilities. There is a strong possibility that North Korea would continue to ratchet up the tension by firing intercontinental ballistic missiles and preparing for a seventh nuclear test to operate tactical nuclear weapons very soon with a view to unsettle the new President in Seoul early in his office.
Kim's resolve to accelerate missile and nuclear tests in the form of its "speed campaign" aims to legitimise its weapons development as the act of enhancing self-defence capabilities. Though more missile launches and even another nuclear test soon could be a possibility, Kim Jong-un might adjust the timing of provocations to maximise pressure on South Korea and the US. His ultimate objective seems to be recognised as a nuclear weapon state. The warning issued by Kim Jung-un on 25 April should not be taken lightly that his country can launch a pre-emptive nuclear strike if adversaries violate the country's "fundamental interests". While condemning the missile firing, South Korea urged North Korea to return to the path of dialogue and diplomacy.
As expected, Japan was alarmed. Prime Minister Fumio Kishida, on the fourth leg of an eight-day trip, told from Rome that North Korea's actions, including frequent missile launches, cannot be tolerated, as they pose a threat to security and safety of the region and international community. While meeting Pope Francis, he vowed to work together to try to rid the world of nuclear weapons as nuclear threats are not acceptable to Asia and Europe. Kishida was emphatic that Japan would speed up the development of its own nuclear arsenal, if necessary. On the on-going Ukraine crisis, the Foreign Affairs Ministry of Japan issued a statement saying that Kishida and the Pope shared their determination towards "ending the dastardly war and restoring peace in Ukraine".
It may be recalled that Pope Francis has changed church teaching on nuclear weapons, saying that their mere possession was "immoral". He made the comments during a 2019 visit to Japan, where he paid tribute to survivors of the atomic bombs in Hiroshima and Nagasaki. Kishida, who comes from Hiroshima, expressed his pledge to cooperate with the Vatican in efforts to create a world without nuclear weapons. Kishida also took up North Korea's nuclear issue with the British leaders.
According to Japan's Defence Minister Nobuo Kishi, the ICBM was capable of travelling 15,000 km, putting the entire US within striking distance. Kishi was scheduled to visit Washington for talks with his US counterpart about North Korea's nuclear and missile issue.
Tensions are expected to increase after a conservative President Yoon Suk-yeol's tenure begins on 10 May as he has vowed to take a harder line on Pyongyang's nuclear and missile programmes than current president Moon Jae-in. It was a sign of tougher stance when Yoon's nominee for defence chief, Lee Jong-sup, raised the possibility of North Korea test firing a new ICBM at a standard angle to prove its atmospheric re-entry technology. Lee feared that Pyongyang could conduct a test of its Hwasong-17 ICBM to verify the technology required to ensure if the missile's warhead can withstand extremely high temperatures when re-entering the atmosphere.
President Joe Biden is expected to make his first visits to Japan and South Korea in late May. The flurry of weapon tests and threats serve as a reminder that the North Korean security challenge continues to unnerve the two Asian allies. This might prompt them to bolster their own defences. The Kishida government is already committed to acquire a counterattack capability and boost defence spending to 2 per cent of GDP within five years.
The outgoing liberal Moon Jae-in government pursued a soft approach and was instrumental for two summits between President Donald Trump and Kim Jong-un but without success. Even his summit with Kim did not yield any positive outcome. Trump's successor Biden repeatedly said that his government has no "hostile intent" towards Pyongyang and is prepared to meet "unconditionally" as the goal for the US is completely denuclearise the Korean Peninsula. But Kim Jong-un is a tough guy and hard to bargain. No wonder he dismissed the US off as a "petty trick". So the North Korean juggernaut remains unstoppable.
This article first appeared in www.vifindia.org and it belongs to them.