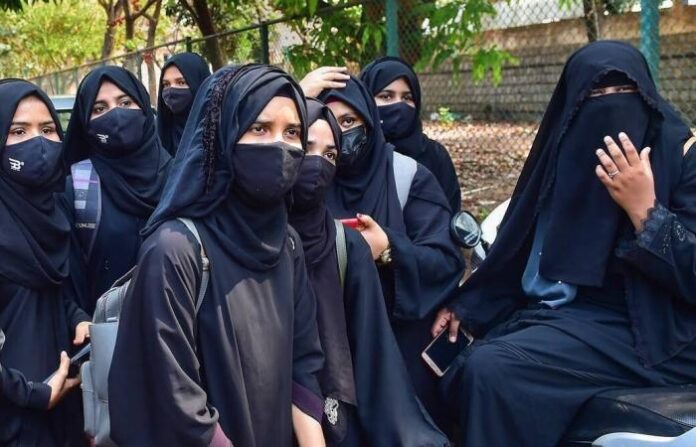 Hindu and Muslim students at a state-run school in West Bengal's Howrah district clashed with each other on Tuesday (22 November), on the issue of special privilege given to one group for sporting religious attire.
By Swati Goel Sharma
At Dhulagori Adarsha Vidyalaya, located in Sankrail block and affiliated to West Bengal Board of Secondary Education, some Hindu students turned up in saffron scarves in protest of selective permission to Muslim girls to wear hijab.
Here, saffron scarves are 'namabali' and hijab means a piece of cloth covering head, neck and shoulders, fastened with a pin.
The Times of India reported that the two sides came to blows, after which the school cancelled the ongoing exams including pre-boards. As per the report, five boys had turned up in namabalis at the gate.
Police and Rapid Action Force personnel have since been deployed.
The incident is a reminder of similar clashes seen in Karnataka, in January and February, when Hindu students in several public and private schools and colleges turned up in saffron shawls in protest of selective permission given for hijab.
In most cases, the school authorities resolved this by prohibiting all students from wearing their religious attire, including saffron scarves and hijab.
On 5 February, the Karnataka government issued an order asking state-run educational institutes to not allow any religious clothing beyond the uniform.
Some Muslim woman students then petitioned the Karnataka High Court, asking special privilege to wear hijab by arguing that it was an "essential religious practice" in Islam.
The High Court heard the petitions at length, but held the practice of hijab as non-essential to Islam. The court upheld the state government order.
Later, the petitioners took the case to Supreme Court. The two-judge bench of the apex court delivered a split verdict on 13 October.
Justice Hemant Gupta dismissed appeals against the Karnataka High Court judgement and ruled in favour of the state government order.
Justice Sudhanshu Dhulia, on the other hand, set aside the judgement and quashed the government order holding hijab as "a matter of choice."
"It [wearing hijab] is ultimately a matter of choice, nothing more, nothing less," .
Due to the split verdict, the state government order continues to be effective for now in Karnataka. The matter will next be placed before the Chief Justice of India.
This correspondent has extensively covered the issue of demand of hijab in state schools.
This article first appeared in www.swarajyamag.com and it belongs to them.