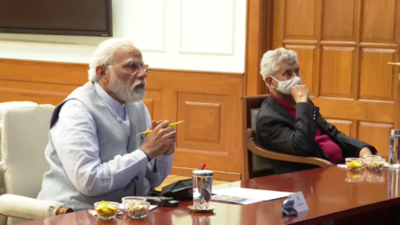 PM Modi chaired a high-level meeting on the Ukraine crisis immediately upon his return from Uttar Pradesh and accords the top priority to evacuate the Indian citizens from Ukraine.
By Nirendra Dev
Prime Minister Narendra Modi on Sunday (February 27) chaired a high-level meeting on the Ukraine crisis and reviewed all concerned matters. External Affairs Minister Dr S Jaishankar was part of the meeting, which was also attended by top government officials.
The Prime Minister presided over the meeting immediately upon his return from Uttar Pradesh, where he addressed rallies as part of the BJP's campaign for the state assembly polls.
Meanwhile, an emergency special session of the United Nations General Assembly will be held today at 10 am (New York time).
Abdulla Shahid, President of the 76th United Nations General Assembly session, will preside over the Session. Shahid is the Foreign Minister of the Maldives.
Many Indians, mostly students, are stranded in Ukraine following Russia's attack on the country. India has begun evacuating them. At least 900 people, including students, have been brought back since Saturday.
PM Modi has also spoken to Russian President Vladimir Putin and Ukrainian leader Volodymyr Zelensky, with India calling for dialogue to defuse the crisis.
Meanwhile, Canada and France joined many other European countries in closing their airspace to all Russian aircraft as the West ramps up pressure on Russian President Vladimir Putin for ordering an invasion of Ukraine. Air France announced that it was suspending flights to and from Russia for safety reasons.
Germany, Austria, Italy, the Czech Republic, Poland, Slovenia, Estonia, Latvia, Lithuania, Romania and Luxembourg have already announced they were closing their respective airspace to Russian planes.
This article first appeared in www.organiser.org and it belongs to them.