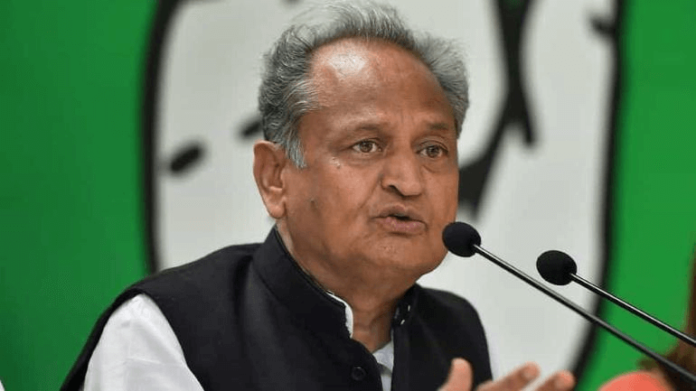 By Anil Sharma
A setback in the Lok Sabha polls and rifts between the older and younger leaders spells trouble for Congress in Rajasthan.
Not everything is fine in the Congress in Rajasthan. Since the party won state assembly elections almost 10 months back factionalism or divisions within the party have come to the fore.
It can be gauged from the fact that the party lost on all 25 seats in Lok Sabha polls, which was held only a few months after state assembly polls.
The rift between the young and old leaders in the party has been so immense that openly they criticize each other. And moreover, there is no denying that not everything is hunky-dory between the chief minister Ashok Gehlot and the deputy CM Sachin Pilot, who is also Pradesh or state chief of the Congress.
Pilot in the recent past has not lost any opportunity to take a dig at CM and his criticism has mainly been against law and order situation in the state. Chief Minister Ashok Gehlot has kept a home portfolio with himself besides finance.
Recently both met Sonia Gandhi, the acting president of the Congress in Delhi after which things seem to look better but for how long it is a million-dollar question. As everyone knows that Pilot did sweat it out to bring Congress back to power in the state but at the crux time Gehlot was made the chief minister of the state.
Main reasons behind Gehlot being made CM was a thin majority that Congress got in assembly polls, his experience in dealing with these kinds of situations and his loyalty towards the Gandhi family and the Congress party.
Though it may hurt Sachin Pilot's ego, Gehlot with his mass appeal and running a government with a thin majority was the right choice. Now he has proved his political acumen by inducting all six Bahujan Samajwadi Party (BSP) MLAs in the Congress.
For Sachin supporters, it has been difficult to digest and time and again some issues are raised against the CM and his chosen cabinet ministers. A source close to CMO said that it is not BJP but the divisions and factionalism in the Congress party, which is not allowing the state government to function properly.
To make things worse seeing this fight in the party the bureaucracy is also not listening or implementing the orders of the ministers and even the chief minister's office affecting the development or usual working of the state government in a big way.
Moreover, the bureaucracy is also afraid of the Narendra Modi led Union government and they do not want to do anything which might irk people sitting in Delhi. "You don't know what will happen to this Congress government will it complete its five years or not and even if it does chances are high that BJP will come back to power as it has been a general trend in the state, so why should we take panga (fight) with the people sitting in Delhi," a bureaucrat said on condition of anonymity.
One general complaint against the CM Gehlot for years, as he has become CM of the state for the third time, has been his ineffectiveness to control bureaucracy. And that to some extent is visible now too.
A general complaint by party workers is that some of the ministers in Gehlot government have become arrogant, carry an attitude and do not listen to them, in spite of the fact that at the time of assembly polls the then president of the Congress Rahul Gandhi in his public speeches had said that all the leaders in the party would be easily approachable to general public. "I can count the ministers on fingers who are approachable; otherwise no one is answering calls or text messages. Reason-they have become arrogant," said a Congress worker who did not want to be named.
Though Ashok Gehlot government has really taken some noteworthy steps in various sectors like in healthcare for example, by the expansion of a free medicine scheme under which both BPL and above poverty line people get free generic medicines. It has also launched a few initiatives in education, water resources and industries to name a few. But have they (Congress party) have not been able to properly communicate these steps among the general public. They have been proven bad PR managers and sharply losing ground in popularity.
One thing more, Congress has not been able to build bench strength in Rajasthan. Among young leaders except for Sachin Pilot, there is no one who can even come close to him. Over-dependence on leaders like Pilot and Gehlot is also putting lots of pressure on these two acceptable leaders among the masses in Rajasthan. But when it comes to others, there seems to be a complete void. Time has come for the party high command to look into it and start giving responsibilities to new faces and young leaders. Some of the young leaders who were from the youth Congress or had joined Congress have not been given their due and they usually complain that they are not being heard even. Time has come to bring good leaders from NSUI and Youth Congress in the front now, nurture them give them responsibilities and ask them to work on a new narrative.
With panchayat, local bodies and by-polls to state assembly polls due soon, the Congress in Rajasthan which is in total disarray and needs to regroup itself if it really wants to give a fight to the BJP. The party which came to power with much hope from the common man is losing fast on perception on the ground and mind you, politics in India is largely based on perception.