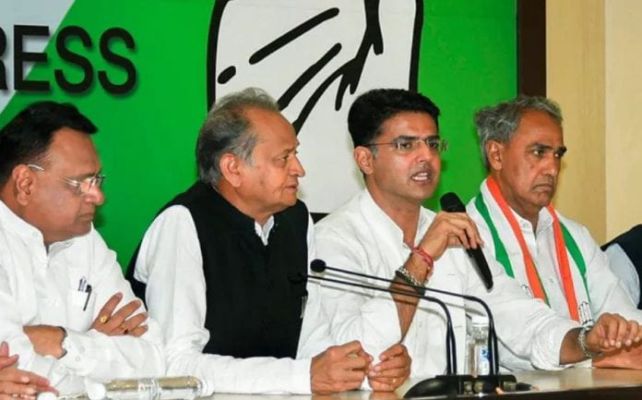 The Rajya Sabha polls in Rajasthan are expected to go on predictable lines. But why did Ashok Gehlot have to resort to resort/hotel politics? Are BJP and Vasundhara Raje poised to pull out a trump card at the end?
By Anil Sharma
Why is the ruling Congress making such a big deal of the Rajya Sabha polls in Rajasthan? It is really difficult to understand particularly when one knows that Congress is in a comfortable position in Rajasthan. For the past few days the desert state, otherwise a docile state when it comes to politics, is seeing political temperatures rising.
Yes, we all know that voting for three Rajya Sabha seats is going to be held in Rajasthan on June 19. And it seems obvious, at least so far, that Congress which has a majority in the state assembly will win two and the BJP one. BJP has fielded two candidates thinking that dissensions in the Congress can make them win both the seats. It is just like hoping against hopes. But every political party tries this and there is nothing wrong in being optimistic.
The Congress has 107 MLAs and the support of Independent legislators and MLAs of other parties such as the Rashtriya Lok Dal, CPI(M) and Bharatiya Tribal Party (BTP).
Everyone knows that Rajasthan chief minister Ashok Gehlot is an astute politician and he knew that there were a few unhappy MLAs. So he at least a week earlier to RS polls he resorted to hotel or resort politics blaming the BJP of attempts to destabilize his government.
The ruling Congress in Rajasthan alleged that there was a"bid to poach the party MLAs and the Independent legislators backing the government". Out of the 200 member Rajasthan assembly, Congress has 107 MLAs, and it is being supported by RLP, Bharatiya Tribal Party, CPI (M) and the independents. There seems to be no danger from the opposition for the two Congress candidates fighting for RS polls from the state.
Getting to the opposition, without former chief minister Vasundhara Raje's consent and go ahead nothing can be done in the state BJP. According to some political observers, she still has the support of 50 MLAs out of total strength of 72 of the BJP in the state and even if hypothetically one considers that BJP was trying to destabilize the Gehlot government, is it possible that Raje will expect anything lesser then a CMs position in the state? Will she expect to work under a Congress rebel being declared a CM or any other BJP leader being offered position of head of the state? That I find impossible.
Vasundhara is not any other run-of-the-mill leader. She is a two time CM and knows Rajasthan politics inside out. She is a strong lady, which she has proven time and again. She is not even afraid to take the BJP central leadership head-on. She has charisma, crowd pulling abilities and admistrative prowess. And what's more is that BJP's central leadership is aware of it. Even if for some reason she has been sidelined in the recent past, they should realize that Raje is very important for them if the party intends to claw back to power in the state.
Leaders like the BJP state president Satish Punia or Union minister Gajendra Singh Shekhawat both have a long way to go before they can hope to attain the stature of Raje. Raje knows how to play her cards. In the run up to the RS elections too she has made it a point to interact not only with her MPs and MLAs but also with grassroot party workers. So, it is difficult or rather impossible to even imagine that she is not being kept in the loop while important decisions regarding Rajasthan are taken.
So why did Congress pull out these gimmicks?
Apparently Congress resorted to resort or hotel politics in a bid to send a message among the political circles and masses that party is united, in a period of speculation that the party is facing dissensions and factionalism.
The gimmick helped as it provided Gehlot a platform to reunite the party MLAs and the independents some of who were feeling left out. The networking and bon homie at the resort must have help Gehlot iron out some differences with the disillusioned and the disappointed. It's possible that some of them were able to sort out their differences with the more privileged of their colleagues who hold ministerial portfolios. Gehlot gave them an ear and also gave them a chance to prove that the party is united. A masterstroke at the end of the day, and a message to the masses that there is no factionalism in the party.
Still, there is a huge question mark on cross voting. The chances seem bleak but as they say there is nothing is impossible in politics.