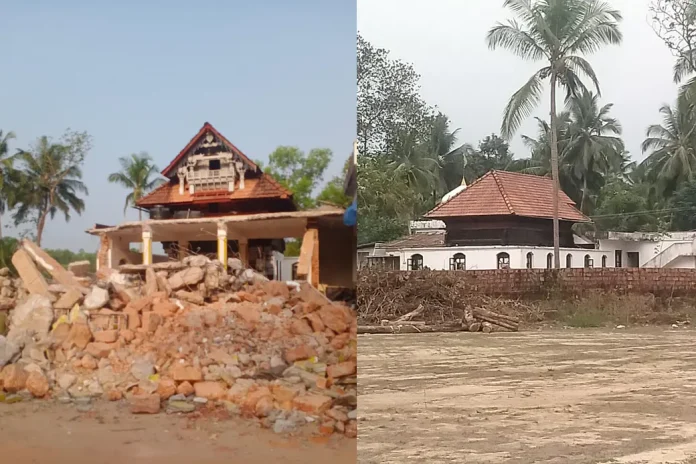 The walls of a mosque at Malali near Mangaluru that were being brought down for renovation have revealed a structure similar to a temple that got Hindu organisations intervening to halt its demolition.
By Ksheera Sagar
The Malali market mosque near the famous Polali temple in Mangaluru has been at the centre of a controversy after a structure with temple architecture emerged on Thursday (21 April) noon catching public attention.
Hindu organisations rushed to the spot after the matter went viral and demanded an investigation. As reported by Daijiworld, the structure was hidden to the public as the compound wall was not visible to anyone apart from those visiting the mosque.
"Prima facie it looks like old temple is converted into a mosque. The inside and outside of the building the style of construction resembles that of a temple. The gram panchayat should cancel the renovation permission given to the mosque under licence 11/2021/22. The archaeological department should hold investigation. Action should be taken to allow the structure to be in same state," said Vishwa Hindu Parishad divisional secretary Sharan Pumpwel, after visiting the spot, as quoted.
As per officials, investigations have begun to verify the various claims and the history of the particular structure. Local leaders have remarked that it was government land that was allotted for the construction of a mosque and is registered with the Waqf board. The land measures 90 cents and was granted to the body in 2001.
While locals believe it was one among the various temples in the vicinity of the famous Rajarajeshwari temple of Polali as finds mentioned in books on the history of the ancient shrine.
"Property documents of the land will be verified. A report will be sought from Muzrai department as well as Waqf Board. Suitable action will be taken based on the details. At present, status quo needs to be maintained. People should not create chaos by listening to hearsay," remarked Deputy Commissioner Dr Rajendra K V, as reported.
This reminds one of a similar incident that took place last year where locals protested and reversed an order that granted a disputed land where once stood a Jain Basadi to the Waqf board. The land on which stood an illegal structure that had unofficially been touted as a mosque of the Tippu era and named Kalmath masjid was transferred to the Waqf board.
After the news went viral and locals protested against the same, the order was reversed by the department of Revenue which 'denotified the grant' of land and took it under its administration.
This article first appeared in www.swarajyamag.com and it belongs to them.