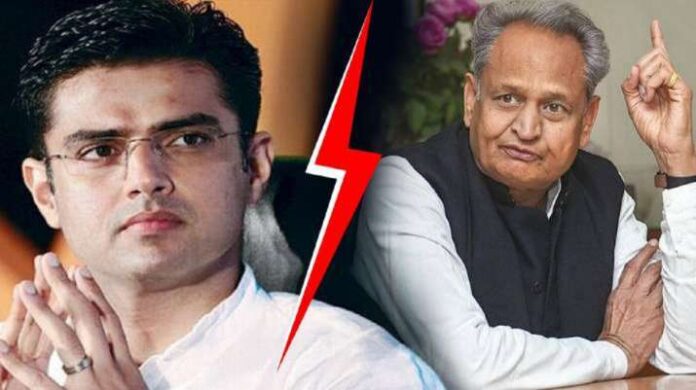 Everyone knew it was coming but no one knew that fight between Rajasthan chief minister Ashok Gehlot and his deputy Sachin Pilot will take such an ugly turn that Pilot would end up losing both the important positions he held- that of deputy Chief Minister and state president of Congress.
By Anil Sharma
If you look at the recent happenings in Rajasthan it was essentially a fight between the young turks and the old guard. It was not a hidden fact that all was not hunky dory between Sachin Pilot and Rajasthan chief minister Ashok Gehlot and at times Pilot was quite critical of his own government. Pilot has been questioning his own government, especially on law and order.
Even before 2018 assembly polls the differences between the two were visible and Rahul Gandhi had to step in to sort out the differences. The differences between the two were so much that even after assembly election results came out it took around 10 days for the Congress hi-command to declare the CM in the state.
The issue then was who will become CM of the state. No one can deny the fact that Pilot did sweat it out during polls to bring Congress party, which was literally decimated in 2013 assembly elections, back to power. He travelled extensively and motivated demoralized party workers. But when it came to the crux, Gehlot was the obvious choice, because of his political acumen. Such experience was needed as Congress won by a wafer thin majority and Gehlot, with his mass appeal, was made the chief minister of the state.
The general complaints and allegations by Pilot's supporters and himself are that he was marginalized and at times humiliated. A usual complaint by his supporters was that Pilot's files were being stopped deliberately and there was no one to listen to his views and grievances.
Apparently he did try to apprise Congress hi-command, but no one listened to him. A few of the allegations or complaints by Pilot seemed justified. Some bureaucrats did agree to this off the record and conceded that files coming from Pilot's departments used to be passed only after considerable delay.
So, was the an ego clash or a fight for self respect?
It seems that it was both. Pilot had an ego tussle with the CM for sure. Self respect was another major issue and the main trigger was a notice sent by Rajasthan police a few days back to Pilot and others including Gehlot over recording of statements in connection with the arrest of two BJP leaders for their alleged attempt to topple the Congress government.
Pilot and his supporters were of the view that the notices were sent basically to humiliate them. Soon after these notices were served Pilot and his supporters revolted against the party targeting the chief minister Gehlot.
Gehlot has alleged that BJP was trying to topple his government.
What will happen to Pilot, now that he has lost both his positions, one in the government and another in the party, is anybody's guess.
We are so far not very sure of the support of the number of MLAs Pilot has secured and how many are supporting Gehlot. But it seems as of now Gehlot has far greater numbers than Pilot. So, is it the end of the road for Pilot? It seems so for the time being.
Having said that Pilot has many options in hand. One is to remain in the party and fight the battle. Secondly, if he has the support of over 30 MLAs then Gehlot's government will be in minority and Pilot can topple the Gehlot government. But there is a big if to this as we don't know whether he has the numbers he claims.
Though Congress has served disciplinary notices to Pilot and the other so called rebel leaders and have asked them to respond to the notices by July 17 as to why they skipped CLP meeting, Pilot while talking to media has said that he is not going to BJP and is still in Congress, it seems that Congress hi-command would start negotiations or hold talks with him as losing another good leader who is highly educated, knowledgeable and above all is a great orator after Jyotiraditya Scindia, would certainly be a big loss to the party.
Congress, to be frank does not have many charismatic leaders and Pilot is an exception. He should be accommodated in a respectable position if not in Rajasthan then in Delhi party organisation and should be given an important role.
In case he does not remain in the party, the best bet for him would be to join hands with the BJP from outside if he is not planning to be part of the BJP and be part of the government in the state. In the worst case scenario if he and his supporters are disqualified then he should float a new party and fight assembly polls, but that is three years away.
It's proving once again that nothing is impossible in politics and there are no permanent foes in politics. Here we are also forgetting an important character of the drama, Union home minister Amit Shah, who must be closely monitoring situation in Rajasthan. So let's wait and watch, and see what the Chanakya of BJP Amit Shah has in his mind.