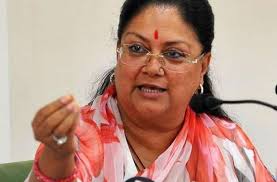 For BJP to make a comeback in Rajasthan politics, they should give the charismatic Vasundhara Raje a free hand to lead the coming elections.
 By Anil Sharma
BJP in Rajasthan after witnessing a sort of shocking results in local body polls should now start to look more towards former chief minister and senior BJP leader Vasundhara Raje and give her more importance to bring out the party, which seems to be passing through a difficult phase.
Raje no doubt is the most charismatic leader in the BJP in Rajasthan and frankly there is no match of Raje in the state in the BJP when it comes to mass appeal and following in the desert state.
Congress in municipal elections won on 965 of the 2,105 wards in 49 urban local bodies, in recently held polls. The BJP was able to win only on 736 wards. In fact, the Congress dominated in most of the 49 civic bodies, situated in 24 districts and shocking has been defeat of the BJP in some of the areas where it was very strong.
Is it because Vasundhara Raje did not engage herself much in these polls and also in recently held by polls in the two assembly constituencies? It seems so.
It may be mentioned here that BJP lost one of the seat that it has won in 2018 assembly polls, while the other seat was retained by RLP.
I strongly feel that Raje should be given more free hand in Rajasthan if BJP is to be strengthened in the desert state as she if not the only one but is one of the tallest leaders of the party in the state. She has great following, persona and following.
Even if you look at 2018 assembly polls, political pundits were saying that BJP would be wiped out, but inspite of anti-incumbency and so called strong "wave" in favour of the Congress, the BJP under her leadership was able to win on 73 of the 200 assembly constituencies and mind you her strike rate both in terms of wherever she campaigned in the state and the tickets she distributed was very high and after declaration of assembly results I had tweeted, " Khub Ladi Mardani Who to Dhoplur wali Rani hai". (Raje is erstwhile maharani of Dhopur, a town in Rajasthan).
Moreover, right now BJP also suffers from in party fighting in Rajasthan and she is the only one who is capable of regrouping the party in the state.
BJP after a gap of three months in second week of September 2019 declared Satish Punia as its new president for Rajasthan. The post was lying vacant after sudden demise of earlier president Madan Lal Saini in June.
Punia who is close to RSS has been a low profile politician and he is presently MLA in Rajasthan and comes from Jat community who are a dominating force in at least 50 of the 200 state assembly constituencies.
BJP's central leadership and Satish Punia very well know that they cannot ignore Vasundhara Raje in Rajasthan and that's why Punia went to meet her at her residence a few days back.
She still is tall leader in the BJP in the eyes of common man and the party can even face problems if she refrains from party activities.
I strongly feel that she should be given due respect, which she very well deserves and for the benefit of the BJP, the former chief minister now has started to devote more time in the state.
She has started to meet her party colleagues and workers and has started to travel a bit in the state. Her interest in the state politics has started to trouble Congress leadership as they know she is a real fighter.
One thing is for sure "You may like her, hate her, but you cannot ignore her."