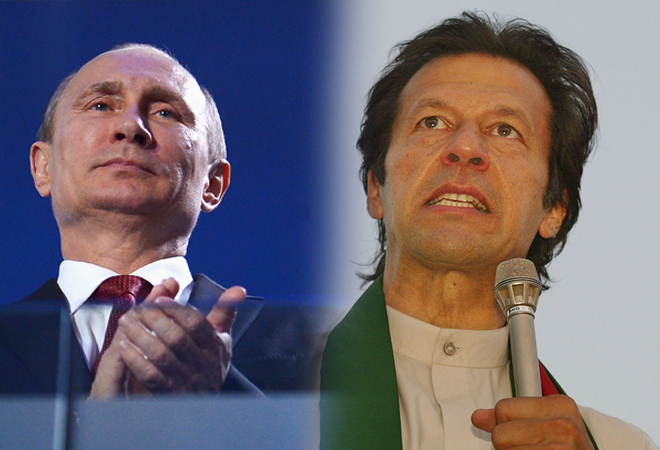 Russian Foreign Minister Lavrov's visit to India on 5-6 April 2021 was devoted to the preparation for President Putin's visit to India later this year for the regular summit with Prime Minister Modi.
Undoubtedly, India Russia relations are deep but they are subject to the tides in international relations. The military-technical cooperation is deepening. Bilateral relations will get a further boost with the establishment of Sputnik vaccine manufacturing facilities in India which will manufacture 750 million doses of Russian vaccine.
By Arvind Gupta
Lavrov's visit to Islamabad from Delhi has raised some questions. Is Russia hyphenating India with Pakistan? Likewise, Russia's growing partnership with China causes concerns in India given the fact that India China relations are at the lowest in decades. A Russia-China-Pakistan triangle will have serious security implications for India.
Policies cannot be based on emotions. India should accept the ground reality and not overreact. Just as India's relationships have expanded in many directions including with the US; Russia, faced with western hostility, will deepen its ties with China and do what it can in other regions.
The fact is that Russia has been trying to build a relationship with Pakistan for several years. The two sides have set up an appropriate mechanism of cooperation. The Russia-Pakistan joint commission has met several times. Bilateral trade at USD 750 million is minuscule though it is showing some increase. They have decided to implement the 2015 intergovernmental agreement on building a gas pipeline from Karachi to Lahore but it is not clear where the money will come from. Pakistan's coffers are empty. Its economy is in crisis. Will Russia or China fund it? There are some natural limits to how far Russia-Pakistan economic relations can go.
In the fast-changing global and regional scenario, India should expect greater defence and security cooperation between Russia and Pakistan. Russia is going to supply 'equipment' to Pakistan for counterterrorism purposes.In the past, it had given MI-17 helicopters to Pakistan. Russian made engines are fitted in Chinese supplied fighters to Pakistan. Russia and Pakistan will be conducting joint military exercises in the Arabian Sea as well as in the high mountains. This development should worry India.
In Lavrov's words, Russia and China are going through the best phase of their relationship. He was however quick to clarify that their ties do not constitute an alliance. India can only hope that Russia understands India's concerns vis-à-vis China and its compulsions to take necessary steps to safeguard its security. That is where the Quad comes in.
Lavrov is a severe critic of the Indo-Pacific concept and the Quad. In Delhi without naming the Quad, he talked about 'Asian NATO'and in Islamabad, he referred to it as an 'ambiguous formation' that is creating tensions and harming ASEAN centrality. India should reassure Russia that the Quad does not harm Russia's interests. Its raison d'être is China's aggressiveness which has created tensions. India cannot remain quiet faced with China's expansionism.
India is aware of the Russian concerns about the Indo-Pacific. That is why it has described Russia as an important partner in the region and talked about its Act Far East policy and Chennai-Vladivostok maritime link. It will be in India's interest if these projects are implemented fast.
India will have to balance its ties with Russia and the US. The sword of US sanctions under the CATSSA law is hanging over India if it purchases the Russian S-400 and missile defence system. If India gives in, there is no guarantee that the US would not put pressure on India in future also.
Lavrov clearly stated that Russia understands India's desire to diversify its military procurement. At the same time, he observed that Russia remains India's largest supplier of defence equipment. Russia cannot afford to lose the lucrative relationship with India when it is modernizing its armed forces at a rapid pace.
Let us accept that on Afghanistan, Indian and Russian views are different. Russia's views are closer to those of Pakistan. It is puzzling to understand what value Pakistan brings to Russia when it comes to Afghanistan. The return of the Taliban will not be beneficial for Russia.
For the Russians, ISIS is the main problem in Afghanistan. For India, the Taliban remains a problem. Russia also did not invite India for the troika plus talks it held in Moscow recently. No big deal. No format has succeeded in bringing peace to Afghanistan. With Biden having put September 11 as the new deadline for the withdrawal of US troops from Afghanistan, the endgame has begun. No peace agreement is in sight. The Taliban would simply wait out the US troop withdrawal and then make a bid for power. The risk of a free-for-all has increased many fold with the latest US decision.
India has three options. First, it comes out fully on the side of the US and the West where anti-Russia feeling is at its peak. This will certainly damage Indo Russian relations adversely. The second option is that India sides fully with Russia in the rivalry in the Russia-Western rivalry. This will undo the gains India has made in the last few years. The third option is that India hedges and does the balancing act.
India is better placed to play the geostrategic game than before. With its large economy, strong leadership and a rapidly developing self-reliant programme, India is no pushover. The fact is that neither the US nor Russia can choose to ignore India. India should make itself valuable for both sides. By developing its 'Make in India', and providing investment opportunities, it can offer something to both sides. Americans are looking at the lucrative Indian market and so are Russians. Without giving up on the quad, India should make a success of its Act Far East policy aimed at investments in the Russian Far East. It should invite Russia to set up defence manufacturing capabilities in India. Russia is keen to do so.
There is no reason why India cannot deal with both Russia and the US. Enough of following one or the other! In the big geopolitical game, India should emerge as a leader in the multipolar world in its own right by building its inherent strengths.
Russia-Pakistan relationship is a red herring. India should remain focussed on what counts most – developing military, economic and technological strength. The rest will take care of itself.
This article first appeared in www.vifindia.org and it belongs to them. The author is a research associate with VIF.