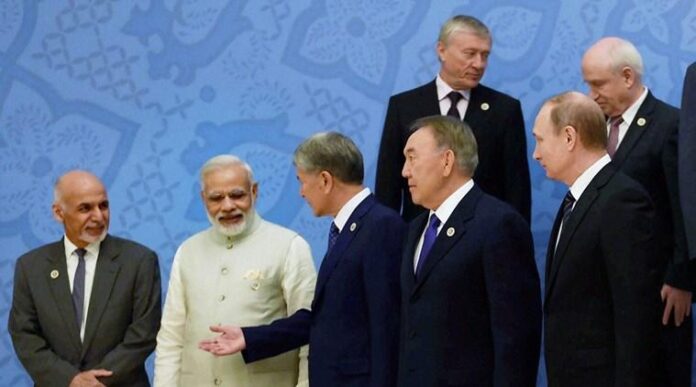 Central Asia is considered India's extended neighbourhood. In the absence of direct land connectivity, India-Central Asia relations have been marginalized in the post-Soviet period. India and Central Asian Republics (CARs) share common interests in eradicating extremism, terrorism, illicit trade, and search for better markets and economic opportunities.
By Dr Pravesh Kumar Gupta
Despite the convergence of interests, India's insignificant trade and economic relations with the region for more than 25 years impeded by the physical aspects have decreased India's footprint. However, a gradual Indian involvement in the region has provided more opportunities for India to play a more active role in Central Asia. One of India's Central Asia policy's significant aspects is the India-Central Asia Dialogue launch last year.
The United States has the same dialogue mechanism at the Foreign Ministers level, C5+1, with Central Asian countries to discuss the issues of common concerns. The last meeting of the format was held in February 2020 in Uzbekistan. U.S. Secretary of State Mike Pompeo and the Foreign Ministers of the Central Asian republics (CARs) took part in the meeting. The mechanism as a part of the U.S.' Central Asia Strategy was launched to counter Russian and Chinese influence in Central Asia. It was also aimed at securing another front (mostly economic and strategic) in the region after the US withdrawal from Afghanistan. During his visit to Central Asia, Mike Pompeo warned the CARs not to be too dependent on China, which garnered a sharp response from Beijing. Secretary Pompeo also criticized China for violation of Human Rights in Xinjiang.
China has been blamed globally for adopting irresponsible behaviour while dealing with the Covid-19 pandemic. At the same time, the aggressive behaviour of Beijing with its neighbours was also recorded. CARs have also become the victim of China's aggressive behaviour. Illegal territorial claims in Kazakhstan and Tajikistan have earned severe concern. China's Belt and Road Projects are also generating many troubles and harsh reactions from the local population in Central Asia.
Subsequently, in July 2020, Beijing initiated a new dialogue mechanism with Central Asia, China+C5. Chinese Foreign Minister had a virtual discussion with the Foreign Ministers of the CARs to discuss the post-pandemic economic cooperation. This initiative is significant as China already has close and cordial relations with the each CARs and engages them on a single platform like the Shanghai Cooperation Organization (SCO). The new format can be seen as another challenge for other stakeholders in the region, such as Russia, the US, and India.
On October 28, 2020, the Second meeting of the India-Central Asia Dialogue was held in a virtual format under the chairmanship of the External Affairs Minister (EAM) of India, Dr. S. Jaishankar. Foreign Ministers of the Republic of Kazakhstan, Turkmenistan, Republic of Uzbekistan, and the Republic of Tajikistan and First Deputy Foreign Minister of the Kyrgyz Republic took part in this meeting. The acting Foreign Minister of the Islamic Republic of Afghanistan, Haneef Atmar, attended the meeting as a special invitee.
This dialogue mechanism has given a boost to the India-Central Asia strategic partnership. As proposed in the First Summit held on January 13, 2019, in Samarkand (Uzbekistan), many initiatives like the establishment of an India-Central Asia Business Council (ICABC) have fructified. Many more developmental initiatives are in progress. The second meeting of the ICABC was also organised virtually by FICCI on October 28, 2020. Representatives of the Heads of Chambers of Commerce and Industry of India and Central Asia, Central Asian Ambassadors in India, and Indian Ambassadors in Central Asia participated in the meeting. The Council has approved forming of four 'Joint Working Groups' (JWGs) in sectors like Energy (Oil and Gas & Renewable Energy), Food-Processing, Agro and Textiles, Pharmaceutical, Tourism, Air Corridors, Life-sciences, and Healthcare.
The participating Central Asian Ministers had positively assessed the first meeting of the India-Central Asia Dialogue in establishing a platform for strengthening cooperation between India and the Central Asian countries in political, security, economic, commercial, and development partnerships. The humanitarian and cultural spheres and substituting views on regional and international issues of mutual interest, and enhancing cooperation under the United Nations and other multilateral fora were significant aspects discussed in the first meeting. The need for building a comprehensive and enduring India-Central Asia partnership based on historical, cultural, and civilizational bonds and traditionally close people-to-people contacts were also emphasised.
Significance of the Second Meeting
1. Cooperation in Fighting against Pandemic
The second meeting is significant as both India and Central Asian countries are fighting against the Covid-19 pandemic. Several crucial initiatives were taken at this meeting. India provided humanitarian and medical assistance to the Central Asian partners in their fight against the pandemic. The need to maintain close cooperation between the Sanitary and Epidemiological Services of India and the Central Asian countries in the fight against the Covid-19 pandemic, as stressed by both sides, will give impetus to India-Central Asia relations.
2. Developmental Assistance
India has extended a 1 billion USD Line of Credit (LOC) for priority development projects in energy, healthcare, connectivity, IT, agriculture, education, etc. Central Asian Ministers welcomed India's initiative. India also offered to provide grant assistance for the implementation of High Impact Community Development Projects (HICDP) for encouraging socio-economic development in the countries of the region. This is a crucial and necessary step being forwarded by India to promote its Central Asia policy. However, the timely and efficient management of the committed assistance is the key to enhancing trust between the two sides.
3. Efforts to Enhance trade and Develop Businesses
Low trade volume between India and Central Asia has been a serious concern for both sides. However, India's consistent efforts have gradually generated positive developments in this regard. The total trade between the two regions has almost doubled from 2014-15 to 2019-20. With Central Asia, India's exports are lower than its imports. There is still a lot to explore in this regard. India needs to expand its export basket to Central Asia. Pharmaceuticals and agriculture are the two most promising sectors for expanding India's exports to the region.
During the virtual meeting, the Ministers emphasized the importance of determined efforts to expand trade and economic cooperation. In this regard, the India-Central Asia Business Council (ICABC) launch was commended by the participating representatives. As a B2B body under the India- Central Asia Dialogue, ICABC will promote business linkages and facilitate a greater understanding of taxation, business regulations in India and the Central Asian countries. It would also stimulate business, trade, and investment, especially in Small and Medium Enterprises.
4. Eradicating Connectivity Barriers
Both sides have emphasized the importance of connectivity for increasing trade and commerce and people-to-people contacts. To overcome the connectivity challenges, India has been developing the Chabahar Port in Iran and has also signed the Ashgabat Agreement, which will be an essential link in trade and transport communications between the markets of Central and South Asia. Central Asian countries have appreciated India's efforts in resolving the issue of direct connectivity. Being landlocked, Central Asian Ministers also expressed their consistent interest in further developing their countries' transit and transport potential, improving the region's logistics network, and promoting joint initiatives to create regional and international transport corridors. India also needs to use the existing infrastructure in Iran and Central Asia to promote its connectivity initiatives.
5. Security Cooperation
The threat of terrorism has been a common challenge for both India and Central Asia; therefore, consistency in joint efforts and commitment is highly required in this regard. Both Indian and Central Asian Ministers condemned terrorism in all its forms and manifestations and reaffirmed the determination to combat this threat by destroying terrorist safe-havens, infrastructure, networks, and funding sources. It was also underlined that every country should ensure that its territory is not used to launch terrorist attacks against other countries.
6. Joint Efforts in Afghanistan
EAM Jaishankar, along with his Central Asian counterparts, welcomed Afghanistan's participation in the India- Central Asia Dialogue. Both sides have maintained a firm stand about the Afghan conflict's settlement on the principle of Afghan-led, Afghan-owned, and Afghan-controlled peace process. Central Asian partners have also expressed their interest in strengthening cooperation for Afghanistan's development and economic reconstruction, including infrastructure, energy, transit, and transport projects.
Both sides emphasized safeguarding the socio-economic development and political gains made by Kabul in the last two decades. The Ministers extended support for a united, sovereign, and the Democratic Republic of Afghanistan. They also drew attention to the significant potential for joint initiatives in the implementation of cultural events, educational and research projects with the participation of Afghanistan and expressed their intention to promote the participation of the Afghan side in international youth forums, festivals, competitions, scientific conferences, exhibitions, and other joint events.
7. Developing Tourism
The second dialogue underscored the importance of humanitarian, cultural, educational, and tourism cooperation between India and the Central Asian countries. Increasing tourism arrivals and creating tourism trails across the region, making the visa process uncomplicated, and encouraging investment in tourism infrastructure, were emphasized. Taking note of many students from India and the Central Asian countries studying in each other's higher educational institutions, the Ministers stressed the importance of ensuring their social welfare. India also needs to adopt concrete measures to enhance the tourism business. Promotion of shared heritage through fairs and exhibitions will add to the people to people contact.
Conclusion
This mechanism has a long way to go to elevating the India-Central Asia ties. The barriers between the India-Central Asia cooperation can only be exterminated through continued discussions, and this summit-level meeting is the most suitable medium in this regard. Considering the positive response that it has acquired in two years, this joint apparatus has a vast potential to prove its significance.
This article first appeared in www.vifindia.org and it belongs to them. The author is a research associate with VIF.