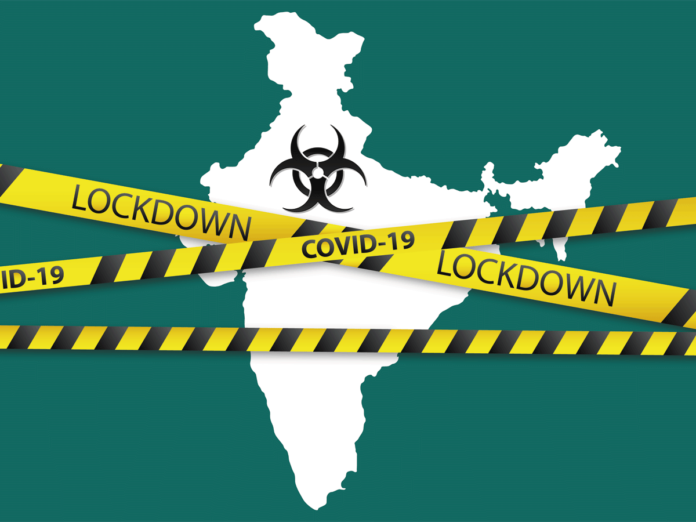 The ongoing Covid 19 crisis presents the government only a few options. The best the government can do at this point is to pump in more money into the system, invest more in the health sector and  forget about inflation and fiscal deficit while ensuring supply chains are not disrupted so that the masses don't suffer.
By Anil Sharma
Right now, a question in everybody's mind across the country is whether the lockdown be lifted from April 15.
Really, it's a difficult question to answer at this time. But looking at numbers of corona virus cases increasing in some of the states and areas in the country and the hints coming in from the Union government and some of the state governments suggests that the lockdown would be extended. And if it is so , it would be a step in the right direction as saving livesat this point in time is more important than any thing  else including economy.
Prime Minister Narendra Modi announced the nationwide lockdown, which came into effect on March 24 midnight and will continue until April 14. As the date for the end of lockdown is drawing nearer, a question that is cropping up in the minds of general public is what after April 14?
The 21-day nationwide lockdown was aimed at containing the spread of COVID-19. So far it has been successful in patches across the country. While some states are showing phenomenal rise in number of cases, number of positive cases in others are either stagnant or have not shown a steep growth curve.
PM Modi in his speech on March 24 said, "This (lockdown) is a necessary step in the decisive fight against Corona Pandemic. The nation will have to certainly pay an economic cost because of this lockdown. However, saving the life of each and every Indian is mine, Government of India's, each state Government's, each local Government's's top most priority. Hence, it is my plea to you to continue staying wherever you are right now in the country. Considering the circumstances at present, this lockdown will last 21 days. The next 21 days are of critical importance for us. As per health experts, a period of at least 21 days is extremely critical to break the infection chain of Corona virus. If the situation is not handled in these 21 days, the country and your family could go back 21 years."
The Prime Minister is correct as the first and the top most priority of any government is to save the lives of its people and so lockdown and social distancing ware some of the most important steps taken. They were implemented at a crucial time and by all the state governments, irrespective of which political party ruled them. This is good for the country as during a massive crisis we are at least working jointly and unitedly to fight a lethal enemy, namely the corona virus.
So what should government do after April 14? There are three things that can be done. One is to leave decision in the hands of state governments, second is to extend the lockdown further till April 30 and third, to lift lockdown in phases.
The Prime Minister is likely to hold a meeting with Chief Ministers on April 11 to take stock of the situation and to hear their views on lock down. Some of the chief ministers have already indicated their plans. Telangana chief minister K Chandrasekhar Rao has categorically said that he was in favour of extending the lockdown in his state. While states like Rajasthan and Chhattisgarh are in favour of not fully lifting the restrictions.
Rajasthan chief minister Ashok Gehlot has been lauded by the Union government too for his strategy to control the spread of corona virus especially in Bhilwara, a textile city, and which is now known as Bhilwara Model.Gehlot is of the view that as 38 places in Rajasthan are presently under curfew and it would not be easy for him to lift lockdown in one go.
Gehlot is right as he is working on a strategy that he refers to as ruthless containment. According to him distancing, testing, tracing and isolation are key to keep corona virus at bay. If you read between the lines what he is hinting at is lifting lockdown in phases or in a staggered fashion. Odisha in the meanwhile became the first state to announce the extension of the lockdown to April 30, ahead of the PM's meeting with CMs to discuss the extension of the lockdown.
It appears that the best option to keep India going is to identify hot spots, put them into curfew, conduct more tests, isolate people including those who have symptoms of corona and treat them. That's one of the ways to handle this dangerous pandemic.
In the meantime, government has to consider the economy too.  Former finance secretary, government of India in a tweet said, "COVID19 lockdown has shuttered 70% of the economy. 10 crore workers are jobless. States tax revenues have collapsed. Credit is not reaching businesses. Phaseout needs careful planning to limit economic costs. Unconventional fiscal and monetary approach."
According to Garg Indian economy has been hit badly.
The government however doesn't have too many alternatives at present. While economy is very important for sustenance , it has to take a backseat till the country gets control over the pandemic.  The best the government can do in the meanwhile is to pump in more money into the system, invest more in the health sector and  forget about inflation and fiscal deficit while ensuring supply chains are not broken so that public at large do not suffer. The government could also permit some of the industries to function, while directing them to  embrace social distancing so that some of the labour force sitting idle can get work and hopefully economy sustains at least during these challenging times.