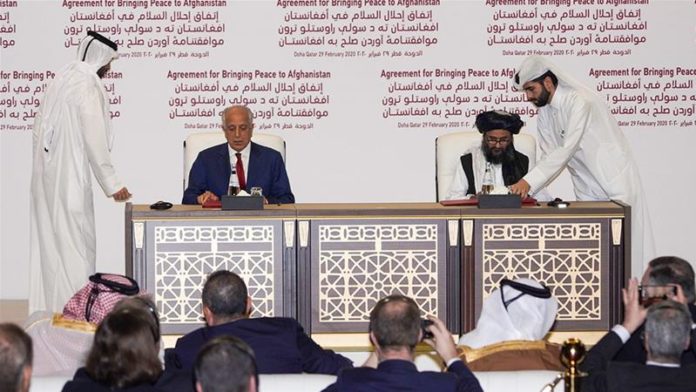 Trump's Taliban peace deal has at best paved way for a murkier scenario in Afghanistan. Not only have has the Taliban showed any inclination to adhering to the peace deal, but it has been stepping up its attacks on Afghan forces and other communities with impunity. 
By Balaji Subramanian
In less than a month after the peace deal was signed, the Taliban has conducted several attacks on Afghan Security Forces and this has led Kabul to order its forces to switch to an "active defence posture," amid pressure from the United States, asking the democratically elected government of Afghanistan, to release Taliban prisoners, reports Associated Press.
US Special Representative Zalmay Khalilzad on Wednesday (18 March) sent out a tweet in which he said, "Coronavirus makes prisoner releases urgent; time is of the essence."
He urged Afghan President Ashraf Ghani's government to begin the process of releasing Taliban prisoners, "as soon as possible."
https://twitter.com/US4AfghanPeace/status/1240299811351429123?ref_src=twsrc%5Etfw%7Ctwcamp%5Etweetembed%7Ctwterm%5E1240299811351429123&ref_url=https%3A%2F%2Fswarajya.quintype.com%2Fstory%2F0e86af33-f77b-4b6f-b7cf-ce0a7c490ff9
The Taliban and the US signed a peace agreement in Doha, Qatar on 29th February and part of the deal was the release of Taliban prisoners. However, the continued attack on security forces even after the signing of the deal has made the situation look untenable for Kabul.
Moreover, the Taliban has refused to give any guarantee that their fighters would not take up arms again.
The intra-Afghan peace talks seem to be completely hinged on the release of Taliban prisoners and its failure would lead to another civil war in a nation that has not experienced peace in the last forty years. But it must also be noted that, Kabul did not have a seat at the table during the negotiation and the decision to release the prisoners was taken without consulting them.
Even when Kabul agreed to release 1,500 prisoners without any pre-condition, it was rejected by the Taliban
Acting defence minister Asadullah Kalid said in a video statement, "The Taliban continued high level of violence despite the peace agreement." He further added, "An active defence posture will reduce the restrictions on ANDSF (Afghan National Defense and Security Forces) and it will allow them to carry out operations against the Taliban plotting attacks against ANDSF."
To further complicate matters, the coronavirus outbreak has also started to factor in. The US has asked the Taliban to end violence and according to Khalid, unless there is a complete ceasefire, any measures taken to contain this virus will fail.
Afghanistan has only 22 confirmed cases of coronavirus and there are growing fears that number could increase in the coming days which will overwhelm the country's healthcare system.
In Pakistan, most of the people who tested positive for coronavirus came from Iran which after US, Italy and China is worst affected. Afghanistan has a long border and it is difficult to estimate how many returned from Iran whose numbers could be in thousands.
Though the Taliban have admitted they are concerned about the spread of the virus and have asked to work with the international organisation, Kabul says it still has reports of militants attacking health workers which is counterproductive under the current situation for both parties.
It all now depends on how long the impact of the coronavirus will be felt because it has already affected President Donald Trump's foreign policy priorities.
Afghanistan is a landlocked country with long borders with Iran and Pakistan and Prime Minister Imran Khan has publically admitted that his country is incapable and has called for a debt waiver for his country due to the ongoing coronavirus pandemic.
The entire Taliban leadership and all its safe sanctuaries are based in Pakistan and according to some experts from that region the Islamic State that claimed responsibility for the killings of innocent Sikhs praying in their Gurudwara on 25 March could be acting as a proxy for the Taliban.