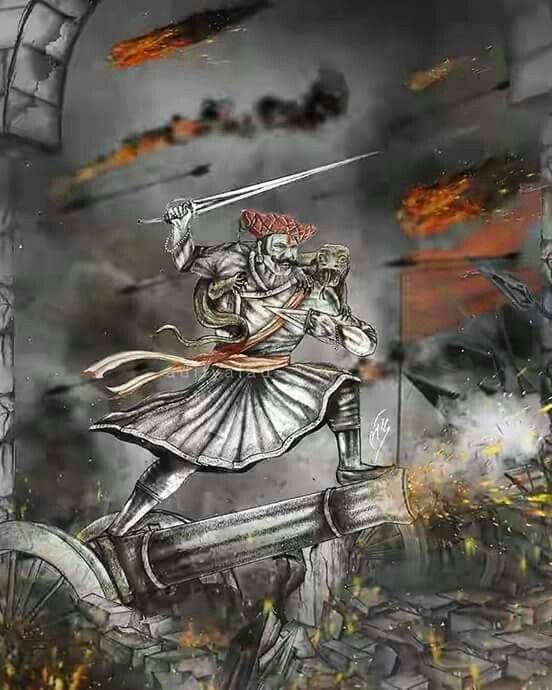 It gives us Goosebumps when we read about the wars that Chatrapathi Shivaji fought to make the dream of Swarajya come true. There was a lion hearted general in his army who was a great warrior and a close friend of Shivaji who tore into the bastion of the Mughuls. As we speak there is a movie showcasing this general's  feats. Here's our tribute to Tanaji Malusare.
By Prathima.G.Kulkarni
Tanaji Malusare was born in Godavali, Javali Taluka Satara in Maharashtra in 1600 A.D. His father was Sardar Kaloji, who was also a Maratha and his mother, was Parvatibai. Tanaji lost his father at a very young age while fighting against the Mughals. His father was his teacher who thought him how to wield the sword and gave him lesson in fights, which made Tanaji strong and courageous. Tanaji was married to Savitri Malasure and had a son by the name of Rayaba Malasure.
Tanaji and Shivaji were very good friends from childhood and had dreamt of swarajya. Swarajya is known as a socio-political movement for eradicating foreign military and political influences from India. Both were very keen on stopping the Mughal Emperor Aurangzeb's dream to conquer rest of India. This was achieved when the battle of Sinhagad(Kondana) was fought to wrest the fort from the Mughals.
This battle took place when Tanaji was about to get his son married. He had gone to invite ShivajiMaharaj and his family to attend the wedding but when he came to know that ShivajiMaharaj wanted to get back theSinhagad Fort from the Mughals,Tanaji did not think twice and vowed to lead an army into the battle.In 1665, a treaty of Purandar had been sealed due to which Shivaji Maharaj had to give up Kondana Fort to the Mughals. Kondhana, located near Pune, had the heaviest fortification and was a strategically placed fort. The most capable commander manning this fort was UdaybhanRathorewho was personally appointed by Aurangzeb.
Tanaji with an army of 200 Marathas marched with an intention to capture the fort in          1670. The weather was not so good and to climb the fort was difficult due to its height. The climb was straight. The only part of the fort where there was no Mughal army was on the top of an overhanging cliff. There is a saying that Tanaji, with the help of his pet, a giant reptile called Ghorpad, succeeded in climbing the cliff with the help of a rope and his army surprised the  Mughal soldiers led by Udaybhan. The battle was fought fiercely and Udaybhan eventually mortally wounded Tanaji.
At the early stage of the fight UdaybhanRathore broke Tanaji's shield and rained blows on him. Tanaji used his turban as a shield but could not escape the deadly cuts from Udaybhan Rathore's sword.However, before succumbing to his wounds he managed to seriously wound Udaybhan Rathore. Udaybhan Rathore was reeling from his wounds and it was then that another Maratha warrior Shelar Mama killed him. Many believe that Udaybhan Rathore died at the hands of Tanaji but as mentioned in the history books,Tanaji wounded him fatally. It was Shelar Mama who finally killed Rathore. At the end of the battle the Marathas captured the fort. Ultimately, the Marathas won due to Tanaji's bravery and hoisted the saffron flag at Kondana Fort.
Despite the victory, ShivajiMaharaj was deeply upset by losing his most capable commander and friend. These words came out of Shivajis mouth with tearsroling from his eyes "Gad ala pan Sinhagela." ("The fort has come, but the lion is gone.").