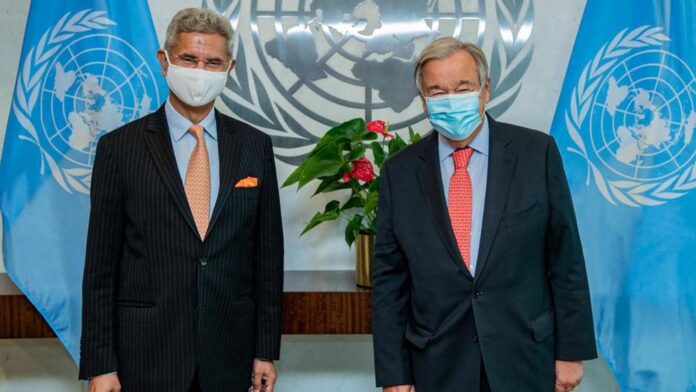 In August 2021, under India's presidency, the United Nations Security Council (UNSC) adopted a statement recognising the importance of technology in peacekeeping. At the high-level Security Council open debate on "technology and peacekeeping", India's External Affairs Minister Dr S. Jaishankar stated that "21st-century peacekeeping must be anchored in a strong ecosystem of technology and innovation".
By Rajeesh Kumar
In the meeting, Secretary-General António Guterres outlined elements of a digital transformation strategy for peacekeeping. Another significant development of that day was the launch of UNITE AWARE, a technology platform developed by India in collaboration with the UN, aimed at providing terrain-related information to the UN peacekeepers to ensure their safety and security. These developments suggest that future peacekeeping operations will be technology-enabled. India shows enthusiasm and interest in this envisioned transformation. India is one of the largest troop-contributing countries (TCC) to UN peacekeeping missions, however, the question is whether it can become a technology-contributing country (TecCC) as well.
Technology and Peacekeeping
Calls for the use of technology in UN peacekeeping operations are not new. In 2000, the Report of the Panel on United Nations Peace Operations, popularly known as the Brahimi Report, proposed that peacekeeping be brought into the information age. The report identified the gaps in strategy, policy and practice that hampered the effective use of technology in peacekeeping operations and offered recommendations to bridge them.
Later, in 2014, the Expert Panel on Technology and Innovation in UN Peacekeeping deliberated this issue thoroughly and proposed an extensive deployment of technology and innovative practices to strengthen peacekeeping operations. In February 2015, the Expert Panel submitted its report, which included the goal that the UN be able to deploy "digital peacekeepers". The Report also addressed the prevalent concerns of the member states that the use of technology in peacekeeping operations will lead to violations of basic principles of peacekeeping impartiality and state sovereignty. In the initial years of consultations, many member countries expressed their fear of misuse of technology for narrow political purposes, particularly technology such as Unmanned Aerial Systems or Vehicles (UAS or UAVs).
The Report focused on employing advanced technologies primarily in two areas of peacekeeping operations: providing the basics for missions and operational imperatives. While the basics include providing safety and security, shelter, water, energy, health and mobility, operational imperatives comprise command and control, monitoring, reconnaissance and reporting, and information and communications technologies. To enhance the security of individuals, camps and accommodation, patrols and convoys, the Panel recommended using technologies such as perimeter lighting, motion-detection technology, emergency communications, tamper-resistant tracking, counter-IED technologies, and camera technology using remote access to live feeds. Similarly, to find water, employing ground-penetrating radar and advanced geospatial imaging tools are recommended. GIS-enabled command and control, satellite imagery, UAVs, comprehensive sensor suites and big data are recommended to improve the operational imperatives including the command and control of the missions.
As peacekeeping mission bases have regularly come under direct attack in recent years, there was a systematic push to deploy many of the recommended technologies. Consequently, UAVs were used in the Democratic Republic of Congo, the Central African Republic, Mali and South Sudan. Furthermore, in Mali, the most sophisticated digital technologies such as IED forensic technologies and the Situational Awareness Geospatial Enterprise (Sage) were used. In 2017, the UN mission in Mali claimed that its "sense and warn" radar alert system detected rockets and mortar attacks and saved the lives of many peacekeepers.
The latest developments related to technology and peacekeeping in the UN are the Secretary General's "Strategy for the Digital Transformation of UN Peacekeeping" and the launching of the UNITE AWARE platform. The Secretary General's Strategy focuses on four objectives: first, technology innovation at the headquarters and the field; second, maximising the potential of new technologies to enhance the capacity of missions to carry out their mandates effectively; third, using technology to detect, analyse and address threats against civilians, peacekeepers and humanitarian missions; and fourth, ensuring the responsible use of digital technologies. The UNITE AWARE platform aims to gather datasets from missions and structure them into a shared database to enable situational awareness and decision making.
Can India become a TecCC?
India is one of the largest contributors of troops to UN Peacekeeping Operations. More than 2,50,000 Indian troops have served in 49 of the 71 peacekeeping operations deployed so far. At present, India is currently the second-largest troop contributor with 5,506 personnel deployed in nine UN peacekeeping missions. Moreover, India has also played a leadership role in many peacekeeping missions. It has provided Military Advisers, Civilian Police Advisers, Force Commanders and several Special Representatives of the UN Secretary-General to various missions. Korea, Cyprus, Namibia, Sinai, Sierra Leone, Sudan, Congo are a few examples. However, since the attacks against the peacekeepers are growing significantly and India lost more peacekeepers than any other troop-contributing country, in future, India should focus predominantly on providing technology to the peace operations and equip its troops with modern technologies to manage complex emergencies.
Recently, India has been at the forefront of transforming the traditional peacekeepers into "digital peacekeepers". For this purpose, during its UNSC presidency in August 2021, India convened a ministerial-level open debate on the theme of technology and peacekeeping. During the debate, India proposed a four-point framework for UN peacekeepers to meet contemporary threats. First, employing operationally proven, cost-effective, widely available, environment-friendly, reliable and field serviceable technologies. Second, need for a sound information and intelligence foundation to ensure early warning and mobilising early response. Third, ensure technological improvements are continuous and are available on the ground. Fourth, consistent training and capacity building of peacekeepers in the realm of technology. All these points were further emphasised in the unanimously adopted presidential statement on peacekeeping operations.
India has also spent US$ 1.64 million to develop the situational awareness technology platform UNITE AWARE in partnership with the UN Department of Peacekeeping Operations and the Department of Operational Support. This platform helps to visualise the entire peacekeeping operation and enable monitoring it on a real-time basis through modern surveillance technologies, including satellite-based solutions. However, though the United Nations Institute for Training and Research (UNITAR) has a Satellite Centre called UNOSAT for making satellite-based solutions and geographical information easily available for the UN, the organisation does not have its own satellites. Therefore, the UN primarily relies on freely available satellite data or purchases from private firms. India has low-cost satellite technology and its space agency, ISRO can collaborate with the UN for developing a dedicated constellation of Small Satellites (SmSats) for peacekeeping missions.
Satellite imagery data can be used to monitor the movements of conflicting parties, observing arms smuggling networks, identify the locations and needs of internally displaced persons and refugees, border management, human rights violations, etc. The optical imagery from very high-resolution satellites provides an accurate real-time happening on the ground. For instance, the Humanitarian Information Unit of the US Department of State extensively used satellite imagery data to identify the villages damaged or destroyed in Darfur during the civil war. Similarly, in 2018, an analysis of satellite imagery was able to establish an arms embargo violation in South Sudan. In March 2020, a BBC investigative report used satellite images to show that Turkey sent tanks and weapons to Libya via ship shortly after agreeing to a UN arms embargo. Recently, in Myanmar, satellite analysis combined with information on settlement locations helped the UN to identify the destroyed villages in Buthidaung, Maungdaw, and Rathedaung Townships in Northern Rakhine State.
Similarly, India can contribute to the energy security of peacekeeping missions. Despite a booming global renewable energy market, the peacekeeping missions still depend on fossil fuels, especially diesel-power generators for energy needs. From the perspective of peacekeeping, reliance on diesel-power generation presents logistics and security challenges. Recently, the International Renewable Energy Agency (IRENA) and UN signed a memorandum of understanding (MoU) to advance the use of host-country generated renewable energy in peacekeeping missions.16 India could leverage its solar power credentials as the leader of the International Solar Alliance (ISA) to support the peacekeeping missions in meeting their energy requirements. India's National Thermal Power Corporation Limited (NTPC) has been involved in solar projects in many African countries, including Mali, where peacekeeping missions are deployed.
India has also signed a MoU with the UNC4ISR Academy for Peace Operations (UNCAP) to support the Partnership for Technology in Peacekeeping initiative. With the help of UNCAP, the Centre for United Nations Peacekeeping (CUNPK) could provide specific pre-deployment training in information and communications technologies (ICT), Intelligence, Surveillance, and Reconnaissance (ISR) technologies and camp security and early warning technologies. The Centre would also consider developing E-Learning courses in advanced technologies that are accessible remotely to the missions and troops.
In short, to sustain its historical interest and influence in the UN peacekeeping operations, India should chart out specific strategies to become a technology-contributor country. However, such a strategy should be balanced, and focus on providing technical assistance to the missions while continuing to contribute troops, rather than a complete transformation from being a traditional troop contributor to a technology contributor. Also, India should consider utilising the goodwill it has earned over the years as a dedicated peacekeeper, particularly in Africa, to build enduring economic and strategic relationships with the host states.
This article first appeared in www.idsa.in and it belongs to them.