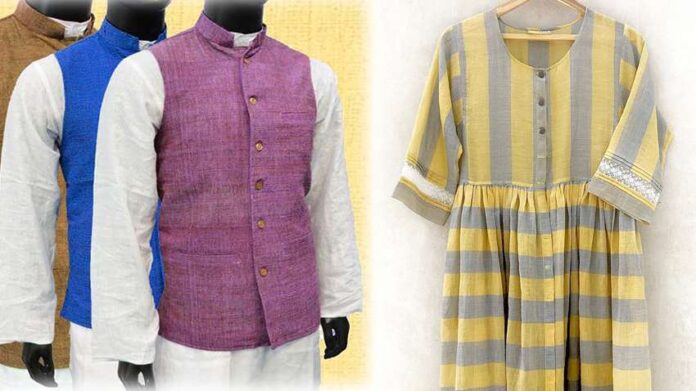 As the world battles the corona virus pandemic and all industries are suffering financially, The Khadi Industry in India continues to thrive. Khadi masks are being made by artisans all over India. An artisan makes an average of 80-100 masks a day. To this day, this fabric promoted by none other than Mahatma Gandhiji continues to make waves.
By Natasha Sudhir
Khadi is a fabric every Indian has heard of but a peek into your wardrobe will tell you that you barely own any of it. Khadi is a hand woven fabric made of natural fiber. What makes Khadi stand out is the way in which it is made. It is spun with the use of a spinning wheel, also called a Charkha and is mainly made up of cotton but also silk or wool in certain states of India. Khadi came into focus when Mahatma Gandhi urged his fellow Indians to boycott foreign cloth and began promoting spinning of Khadi for rural self-employment and self-reliance. This made Khadi a constitutive part of the Swadeshi Movement.
Khadi dates back to the Indus Valley Civilization in 2800 BC. They were known for the use of terracotta spindles and beads that were used to spin fabrics. Many figurines later excavated have been found draped in Khadi. There have been many mentions of ancient Indian fabric and how great rulers of the world were mesmerized by its aesthetics.Woven Indian fabric was recognized by Alexander The Great who came across painted cotton fabric during his invasion of India. He then established trade routes which introduced our fabric to the world. In the coming centuries, Indian fabric became more appealing to the eye with the use of natural fabric dyes and patterns. By the 17th century, The East India Company was importing a quarter of a million pieces of Khadi to Britain.
A certain variant of Khadi is Chintz. Chintz became so popular in Britian and France that it endangered their local fabric industries. A law was brought into place in 1720 banning the use of Khadi. Mill produced fabrics took Khadi's place as the cost of production was a fraction of making hand woven cloth. The East India Company pushed the production of mill fabrics that were of low quality and encouraged cotton farming. This led to the rapid decline of Khadi.
Khadi made its entry back into the lives of the masses when Mahatma Gandhi made Khadi a part of the Swadeshi Movement. He said "The spinning wheel represents to me the hope of the masses. The masses lost their freedom, such as it was, with the loss of the Charkha. The Charkha supplemented the agriculture of the villagers and gave it dignity." He often spoke of the 'Khadi Spirit'. This spirit referred to patience for anyone who works with a Charkha knows how long it takes to spin yard out of it. He made it the nation's fabric.
Soon after Khadi became an integral part of the Swadeshi Movement, The All India Spinners Association was set up in 1925. The employment opportunities were increased and the fabric itself was improved. After India gained independence, The All India Khadi and Village Industries Board was set up which later became the Khadi, Village and Industries commission (KVIC). Till date, KVIC is responsible for the planning and execution of various programs that helped in the development of not only Khadi but other village industries in rural parts of India.
Since Independence, Khadi has not been forgotten but has maintained its balance between modernity and tradition. Khadi has adapted to recent trends and styles over the years while still upholding Indian tradition. Many designers like SabyasachiMukherji, Ritu Kumar and RohitBal have used Khadi in many of their collections. Stores like Fab India are known for their quality of clothes but not many people know that majority of the fabric they use is Khadi. KVIC has made a constant effort to ensure Khadi is relevant and reaches the masses. It has partnered with unusual brands like Raymonds to promote Khadi apparel within India.
Our Hon'ble Prime Minister Narendra Modi has constantly made an effort to bring Khadi into the limelight. He has time and again appealed to citizens of India and promoted the use of Khadi in his 'Mann Ki Baat' speeches. In his Independence day address in 2018, He said "From Khadi for Nation to Khadi for Fashion and Khadi for transformation." He has constantly spoken about Khadi's growth and progress. KVIC stated that the last five years under the leadership of Shri Narendra Modi has seen massive acceptance by Indians of the 'Brand Khadi'.
Khadi sales have doubled from Rs. 1,170 crore in the financial year 2014-2015 to Rs. 2509 crore in the year 2017-2018. Khadi's production has grown from Rs. 880 crore to Rs. 1500 crore in 2018. In the year 2019, The Khadi and Village Industries Commission said its turnover crossed Rs. 74,323 crore witnessing a growth of 145 percent since 2014-2015 in the sale of Khadi products. In the year 2020, KVIC touched a new high. They achieved their highest yet turnover of Rs. 88,887 crore. The Khadi industry registered a growth of 31 percent from Rs. 3215.13 crore in 2018-2019 to Rs. 4211.26 crore in 2019-20. "The turnover of Village Industries products reached to Rs. 84,675.39 crore in 2019-2020, registering a growth of over 19 percent from the previous year, i.e. 2018-2019, which was at Rs. 71,077 crore," The Khadi and Village Industries Commission stated.
As the world battles the corona virus pandemic and all industries are suffering financially, The Khadi Industry has not given up hope. Khadi masks are being made by artisans all over India. An artisan makes an average of 80-100 masks a day. They come in variants for both men and women and in different colors. The masks that have two layers retail for Rs.25 per piece and the masks that have three layers retails for around Rs. 75 per piece. The Khadi fabric is unrivalled as no other machine can make a 500 count fabric which has the technique of hand woven material. KVIC is looking at exporting Khadi masks to foreign counties as they are breathable, economical, washable, reusable and most importantly biodegradable. These masks are made of quality Khadi fabric and are much more affordable when compared to the fancy masks sold by foreign brands.
Another fact not known by many is that we celebrate National Khadi day on September 19th and as per the Indian Flag Code, Khadi is the only material that can be used to make an Indian Flag. So anyone caught making of flying an Indian flag that is not made out of Khadi is punishable by law with imprisonment of upto three years as well as a fine. As our Prime Minister, Shri Narendra Modi has urged all his fellow Indians to be 'Vocal for Local', It is time for all of us to come together and explore the world ofKhadi and uplift not only our artisans but also our economy.