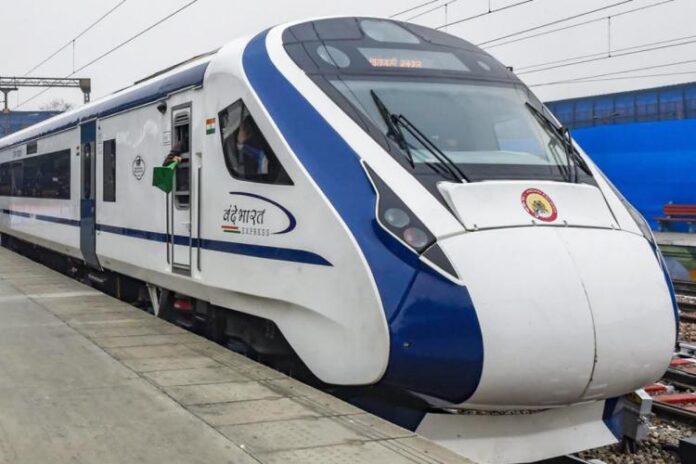 Indian Railways will commence the operation of two more Vande Bharat Express trains, flagged off by Prime Minister Narendra Modi on 8 April. This includes the Secunderabad-Tirupati Vande Bharat Express and the Chennai-Coimbatore Vande Bharat Express.
By Ankit Saxena
This will be the 12th and 13th Vande Bharat train in the Indian Railways network, marking a significant progress towards the improvement of the country's railway network and the enhancement of passenger experiences.
The Secunderabad-Tirupati Vande Bharat Express was flagged off at Secunderabad Railway Station.
This train serves as a connection between Hyderabad — the IT city, and Tirupati — the abode of Lord Venkateswara.
It is the second Vande Bharat train to be started from Telangana within a short span of three months — after the train between Secunderabad and Visakhapatnam.
It is expected to reduce the travel time between the two cities by almost three and a half hours and will be particularly beneficial for pilgrim passengers.
The train will have halts at Nalgonda, Guntur, Ongole and Nellore stations.
Additionally, the Chennai-Coimbatore Vande Bharat Express will cover a distance of 495.28 km in 6 hours and 10 minutes.
During its commercial run, the train will likely halt at three railway stations — Tiruppur, Erode Junction, and Salem Junction.
According to railway officials, during a test run, the Vande Bharat Express journeyed from Chennai to Coimbatore and arrived at its destination 22 minutes ahead of schedule.
With the introduction of the two new trains, the total number of the indigenously designed Vande Bharat has reached 13 operational services connecting several important cities and towns across the country.
On 18 February, 2019, the Vande Bharat Express was inaugurated on its very first route connecting the capital city of Delhi to the holy city of Varanasi in Uttar Pradesh.
The New Delhi-Varanasi Junction Vande Bharat Express makes stops at Thyagraj and Kanpur, and covers the distance three hours earlier than other trains on the same route.
New Delhi-Shri Mata Vaishno Devi Katra Vande Bharat Express
The second Vande Bharat Express commenced commercial operations on 5 October 2019, providing service from Delhi to Katra in Jammu and Kashmir.
The train makes stops at Ambala Cantt, Ludhiana, and Jammu Tawi. The inauguration of this train was conducted on 3 October, 2019, by Amit Shah, the Minister of Home Affairs.
Mumbai Central-Gandhinagar Vande Bharat Express
On 30 September, 2022, the third train was launched which covers the route from Gandhinagar in Gujarat to the financial capital Mumbai in Maharashtra.
This is the second version (2.0) of Vande Bharat Express with a journey time of under six hours.
New Delhi-Amb Andaura Vande Bharat Express
The fourth train was launched covering the route from New Delhi, Haryana, Chandigarh, Punjab, and Himachal Pradesh on 13 October 2022.
MGR Chennai Central-Mysuru Junction Vande Bharat Express
The fifth of the high-speed trains was launched between Chennai and Mysuru on 10 November, 2022. This train covers a distance of 479 km with two stops at Katpadi and KRS Bengaluru.
Bilaspur Junction-Nagpur Junction Vande Bharat Express
On 11 December, 2022, the sixth Vande Bharat Express train was launched from Bilaspur in Chhattisgarh to Nagpur in Maharashtra. It makes a stop in Raipur, Durg, Rajnandgaon, and Gondia.
Howrah Junction-New Jalpaiguri Junction Vande Bharat Express
The seventh semi-high-speed trainset between Howrah and New Jalpaiguri was launched on 30 December, giving eastern India its first Vande Bharat train.
The launching of this train in West Bengal marked a step towards providing faster connection between state capital Kolkata and northern Bengal.
Visakhapatnam-Secunderabad Vande Bharat Express
The eighth express was launched between Secunderabad-Visakhapatnam on 15 January 2023, connecting Andhra Pradesh and Telangana.
It has stoppages at Visakhapatnam, Rajahmundry, and Vijayawada stations in Andhra Pradesh and at Khammam, Warangal, and Secunderabad stations in Telangana.
Chhatrapati Shivaji Maharaj Terminus (CSMT)-Solapur Vande Bharat Express
The country's ninth Vande Bharat Express commenced its operations on 11 February 2023.
The semi-high-speed train runs between Mumbai and Solapur and during its journey, halts at Dadar, Kalyan, Pune, and Kurduwadi.
CSMT-Sainagar Shirdi Vande Bharat Express
The tenth Vande Bharat Train in the country covers a distance of around 340 km between CSMT and Shirdi in 5 hours and 20 minutes — with stops at Dadar, Thane and Nashik Road stations.
The new train provides improved connectivity to important pilgrimage centres in Maharashtra like Trimbakeshwar Shiva Temple in Nashik, Sainagar Shirdi and Shani Singanapur in Ahmednagar.
Bhopal-New Delhi Vande Bharat Express
The newly introduced train between Rani Kamlapati Railway station, Bhopal and New Delhi railway station is the eleventh Vande Bharat in the country.
Launched on 1 April 2023, this will be the second fastest Vande Bharat to operate after the New Delhi-Varanasi route, as per reports.
Crossing Hurdles And Upgradations
Although the Vande Bharat trains have been hailed by the Centre as the future of rail mobility, its operations have been marred by various mishaps — such as frequent cattle hits, technical snags, and passenger littering.
Moreover, four days after its launch, the Howrah-New Jalpaiguri Vande Bharat Express was pelted with stones by unidentified miscreants in northern Bengal.
Despite these setbacks and oppositions, the Indian Railways remained committed in redefining the railway experience through the Vande Bharat.
The 2.0 version has undergone several upgrades, including rotating seats in executive chair car coaches, improved interiors, automatic sliding doors and improved communication between the guard and loco pilots.
It has been designed to contribute to Indian Railway's green footprint by removing the power cars and saving about 30 per cent of electricity with advanced regenerative braking system.
The train's air conditioning is also energy-efficient and saves 15 per cent energy consumption.
Expansion Plans For Vande Bharat
With the Indian Railways entering a new era of mobility, these train systems are planned for significant expansions in terms of manufacturing, services and operations.
Following the Union Budget for 2023-24, the capital outlay for the railways has been increased to Rs 2.40 lakh crore — highest-ever allocation proposed with a focus on revamping the production of the Vande Bharat trains and improving railways' stations and infrastructure.
Railway Minister Ashwini Vaishnav stated that at present Vande Bharat trains are manufactured at Integral Coach Factory (ICF), Perambur which is planned to be expanded to three other locations namely — Sonepat, Latur and Rae Bareilly.
With its plan to ramp up its production of trainsets, there would be a total of 900 Vande Bharat trains in the next three-four years.
Following a Swarajya report, there would be 400 Vande Bharat trains with sleeper facilities, out of which, 200 will be made of aluminum coaches.
The Indian Railways has selected the consortium of Russia's JSC Metrowagonmash-Mytischi (TMH) and India's RVNL to manufacture 120 Vande Bharat trains with sleeper facility at the Latur facility.
The sleeper trains will feature one First AC, three Second AC, and 11 Third AC coaches, as well as a Divyang-friendly driver trailer coach at both ends.
It would take about 24 months to produce the first prototype after the award of the contract.
Besides, building on the success model of the Vande Bharat Express, the Railways plans to introduce Vande Metro trains by 2024 — for local and suburban services across the country. The design and production of the fully indigenous Vande Metro will be completed this year.
The Vande Metro will operate in big cities on a periphery of 50-60 km, where there are large habitations. It aims to provide a rapid and world-class shuttle-like experience for commuters.
This article first appeared in www.swarajyamag.com and it belongs to them.